Casino Agrees to Buy Rival Carrefour's 42 Thai Stores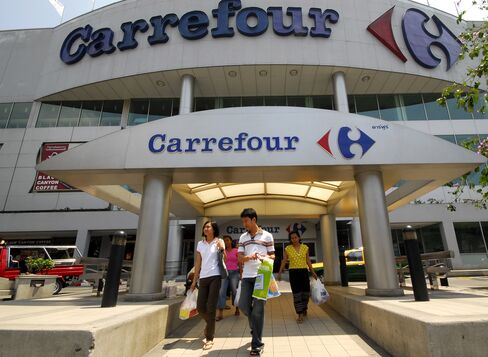 Nov. 15 (Bloomberg) -- Casino Guichard-Perrachon SA agreed to buy French supermarket rival Carrefour SA's business in Thailand for 868 million euros ($1.18 billion), giving the company 42 more stores in an economy growing faster than its home market.
The stores being acquired will add to Casino's 111 in Thailand, which operate under the Big C Supercenter Pcl brand. The Saint-Etienne, France-based retailer generates about 6.3 percent of its revenue in Asia, compared to about two-thirds in France, according to data compiled by Bloomberg.
Casino, which beat out Tesco Plc and others for the stores, is expanding in Asia, its third-largest region after France and Latin America. The grocer is also considering an offer for the food-retailing business of PT Matahari Putra Prima, two people familiar with the matter said this month. The company is paying 120 percent of sales for the Carrefour stores and a multiple of 13 times earnings before interest, tax, depreciation and amortization, Carrefour said.
The sales premium "seems a relatively high valuation," said Christopher Hogbin, an analyst at Sanford C. Bernstein in London. "That said, there are clear synergies" of about 30 million euros a year, he said by telephone. Hogbin rates both Carrefour and Casino "market perform."
The purchase, which will be completed in early 2011, will boost Casino's earnings per share by 0.4 percent in the first 12 months and by 2 percent in three years, Chief Financial Officer Antoine Giscard D'Estaing said. Casino has been operating in Thailand since 1999.
Synergies
Wal-Mart Stores Inc., the world's largest retailer, has proposed paying 0.69 times revenue and 9.99 times Ebitda to purchase South Africa's Massmart Holdings Ltd., according to Bloomberg data.
The acquisition of Carrefour's 34 superstores and eight supermarkets in Thailand will generate so-called synergies equivalent to around 1.2 percent of the combined 2010 estimated sales, Casino said. These include improved purchasing terms, rationalized distribution and higher efficiency in the greater Bangkok area, where Big C's presence will more than double, D'Estaing said on a conference call today. The synergies are expected to be fully implemented by 2013.
Carrefour's Thai business may generate sales of 734 million euros in 2010, Casino said. The company had total revenue of 26.8 billion euros last year. Big C sales may reach 1.8 billion euros in 2010, D'Estaing said.
Carrefour shares rose 18 cents, or 0.5 percent, to 37.78 euros at 1:37 p.m. in Paris. Casino shares added 30 cents, or 0.5 percent, to 66.89 euros, giving the company a market value of 7.4 billion euros.
Carrefour Strategy
For Carrefour, the sale forms part of a plan to sell its businesses in Thailand, Malaysia and Singapore to focus on China and Indonesia. The Paris-based retailer said today that it didn't envisage being able to occupy a leading position in the Thai market in the medium or long-term.
Tesco, which operates 663 stores in Thailand under the Tesco Lotus brand, is still likely to be interested in acquiring Carrefour's other southeast Asian operations, analysts at Shore Capital said. If it doesn't and Carrefour extracts a high price in Malaysia from Dairy Farm International Holdings Ltd., a local operator of Giant stores, Tesco could benefit from a more financially constrained rival in that market, they added.
"The market should take comfort that Tesco has shown capital discipline and not over-bid for these stores," Clive Black and Darren Shirley, analysts at Shore Capital, wrote today in a note. They recommend buying Tesco stock.
Advisers
Carrefour is being advised on the deal by Goldman Sachs Group Inc. and UBS AG, people familiar with the matter have said. Deutsche Bank AG, Royal Bank of Scotland Group Plc and Rothschild advised Casino on the transaction, people familiar said.
Carrefour operates 37 shopping centers in Thailand, which account for around 50 percent of its earnings, before interest, tax, depreciation and amortization in the country. By buying the business, Big C's shopping-center portfolio will grow to 106. Casino is confident it can improve Carrefour's Thai shopping center rental income, D'Estaing said.
The purchase will be financed out of Big C's existing cash balance as well as through debt financing, Casino said. Big C had net cash of 2 billion Thai Baht ($66.8 million) at the end of the first-half of 2010, D'Estaing said. The deal will have "limited impact" on Casino's net debt to earnings before interest, tax, depreciation and amortization ratio, the CFO said.
Casino intends to dispose of 700 million euros of assets in 2011 in addition to the 1 billion-euro disposal program already announced, the CFO also said. The company has no plans to sell any Carrefour stores in Thailand, he said. Casino sold its stake in Dutch retailer Super de Boer last year for 550 million euros.
Big C will hold an extraordinary general meeting on Jan. 5, Casino said.
To contact the reporter on this story: Andrew Roberts in London at aroberts36@bloomberg.net
To contact the editor responsible for this story: Celeste Perri at cperri@bloomberg.net.