Berlusconi Ministers Quit to Force Government Collapse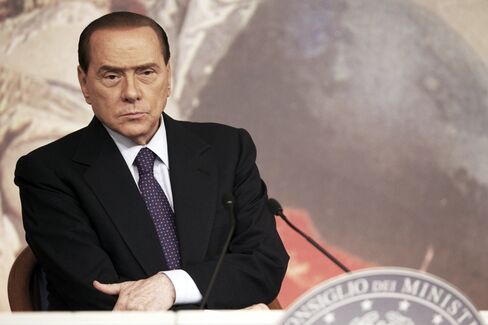 Four top officials from Italian Prime Minister Silvio Berlusconi's government, including a Cabinet member, resigned today in a move designed to bring down his administration and possibly trigger early elections.
Four members of the new Future and Liberty for Italy party formed by Chamber of Deputies Speaker Gianfranco Fini sent their letters of resignation to the premier, a spokesman for Deputy Industry Minister Adolfo Urso said. Urso was among those who stepped down.
Fini, who broke with Berlusconi in July, called for the premier's resignation earlier this month after media reports that Berlusconi helped secure the release from police custody of a 17-year-old nightclub dancer. The rupture with Fini, who co-founded the premier's People of Liberty party, comes as parliament prepares to vote on the government's 2011 budget.
Berlusconi acknowledged the defection of Fini's allies in a Nov. 13 statement and said he would call confidence votes in both houses of parliament after the budget is passed to see if he has sufficient support to govern. The government's future will be at the center of a meeting today between the premier and his ally Umberto Bossi, leader of the Northern League.
Berlusconi's Decision
"There are so many possibilities, so many hypotheses," said Roberto Maroni, Interior Minister and a leading politician of the League. "The final decision is in the hands of the prime minister."
Berlusconi, 74, may have enough backing in the upper house, the Senate, to survive a confidence vote. In the Chamber of Deputies, Fini has the votes to deny Berlusconi a majority and topple the government. Even if the government falls, early elections are not a certainty.
President Giorgio Napolitano would first consult the parties to see if another government might be formed with or without Berlusconi as its head, before calling for a vote. While Berlusconi's popularity has declined to near-record lows since his 2008 re-election, polls indicate that he might win a vote without Fini and secure a majority in at least one house of parliament.
Napolitano will meet tomorrow with Fini and Senate Speaker Renato Schifani for an unscheduled update on the parliamentary agenda, the Chamber of Deputies said in a statement today.
Early Voting?
"The likelihood of new elections in the near future is now pretty high," Natacha Valla, an economist at Goldman Sachs in Paris, wrote in a note to investors. "Yet, in a general move of wisdom, the entire political class agreed to postpone any formal step that would precipitate early elections until after the finance law has been passed, showing full awareness of the fact that an open political crisis before securing the 2011 budget would be most unwelcome in the context of heightened market anxiety regarding public finances in the euro zone."
The yield premium investors demand to hold Italian 10-year bonds over similar-maturity German bonds rose to a euro-era record of 180.9 basis points on Nov. 11 as concern that Ireland and Portugal may follow Greece in having to seek a European Union-led bailout hurt bonds of other so-called peripheral countries. The spread fell less than 1 basis point today to 164.
Budget Passage
"We expect the budget law to be approved within four to six weeks," Fabio Fois, an economist at Barclays Capital in London, said in an e-mailed note today. "Should the Senate approve the budget without amendments, we think a confidence vote could be triggered in mid-December."
The confidence votes may coincide with a decision by Italy's Constitutional Court set for Dec. 14 on the validity of a law passed by the government granting Berlusconi and other top officials immunity from prosecution while in office. Should the court rule against the premier, pending corruption trials against him could resume.
The biggest legal threat to Berlusconi comes from a Milan court that has already convicted his co-defendant in the case. The court is trying Berlusconi for allegedly paying $600,000 to U.K. lawyer David Mills to lie under oath on his behalf.
The criminal charges against Mills were thrown out in February because the statute of limitations had expired. Civil charges against Mills were upheld along with a 250,000-euro damage payment. Berlusconi denies any wrongdoing in the case and has said that judges are trying to destroy him politically.
'Ruby'
The political crisis has accelerated after the revelations that Berlusconi contacted police in Milan after they arrested a woman known as "Ruby heart stealer" on suspicion of theft. Maroni, testifying on the incident in parliament last week, said that Berlusconi had called police to inquire about the girl, whom he referred to as a relative of Egyptian President Hosni Mubarak. The woman, who turned 18 this month, is Moroccan and not related to the Egyptian leader.
Berlusconi admitted helping the girl, who had attended a party at his Milan villa months earlier. The premier said he sent his former dental hygienist, a one-time television showgirl and now a regional politician for his party, to take custody of the girl upon her release from jail.