Bill Clinton Sees Enduring Vietnam Ties on Hanoi Trip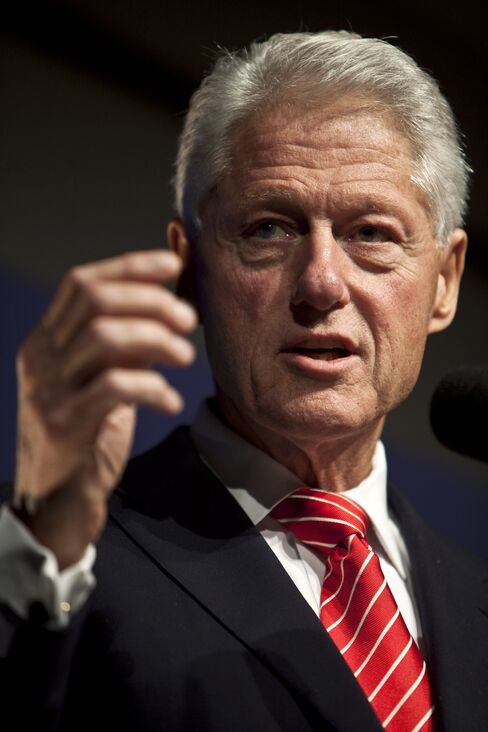 The U.S. and Vietnam have built a lasting relationship since re-opening diplomatic ties 15 years ago that has created wealth, boosted trade and investment and enhanced security, former President Bill Clinton said in Hanoi.
As U.S. leader, Clinton oversaw the normalization of links in 1995 and in 2000 became the first U.S. head of state to visit the Vietnamese capital. During a return trip today, Clinton met with Vietnam's Prime Minister Nguyen Tan Dung and spoke to students at Hanoi's Foreign Trade University.
U.S. interests in its relationship with Vietnam include shared concern over the rising strength of China, the Congressional Research Service said in a report last year. Clinton cited "security cooperation" when listing areas in which the U.S. and Vietnam have worked together.
There is now an "enduring partnership between the United States and Vietnam," Clinton said in his speech to the students today. "We have put those years to very good use."
Vietnam's per-capita income has increased fivefold since the Asian nation and the U.S. normalized relations, Clinton said. Two-way trade has surged since a 2001 trade pact took effect, and American companies that have built plants in Vietnam include Intel Corp., which this year opened a $1 billion factory in Ho Chi Minh City.
The trade agreement "was the right thing to do, for both of us," Clinton said. "We have become your largest export partner and one of your largest investors."
Exports Increase
Vietnam's exports to the U.S. grew to $12.4 billion in 2009 from $1 billion in 2001, according to the U.S. International Trade Commission. In the first nine months of this year, Vietnamese shipments to the world's largest economy climbed 18 percent to $10.75 billion, while U.S. exports to Vietnam rose 19 percent to $2.51 billion.
"In Vietnam, we are cultivating a level of cooperation that would have been unimaginable just 10 years ago," said U.S. Secretary of State Hillary Clinton, speaking last month in Hawaii en route to a visit to Asia that included a stop in Hanoi.
"Our diplomatic and economic ties are more productive than ever, and we've recently expanded our discussion on maritime security and other defense-related issues," said Hillary Clinton, who is Bill Clinton's wife.
In March, the two countries signed a nuclear energy accord, calling for cooperation in developing the regulatory and physical infrastructure needed for a safe and secure Vietnamese civilian nuclear power sector. In 2004, the U.S. made Vietnam the first Asian nation eligible for funding under a $15 billion plan to fight the spread of HIV and AIDS.
"The normalization of relations between the United States and Vietnam was one of the proudest moments of my presidency," Bill Clinton said. "The importance of our ties with Vietnam is one of the few things that both political parties in Washington, D.C. agree on."