Conrad Calls for Keeping Range of Tax Credits, Deductions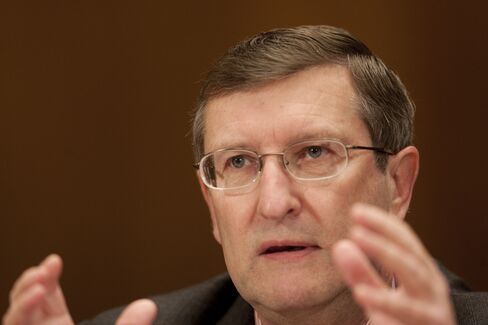 Senate Budget Committee Chairman Senator Kent Conrad, a member of the presidential commission on deficit reduction, said he will oppose any plan that eliminates all tax breaks to help close the nation's budget gap.
Conrad, a North Dakota Democrat, said the mortgage interest deduction, child credit and earned income credit are among the tax breaks that should be maintained. Deficit reduction should be focused instead on eliminating "some of the loopholes in the system," Conrad said today on ABC's "This Week" program.
"We're allowing $100 billion a year to be lost to offshore tax havens, another $50 billion to abuse of tax shelters" Conrad said. "That can't be allowed to continue."
The bipartisan presidential commission's co-chairmen proposed on Nov. 10 a $3.8 trillion deficit-cutting plan that would reduce Social Security and Medicare payments and slash government spending. It also would increase income taxes by $100 billion a year by ending all tax breaks while cutting marginal rates.
Conrad said the chairmen's proposal would use 90 percent of the increased revenue from eliminating deductions and credits to lower rates.
"I don't support that," he said.
Still, Conrad said legislators are "going to have to work both sides of the equation" in tax and revenue. "It's critically important we do or we will become a second-rate economic power," he said. "That is the hard reality."
The plan, greeted with criticism from all sides, would cut the annual deficit to $400 billion by 2015 from this year's $1.3 trillion. It wouldn't produce a balanced budget until 2037.
'Shock Therapy'
Conrad called the announcement "shock therapy" with different options that have to be discussed.
The plan was proposed by commission chairmen Erskine Bowles, who served as chief of staff to President Bill Clinton, and Alan Simpson, a former Republican senator from Wyoming. They head Obama's National Commission on Fiscal Responsibility and Reform, which needs agreement from 14 of its 18 members before a plan can be sent for an up-or-down vote in Congress.
Honeywell International Inc. Chief Executive Officer David Cote, 58, another member of the commission, said his generation of baby boomers is going to "crush the system" in the coming years as they begin to collect Social Security, Medicaid and Medicare.
"It scares me that as a financially conversant CEO, I didn't know how bad this was going to get in the next 10 years because people want to point to stuff like Obamacare, stimulus, Bush tax cuts," Cote said on "This Week."