Taleb Says Fed Policymakers 'Do Not Understand Risk'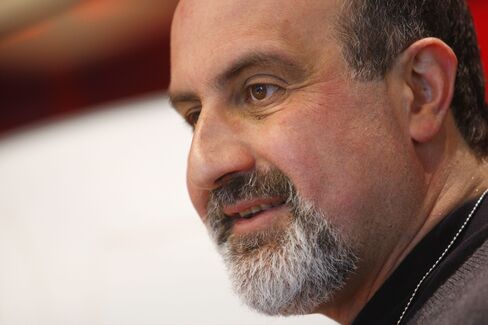 The risks stemming from the Federal Reserve's efforts to stimulate the economy through bond purchases are "humongous" and the central bank doesn't fully understand the potential effects, said Nassim Taleb, author of "The Black Swan."
"These people do not understand risk," Taleb said in an interview on Bloomberg Television's "InsideTrack" program with Erik Schatzker. He compared U.S. central bank policy makers to the managers of Long-Term Capital Management LP, the hedge fund that failed in 1998.
The Fed, led by Chairman Ben S. Bernanke, announced a plan to buy an additional $600 billion in government debt last week to support the economy after purchasing $1.7 trillion of assets from December 2008 through March. Bernanke doesn't understand that the plan risks unintended consequences such as hyperinflation and that it may ultimately backfire and introduce a new crisis to global markets, Taleb said.
"He is someone who talks about returns without talking about risk," Taleb said. "It's identical to a pilot talking about speed and not talking about safety. The measure he's taking, quantitative easing, may work but should it fail the risks are humongous."
Rejection
Bernanke defended the expansion of record monetary stimulus last week, dismissing the idea the central bank will increase inflation higher than it prefers. "I have rejected any notion that we are going to raise inflation to a super-normal level in order to have effects on the economy," Bernanke said Nov. 6 in a panel discussion at a Fed conference in Jekyll Island, Georgia.
Taleb said Bernanke's background as a former Princeton University economist who studied the Great Depression doesn't mean he can grasp the consequences of the central bank's asset purchases, just as the managers of the LTCM hedge fund didn't foresee the hidden risk of their strategies.
"You had brilliant people with great academic records and they blew up their fund and almost blew up Wall Street," Taleb said of the hedge fund, led by John Meriwether, whose collapse destabilized financial markets worldwide.
Bernanke "is sort of risk blind," Taleb said. "Did he see the crisis? No. Did he see the risk of hidden risk in the system? No. He was flying the plane and he crashed because he didn't know about hurricanes or things that can cause turmoil."
Ancient Misconception
Taleb wrote the 2007 best-seller "The Black Swan: The Impact of the Highly Improbable," which argues that history is littered with rare, high-impact events that can roil markets. The black-swan theory stems from the ancient misconception that all swans were white.
As the founder of New York-based Empirica LLC, a hedge-fund firm he ran for six years before closing it in 2004, Taleb built a strategy based on options trading to protect investors from market declines while profiting from rallies. He now advises Universa Investments LP, a Santa Monica, California-based fund that bets on extreme market moves.
Before it's here, it's on the Bloomberg Terminal.
LEARN MORE