Vestas Says U.S. Expansion on Course as Turbine Market Shrinks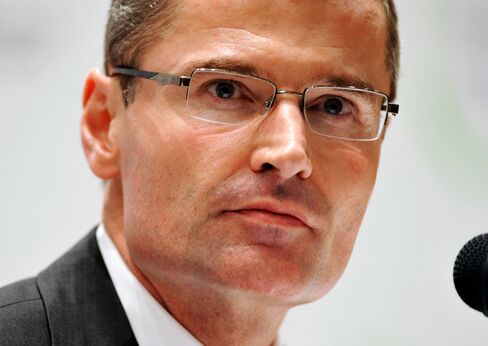 Vestas Wind Systems A/S, the world's largest wind turbine maker, will increase production in the U.S. even after analysts including HSBC Holdings Plc cut forecasts for installations in the region.
The Randers, Denmark-based company will expand its U.S. head count to 4,000 "in the coming months," from 2,300 now, Chief Executive Officer Ditlev Engel said by phone from Seoul. Last month it said it will eliminate 3,000 jobs in Europe.
"The cheapest way to produce electricity in the United States from wind is to make it in the U.S.," said Engel, who is in the South Korean capital to advise Group of 20 leaders on creating clean energy jobs. "We have no plans to change the balancing of our capacity" beyond the European reductions announced Oct. 26, he said.
Vestas has spent more than $1 billion building four factories in Colorado to replace turbine imports in the U.S., the second biggest market after China. HSBC last month pared its forecast for the U.S. wind market this year by 14 percent and by 33 percent next year. Bloomberg New Energy Finance has also slashed predictions.
This year in Colorado, Vestas opened a plant in Brighton making nacelles, the casings that hold the power-generating equipment. It also built the world's largest windmill-tower factory in Pueblo and added to its blade-manufacturing plant in Windsor.
Another blade plant is due to open next year in Brighton. That will give Vestas the capacity to make about 3,000 megawatts of turbines a year in the U.S., according to HSBC Global Head of Clean Energy Research Robert Clover.
Challenging
"To fill that capacity, Vestas would need to fill more than half the market," Clover said in a telephone interview. "It looks challenging to have that plant fully loaded at the moment."
Even so, London-based HSBC said in an Oct. 14 research note that the Danish company is well-placed to gain market share worldwide and that its slice of sales will likely be 16.5 percent in 2014, up from 14.5 percent last year.
"We are ramping up and investing in the U.S. because we have a high confidence in the U.S. market as one of the most important wind markets on this planet," Vestas spokesman Michael Holm said in a telephone interview.
The U.S. market will probably total 6 gigawatts this year and 5 gigawatts next year, according to HSBC. New Energy Finance predicts 7.8 gigawatts will be installed in 2011. The industry added 395 megawatts in the third quarter, the least since 2007, the American Wind Energy Association said Oct. 29. It said a lack of long-term energy policies in the U.S. is behind the slump. In 2009, installations totaled 10 gigawatts, it said.
Forecasts Cut
Vestas is looking to the U.S. after twice lowering its sales forecast for 2010. The company, which has lost more than half its market value in the past year, said Oct. 26 it will close four factories in Denmark and Sweden as European demand drops because banks have tightened financing to wind-park developers and the region's sovereign debt crisis has limited prospects for economic growth. Shares in the company dropped 2.4 percent yesterday to 173.5 kroner, taking their decline for year to 45 percent.
Engel said it's too early to tell if this month's congressional elections, in which the Republicans won control of the House of Representatives, will have any impact on renewable energy.
"Energy issues are very much in the forefront on both fronts of the aisle," Engel said. "We still have 30 states in the U.S. who have renewable portfolio standards in place which will continue irrespective of the midterm elections."
Green Jobs
Engel is head of a G-20 advisory panel that recommended the elimination of fossil fuel subsidies, setting up a "robust" price for emitting carbon, scaling up research and development, and allowing free trade in environmental goods and services, he said. The panel wants to meet each leader for an hour in coming months to tailor a strategy for each country.
"The creation of green jobs, which is our focus, will only happen if there's long-term focus, letting business know where to invest and what to look for," Engel said. "When business doesn't know what the rules are, then business holds back."