Spanish Bonds at Risk as Contagion Gathers Force: Euro Credit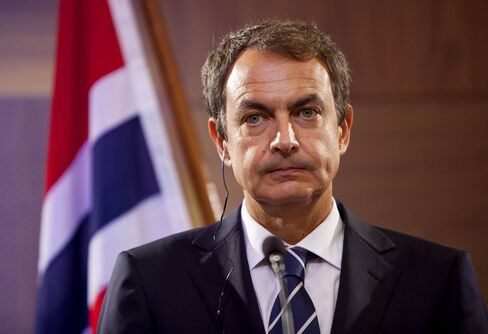 Spain's efforts to cut the euro region's third-biggest deficit may not avert record borrowing costs, as investors speculating on a bailout for Ireland or Portugal trash the bonds of Europe's peripheral countries.
The extra yield investors demand to hold Spanish 10-year bonds over German bunds jumped as much as 34 basis points this week to 229, nearing June's euro-era record of 232 basis points. The risk premiums for Ireland and Portugal soared to record highs of 652 and 484 basis points, respectively.
Collapsing bond values make it harder for Ireland and Portugal to sell new debt, and leave Spain vulnerable to similar attacks, according to analysts including Phyllis Reed, head of bond research at Kleinwort Benson Private Bank in London. Shoring up the finances of an economy that is 12 percent of the euro region and more than three times Portugal and Ireland combined would strain the 750 billion-euro ($1 trillion) lifeline set up to stop contagion from Greece's near default in May.
"There's a perception that once you start down the path with one country, the others have to follow, at least the market will interpret it that way," said Reed. Investors "won't be able to help themselves, whether it's right or not," she said.
Portugal and Ireland requesting aid from the European Financial Stability Fund won't stop the spread of the crisis, and the European Central Bank should take pre-emptive action to stem the fallout by buying Spanish bonds in secondary markets, Jacques Cailloux, chief European economist at Royal Bank of Scotland Group Plc in London, wrote in a note to investors.
'Time to Act'
There are "growing signs that the contagion is spreading to the larger economies with Spain lining up next," he said. "Now is the time to act."
The surge in Spain's risk premium is having an immediate effect on its financing costs as the country has more debt to sell by the end of the year than most of the other peripheral countries. While Portugal held its final bond sale Nov. 10 and Ireland says it is fully funded until the middle of next year, Spain still has to sell 12 billion euros of bonds in the three remaining auctions this year, Chiara Cremonesi, a fixed income strategist at UniCredit Bank AG in London estimates.
The jump in borrowing costs accelerated after German Chancellor Angela Merkel said on Oct. 29 that bondholders should contribute to the cost of future euro-area crises and possible restructurings. The proposal is part of talks to create a permanent European debt-crisis mechanism once the EFSF expires in 2013.
Default Insurance
As Portugal and Ireland's three-year borrowing costs have risen to 6 percent and more than 8 percent respectively, compared with the rate of about 5 percent Greece pays on its emergency European Union loans of the same maturity, expectations are growing that one or both may turn to the fund for help.
The cost of insuring Irish debt against default fell 1.5 basis points to 595.6, hovering near the record close of 598 basis points on Nov. 8. Credit-default swaps on Portugal rose 6 basis points to a record 480.32. Spain's credit-default swaps rose 1.7 basis to close at a record 279.9 basis points, according to data provider CMA.
Irish bonds rose for the first day in 14 today after European finance ministers said plans for a new system to handle euro-region sovereign crises won't apply to outstanding debt and Spanish Prime Minister Jose Luis Rodriguez Zapatero said Spain opposes the new measures proposed by Germany.
Spanish 10-year bonds fell for a 14th straight day, while the yield spread over Germany narrowed two basis points to 218.
'Different Story'
Spanish banks and pension funds have increased their holdings of Spanish bonds, helping limit the impact of any exodus of foreign investors, according to the Treasury. While Irish banks hold 8 percent of Ireland's public debt and domestic lenders hold 11 percent of Portuguese debt, the equivalent figure in Spain is 48 percent, the Irish debt agency said in October, using estimates based on surveys.
That domestic support is underpinning the Spanish market, said Gianluca Salford, a fixed income strategist at JP Morgan Chase in London.
"We now expect Ireland to go to the EFSF eventually in 2011 and that will have a widening impact on Spanish spreads," he said. "But we don't expect Spain to go there: it's a very different story in terms of fiscal deficit, banking sector stress and domestic support for the bond market."
Deficit Cuts
Spain's commercial banks haven't needed government bailouts, and the cost of supporting the regional savings banks was around 12 billion euros, or 1 percent of GDP. The burden of bailing out Irish banks will send the nation's budget deficit to 32 percent of GDP this year. Spanish lenders, which were shut out of international capital markets earlier this year, have returned with Banco Bilbao Vizcaya Argentaria SA and Banco Santander SA selling debt.
Finance Minister Elena Salgado said in Seoul yesterday that there's "no risk" to Spain's ability to sell debt.
Spain is also cutting its deficit more quickly than Greece, Ireland or Portugal, as it slashes public wages and increases tax. The central government's deficit -- excluding the regional administrations that control health and education --- fell 42 percent in the first nine months, compared with 31 percent in Greece and a widening shortfall in Portugal.
'Most Austere'
While Spain's economic indicators are "much better," and its deficit plans "among the most austere," that may not be enough to calm investors if Portugal and Ireland are pushed toward a bailout, said Camille Viros, an economist at Barclays Wealth in London.
"If Portugal and Ireland do end up needing European help, the focus of investors could turn to Spain," she said. "It could be that the fundamentals wouldn't be enough to reassure markets."
Before it's here, it's on the Bloomberg Terminal.
LEARN MORE