QR National's $5 Billion IPO Draws 'Robust' Demand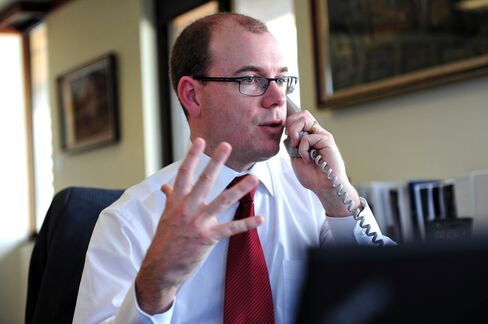 QR National Ltd.'s initial share sale, Australia's biggest since 1997, will be priced inside the forecast range because of "robust" demand from international institutional investors, Queensland Treasurer Andrew Fraser said.
"We have seen an upturn in interest in recent days," Fraser, 34, said by phone yesterday. "The feedback from the international roadshow was very robust and I think they will lead the way for their domestic brothers."
Queensland plans to raise as much as A$5.05 billion ($5.04 billion) selling stock in what may be the world's fourth-largest IPO this year as Chinese and Indian demand for coal boosts volumes on QR National's railways. The state also this week sold Brisbane port as it seeks A$15 billion in asset sales to help pare bond offerings and regain the highest Standard & Poor's credit rating.
"The government is committed to re-securing a AAA credit rating," Fraser said. There is "no doubt" the state will pare bond sales this year and next because of the funds raised from selling five companies, he said.
QR National will likely rank among the 50 largest companies in Australia's benchmark index, which will help lure investors, said Elio D'Amato, who oversees about $115 million at fund manager Lincoln Indicators in Melbourne. Still, a price of between 21 and 25 times forecast earnings is deterring him from buying stock.
"We don't feel that at current prices it represents value as it really is an infrastructure play," he said. "The government is doing the right thing" in selling shares now though, he said.
Share Pricing
Queensland, Australia's largest coal mining region, plans to price shares of QR National from A$2.50 to A$3.00. At the top of the range, the QR National will have a market value of A$7.3 billion. The state will keep as much as 40 percent of the stock, which it has agreed not to sell until the end of 2012.
Individual investors, who will pay no more than A$2.80 a share and at least 10 cents less than institutions, have until today to seek shares. The stock will begin trading on the Australian Securities Exchange next month.
The sale comes after builder Valemus Ltd. scrapped an A$1.39 billion IPO in July as investors baulked at the offer price. Australia's stock market is also the third-worst performing major bourse in the Asia-Pacific region this year, with the benchmark S&P/ASX 200 Index falling about 3 percent.
Queensland was downgraded to AA+ from AAA at S&P in February last year. The ratings company cited the state's spending program and a "significant decline" in operating revenue.
Yields Climb
The yield on Queensland Treasury Corp.'s five-year bond climbed for a second week, rising to 5.54 percent as of 10:30 a.m. in Sydney from 5.46 percent on Nov. 5. The 6 percent bond due in October 2015 fell 0.127 today, or $1.27 per $1,000 face amount, to 101.934.
The premium investors demand to hold the bond instead of similar-dated federal government was at 0.36 percentage point, narrowing from 0.40 point on Sept. 30.
Queensland this week agreed to sell Port of Brisbane, Australia's third-biggest container harbor, to a group led by Global Infrastructure Partners and Abu Dhabi Investment Authority for A$2.1 billion. In June, it completed the sale of a 99-year lease to forest plantations for A$603 million.
Abbot Point
The state sent out requests for expressions of interest in the Abbot Point coal terminal last week, and is working to complete the sale of a toll-road company by June, Fraser said. No further sales are planned once the residual QR stake is sold, he said.
"We nominated five candidate businesses and that is it. Full stop," he said.
Brisbane-based QR National expects earnings to surge 75 percent in the next two years as coal shipments rise and mining companies expand projects in Western Australia. The company operates 700 locomotives, 16,000 wagons and 2,300 kilometers (1,430 miles) of track, according to a share sale document.
Based on the price range for the stock sale, QR National stock would trade at 21-25 times estimated earnings per share for the year ending June 2011, and 17-20 times the following year's earnings, according to the sale document.
Asciano Ltd., Australia's biggest publicly traded port and rail operator, trades at about 19 times estimated earnings for the 12 months ending June 2011.
Telstra Sale
Completion of the QR National IPO would make it Australia's largest since the federal government raised more than A$14 billion selling shares of phone company Telstra Corp. in 1997.
Agricultural Bank of China Ltd. sold $22.1 billion of shares in Shanghai and Hong Kong earlier this year in the world's biggest IPO on record. Asia-Pacific IPOs have raised $142.3 billion so far this year, about 65 percent of the global tally, according to data compiled by Bloomberg.
UBS AG, Credit Suisse Group AG, Goldman Sachs & Partners Australia Pty, Bank of America Corp.'s Merrill Lynch unit and Royal Bank of Scotland Group Plc are managing the QR National offering.