Obama Opposed to Permanent Top Tax-Rate Extension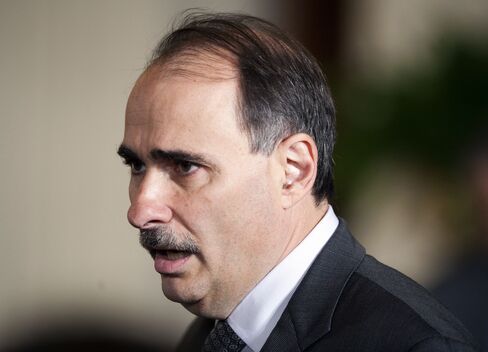 President Barack Obama's top adviser said the administration hasn't given into Republican demands for a permanent extension of Bush-era tax cuts for high-income Americans while leaving the door open to a temporary continuation.
"We believe that it is imperative to extend tax cuts for the middle class," David Axelrod, a senior White House adviser, said in an e-mailed statement. "We don't believe that we can afford to borrow another $700 billion in the next decade" to keep tax cuts for top earners.
Axelrod sent the statement after the Huffington Post reported this morning that he suggested in an interview the White House would accept an across-the-board extension of tax cuts passed in 2001 and 2003 that are set to expire at the end of the year.
In the Huffington Post interview, Axelrod said that the president doesn't want to "trade away security for the middle class" to continue making the point that the country can't afford indefinitely extending tax cuts for the wealthiest Americans, defined by Obama as individuals making more than $200,000 and couples earning more than $250,000.
Republicans, who won a majority of House seats in the Nov. 2 elections and narrowed the Democratic margin in the Senate, are pushing to permanently extend all the current tax rates.
Open to Talks
Obama wants to permanently extend just the tax cuts on earnings up to $200,000 for individuals or $250,000 for households. Administration officials, including White House press secretary Robert Gibbs, have said previously that Obama is open to negotiations on a temporary extension of the current top rates.
Democrats will retain control of both chambers of Congress until January, and lawmakers will take up the tax issue when they return next week for a lame-duck session.
A one- or two-year extension of the top income tax rates and a longer one for middle-income taxpayers would be considered a victory for the White House, according to a Senate Democratic aide who spoke on condition of anonymity.
Democrats also want the matter dealt with during the current legislative session to avoid giving the Republican-controlled House a chance next year to pass a permanent tax-cut extension, forcing Senate Democrats to either give in or go on record opposing a tax cut, the aide said.
Overhaul Incentive
Senate Budget Committee Chairman Kent Conrad, a North Dakota Democrat, said in a Bloomberg Television interview today that lawmakers "should extend them all for a short period of time" to "give a big incentive to Congress" to work on a comprehensive overhaul of the tax system.
In the Huffington Post interview, Axelrod said administration officials are concerned that Congress in the future will keep passing temporary tax cut extensions year after year. Still, he said, getting the middle-income tax cuts extended is a priority.
"We have to deal with the world as we find it," Axelrod told the Huffington Post. "The world of what it takes to get this done."
Top congressional Republicans seized on the Huffington Post report as a sign the administration will give in.
"While the president and some of his allies in Congress have a strange desire to raise taxes on hundreds of thousands of small businesses across the country, we would welcome the president's help to extend all the current tax rates so that no one sees a tax hike," Senator Mitch McConnell of Kentucky, the chamber's top Republican, said in a statement.
Boehner's Position
Michael Steel, a spokesman for Ohio Republican Representative John Boehner, who is in line to become House Speaker in January, also took Axelrod's published comments as a sign of acquiescence.
"Republicans made a pledge to America to permanently stop all of the tax hikes scheduled for January 1st," Steel said. "We're glad to see that the president's most trusted adviser now agrees with this course of action."
Boehner said yesterday that permanently extending the tax cuts is necessary "to reduce the uncertainty in America" that's chilling business investment and hiring.
Obama had previously signaled a willingness to negotiate with Republicans on the tax cuts after receiving what he termed a "shellacking" in the mid-term elections. In his weekly address on Nov. 6 he said, "there's room for us to compromise and get it done together."
White House Meeting
The president invited congressional leaders from both parties to a White House meeting on Nov. 18 to talk "substantively" about the legislative agenda.
Unless Congress acts, marginal rates will increase for all income tax payers. Tax credits benefiting families will be cut in half. The so-called married penalty that forces some couples to pay more than if they were single will be reinstated. Rates will rise on most dividends and capital gains, and a levy on estates valued over $1 million will be resurrected.
Extending only the current rates for individuals earning less than $200,000 and couples making under $250,000 would add more than $3 trillion to the national debt over the next decade. Sustaining tax cuts for those with higher incomes would add an additional $700 billion to the debt over the next decade, Treasury Secretary Timothy Geithner has said.
An across-the-board extension of all Bush-era tax policies would cost the government about $5 trillion in foregone revenue and interest cost on the debt, the Congressional Research Service estimated last month.