Geithner Says Dollar Drop Due to Haven-Flow Reversal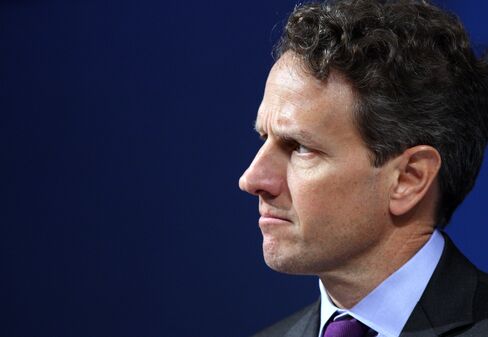 Treasury Secretary Timothy F. Geithner said the dollar's drop in recent months is due to a reversal in safe-haven capital flows, rebutting former Federal Reserve Chairman Alan Greenspan's assessment of U.S. policy.
Investors are no longer seeking as much of a refuge in dollars, and that's "a sign of greater confidence that although we face challenges in the U.S. and globally the risks we face are more manageable," Geithner said in a transcript of an interview with CNBC television distributed by e-mail today. This shift is "the dominant trend that we see," he said.
The remarks follow criticism from Chinese officials, including Vice Finance Minister Zhu Guangyao on Nov. 8, that the Fed plan to buy $600 billion of Treasuries may "shock" emerging markets by flooding them with short-term capital. German Finance Minister Wolfgang Schaeuble called the Fed "clueless" and Greenspan wrote in the Financial Times today that the U.S. is "pursuing a policy of currency weakening."
"I have enormous respect for Greenspan, had the privilege of working with him for a long period of years but that's not an accurate description of either the Fed's policies or our policies," said Geithner, who arrived in South Korea today to join President Barack Obama in efforts to rally support for U.S. trade initiatives. "We will never seek to weaken our currency as a tool to gain competitive advantage or to grow the economy."
G-20 Talks
Leaders from the Group of 20 nations are deliberating on whether to endorse proposals to refrain from competitive currency weakening and to monitor trade balances for signs that deficits or surpluses are reaching risky levels.
Finance ministers endorsed the plan last month. Since then, nations including Germany and China have criticized what they say is a U.S. push to impose unfair limits while the Fed weakens the dollar.
The Dollar Index, which IntercontinentalExchange Inc. uses to track the dollar against the currencies of six major U.S. trading partners including the euro and yen, slid on Nov. 4 to the lowest level since December 2009. It lost 11 percent versus the yen in the past six months, to 82.17 as of 1:13 p.m. in Tokyo, and 8.2 percent against the euro to $1.3797.
Dollar's Ride
The Dollar Index surged by March 2009 to its highest level since 2006 as the financial crises deepened after the failure of Lehman Brothers Holdings Inc., before retreating by year-end as the world economy recovered from the deepest postwar recession. The American currency strengthened again in the first half of this year as Europe's sovereign-debt crisis undermined the euro.
Geithner said today he's "very confident" the leaders will endorse the framework set out by the finance chiefs.
"We provided a proposal that allows for a cooperative framework to manage through those kinds of things," he said. "You're going to see very broad support for that because, again, it's better than the alternative. Because the alternative is countries want to go their own way and you see the cooperative forces so important in solving the crisis dissipate."
The Treasury secretary also said that China is making progress on allowing a more flexible yuan and that "it's very important to them, and I think they believe this in China too, that they let this process continue."
The yuan has strengthened about 0.7 percent against the dollar since Nov. 8, its biggest three-day advance since a currency peg ended in July 2005. Premier Wen Jiabao's government has kept the gains to about 3 percent since pledging to allow greater flexibility in June.
Inflation Threat
"If you resist those market forces, that pressure is not going to go away," Geithner said, attributing the tendency toward a higher yuan to confidence in the outlook for China's economic growth. "It's just going to end up in higher inflation or higher asset prices and that'll be bad for China."
China's consumer prices climbed 4.4 percent in October from a year before, the most in two years, a government report showed today.
Geithner said tensions arise when emerging-market nations that allow their currencies to rise are "unfairly" penalized by countries like China that limit foreign-exchange rate gains.
"The world is going to be more comfortable, the emerging world, letting their currencies continue to move if they're confident China is going to move," Geithner said. "China will be confident that they can allow this process of gradual appreciation continue, if they know that the countries they compete with are going to let their currencies move up too."
Europe Debt
Geithner also said worries about European sovereign debt woes don't "need to be" a source of global panic. He spoke a day after Irish 10-year government bonds plunged for a 12th straight session, with fixed-income clearing house LCH Clearnet Ltd. demanding its clients place a larger deposit when trading the nation's bonds.
European policy makers "put in place in the summer a very strong set of tools, financial tools, a strong framework they can use to help those countries manage through these problems and I think that leaves it completely in Europe's capacity to manage it carefully," Geithner said.
Before it's here, it's on the Bloomberg Terminal.
LEARN MORE