G-20 Grinds Towards Currency, Trade Accord After Talks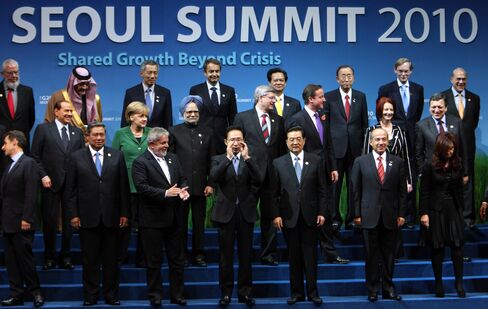 Group of 20 nations' officials in Seoul huddled deep into the night to wrest a compromise deal their leaders could endorse to tackle imbalances in currencies and trade that threaten to stoke protectionism.
South African Finance Minister Pravin Gordhan said leaders and their aides had made progress in coming to agreement on how to address global imbalances. Australian Prime Minister Julia Gillard said "some work" still needed to be done on bridging divides over currency valuations. Leaders are meeting as Irish bond yields are soaring on concern the European Union will need to step in with a bailout.
"We're making some very good progress in getting a common understanding and a deeper understanding of what the issues are on a global basis," Gordhan said in an interview with Bloomberg Television in Seoul.
Efforts to tackle currency and trade imbalances had floundered as China rejected policy prescriptions that fault its exchange rate regime and directed criticism at monetary easing in the U.S. At stake for the global economy is averting a repeat of the currency and trade tensions that erupted in the 1930s and were blamed for worsening the Great Depression.
Medicine
"Don't make other people take the medicine for your disease," Yu Jianhua, a director general at China's Ministry of Commerce, told reporters in Seoul late yesterday. "Quantitative easing will have a very big impact on developing countries including China."
The pivotal roles China and the U.S. must play to get a breakthrough at the G-20 was underscored by an 80-minute meeting between Presidents Barack Obama and Hu Jintao yesterday dominated by exchange rates. Today, Obama put his arm around Hu after leaders posed for a group photo.
"I think the Chinese agenda at the G-20 is to do damage control," Jonathan Anderson, Beijing-based chief emerging markets economist for UBS AG, said in an interview with Bloomberg News's Tom Keene on "Bloomberg Midday Surveillance." "The ideal position for China is to calm things down and try and hopefully explain again what they are trying to do, maybe set some targets for how they can meet halfway."
Trade Surplus
China's record $28 billion trade surplus with the U.S. in August heightened criticism its government maintains an unfair cap on yuan appreciation to the detriment of U.S. businesses. Obama, who has pledged to double exports within five years, has sought to broaden the currency debate by linking it to a worldwide effort to rein in current-account excesses.
The G-20 meeting of finance ministers and central bankers last month agreed to move toward "more market-determined exchange rate systems" and make efforts on "reducing excessive imbalances." The U.S. Federal Reserve a week later said it would pump $600 billion into the economy to spur growth. Brazil, Germany and China said the move would drive down the dollar and fuel speculative capital flows that risk asset bubbles.
On exchange rates and imbalances, Gillard said today that "there is still some work happening on that question."
"I believe an agreement will be reached," she told reporters. "We want to emerge from this G-20 meeting with the process agreed to and with a timeline agreed to."
EU ministers gathered in Seoul are monitoring developments on the Irish debt crisis and will probably issue a joint statement later today, said Steffen Seibert, a spokesman for German Chancellor Angela Merkel.
Modify Language
China is seeking to modify the language on trade imbalances in the summit communique, said a German official taking part in the talks who requested anonymity because he isn't authorized to speak publicly for the government. G-20 finance chiefs last month agreed to "pursue the full range of policies conducive to reducing excessive imbalances and maintaining current account balances at sustainable levels."
"They have to deal with the underlying causes for this instability, which are these imbalances," said Josef Ackermann, chief executive officer of Frankfurt-based Deutsche Bank AG. "It's not about assigning blame to who is in deficit and who is in surplus -- the markets will decide who is in surplus and who in deficit -- but to create a framework to find the right balance."
The People's Bank of China set the reference rate for yuan trading at 6.6239 per dollar today, the strongest since a peg ended in July 2005. The Chinese currency gained 0.4 percent this week to 6.6296 per dollar as of 10:04 a.m. in Shanghai, according to the China Foreign Exchange Trade System.
The yuan has risen about 3 percent against the U.S. currency since June 19, when China said it was allowing a resumption of appreciation that was frozen in 2008.
U.S. Treasury Secretary Timothy F. Geithner has said that the yuan remains undervalued and that China needs to show continued commitment to allow the Chinese currency to rise further over time. China says that a quick increase in the yuan's value would cause economic and social disruption.
Geithner is due to meet with Chinese Vice Premier Wang Qishan and People's Bank of China Governor Zhou Xiaochuan today.