Bank Rossii 'Secret' Currency War Steadies Ruble: Russia Credit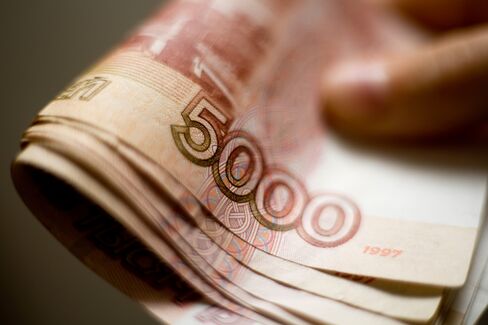 Russia is curbing demand for its currency and bonds without pursuing capital restrictions adopted by countries from Brazil to Thailand.
The ruble gained 0.1 percent against the dollar since the beginning of September, compared with a 2.3 percent increase in the Brazilian real, a 6.4 percent rally for South Africa's rand and a 7.9 percent advance in the South Korean won. Net purchases of Russian debt dropped by 7 percent since the end of August compared with 0.2 percent in Brazil, amid a record $47 billion of inflows into developing nations this year, data compiled by Boston-based research firm EPFR Global show.
While Brazil raised a tax on foreigners' purchases of bonds and Thailand abandoned tax exemptions on their income from debt, Bank Rossii Chairman Sergey Ignatiev is "quietly" manipulating the dollar-ruble rate while publicly loosening six-year-old controls of the exchange rate, according to VTB Capital and Otkritie Financial Corp. Central banks across emerging markets are seeking to limit appreciation in what Brazilian Finance Minister Guido Mantega called a "currency war" as near-record low interest rates in the U.S., Europe and Japan spur demand for higher-yielding assets.
"It's a secret currency war, they are still manipulating the market rather than moving away as their statements to the world suggest," Otkritie's Chief Economist Vladimir Tikhomirov said by phone from Moscow yesterday. "While investors try and work out what is actually going on they are pre-empting any strength by keeping the ruble steady versus the dollar."
Ruble Bonds
Russian government ruble bonds lost 2.3 percent since Oct. 8, when Deputy Finance Minister Dmitry Pankin warned of a debt "bubble" in Russian markets. Russia is lagging behind the 1.3 percent gain in the local currency debt of developing markets as a whole, according to data compiled by JPMorgan Chase & Co. as of yesterday.
Bank Rossii has been buying and selling foreign currencies to manage swings in the ruble that hurt exporters against a basket of dollars and euros since February 2005. The bank expanded the so-called floating corridor it allows the ruble to trade freely within versus the basket twice last month as part of a strategy to end intervention by 2012, First Deputy Chairman Alexei Ulyukayev said at the time.
The ruble weakened 0.6 percent today, the most since Oct. 27, to 30.75 per dollar by the 5 p.m. close of Moscow trading. Russia's currency dropped 0.9 percent to 42.275 versus the euro, its first decline in six days, leaving it 0.7 percent weaker at 35.9384 against the basket.
Switching Focus
The bank has since switched its focus from the basket, which is made up of about 55 percent dollars and 45 percent euros, to the dollar, taking steps to keep the ruble between 30 and 31 per dollar to discourage speculators, said Alexei Moiseev, the chief economist and head of research in Moscow at VTB Capital, the investment banking arm of Russia's second-largest bank VTB Group.
"The basket has become all but irrelevant," Moiseev said by e-mail yesterday.
The currency hasn't breached that range since Oct. 11, when it touched 29.9401. The ruble should be trading stronger than 30 per dollar, according to forecasts from Otkritie, BNP Paribas SA, Credit Agricole SA, Societe Generale SA, UBS AG and Deutsche Bank AG, the world's largest currency trader. Bank Rossii's interventions in the ruble totaled $5.1 billion last month, with policy makers both buying and selling dollars and euros to minimize the ruble's movements versus the dollar, Tikhomirov said, citing Otkritie's traders.
Draining Reserves
The central bank, which drained Russia's international reserves by more than 33 percent managing its devaluation of the ruble during the credit crisis, is a "peaceful organization" that is becoming "marginal" on the currency markets, Ulyukayev said last month. Barriers to long-term investment in developed markets are responsible for the wave of "hot money" plaguing emerging markets, Arkady Dvorkovich, President Dmitry Medvedev's economics adviser, told reporters in Moscow on Nov. 8 before leaving for the Group of 20 nations summit in Seoul this week.
Portraying the ruble as a more volatile, free-floating currency while controlling the dollar-ruble rate is a "deliberate exercise in obfuscation," Douglas Busvine, an analyst in Vienna at Medley Global Advisers, wrote in a research report e-mailed Nov. 5. The approach has "successfully deterred hot money inflows and carry traders" from Russia, he said, referring to trades where funds borrowed in countries with lower interest costs are invested where the returns are higher.
Ulyukayev didn't respond to questions about the bank's intervention policy that were faxed and e-mailed Nov. 10.
Federal Bonds
Non-deliverable forwards, or NDFs, which provide a guide to expectations of currency movements and interest-rate differentials and allow companies to hedge, yesterday showed the ruble at 30.9750 per dollar in three months.
Russia's federal ruble bonds, or OFZs, have also declined, with the yield on notes due 2016 rising 7 basis points, or 0.07 percentage point, to 7.24 percent since Oct. 8. The Finance Ministry sold 6.2 percent of the OFZs offered in auctions Nov. 10, according to central bank data.
The cost of protecting Russian debt against non-payment for five years using credit-default swaps rose 1 basis point to 145 today, down 72 points from this year's peak of 217, according to data provider CMA. The contracts pay the buyer face value in exchange for the underlying securities or the cash equivalent should a debtor fail to adhere to its agreements.
Bond Risk
Credit-default swaps for Russia, rated Baa1 by Moody's Investors Service, its third-lowest investment grade, cost 11 basis points more than contracts for Turkey, which is rated four levels lower at Ba2. Russia swaps cost as much as 40 points less on April 20. Brazil stood at 101 points yesterday.
The extra yield investors demand to hold Russian debt rather than U.S. Treasuries rose 5 basis points to 210 points, according to JPMorgan EMBI+ indexes. The difference compares with 141 for debt of similarly rated Mexico and 176 for Brazil, which is rated two steps lower at Baa3 by Moody's.
Indonesia, Taiwan, Thailand and Turkey are openly buying dollars in order to quell their strengthening currencies and South Africa plans to boost its reserves arsenal with revenue from taxes. South Korea is auditing banks' foreign-currency trading to shield the won from gains and the Mexican peso's biggest rally on record may prompt the central bank to cut interest rates.
Raising Tax
Brazil, whose 10.75 percent benchmark interest rate is the highest among major emerging markets, tripled a tax last month that foreigners must pay to invest in its fixed-income securities.
The weaker ruble spurred Augustus Asset Managers Ltd. to sell most of its Russian holdings about a month ago, said Paul McNamara, who helps manage $4.5 billion of emerging-market debt at the London-based fund manager. The ruble lost 1 percent versus the dollar last month, the worst performer among European emerging market currencies. The real weakened 0.3 percent in October and the rand dropped 0.4 percent.'
"The key reason that the ruble has been weak is that Russia just seems to be a less desirable destination for capital," McNamara said in a phone interview Nov. 4.
The average price for Russian ruble bonds traded on the Micex exchange has fallen 0.13 to 95.66 rubles since Oct. 8, according to MICEXCBI Index. The yield spread on Russian bonds tumbled to 33 basis points below the average for emerging markets today, down from a 15-month high of 105 in February, according to JPMorgan indexes.
Flows into emerging-market bond funds this year are already four times the previous annual record set in 2005, according to Cameron Brandt, an EPFR Global analyst. The Federal Reserve's decision last week to inject a further $600 billion into the U.S. financial system via a process known as quantitative easing will send more hot money in the direction of developing markets, Brazil's Mantega said yesterday in Seoul.
Bank Rossii is playing "mind games" in which "confusion is the point," according to Medley's Busvine. "Officials appear broadly comfortable with the ruble's softer tone."