Lone Star Said to Extend Fundraising as It Seeks Property Loans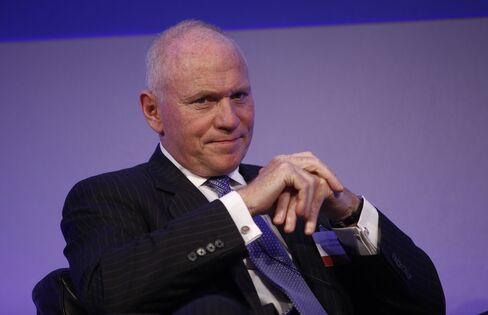 Lone Star Funds, the real estate investment firm run by John Grayken, asked investors for six more months to raise $8 billion for two funds as it seeks to acquire troubled U.S. property loans from banks.
The company sent a letter to investors last week seeking written approval to push its fundraising deadline to May 31 from Nov. 30, two people with knowledge of the matter said. They asked not to be named because the information is private.
Lone Star originally sought to raise $20 billion for its two newest funds, and cut that target in February. Private-equity real estate fundraising has slumped this year as managers move slowly in putting money to work and institutional investors hold back after losses during the housing crash, London-based research firm Preqin Ltd. said in an August report.
"People are terrified of risk right now," Nori Gerardo Lietz, a Partners Group AG consultant on real estate investments, said at a July 28 meeting of the Oregon Investment Council. "If there's anybody who should be able to raise capital, it's Lone Star," she said. "They have never lost any money in any of their funds."
Lone Star's Fund VII will buy pools of residential loans and home mortgages that have been bundled into bonds, as well as property lenders. Lone Star Real Estate Fund II will focus on commercial real estate. Each has a target of raising $4 billion, with a maximum of $5 billion.
Ed Trissel, a spokesman for Dallas-based Lone Star, declined to comment on the extended fundraising deadline.
$9.6 Trillion
There is an estimated $9.6 trillion outstanding of residential mortgage debt in the U.S., of which about $5.2 trillion is securitized in bonds sold by government-sponsored housing-finance companies, about $1.35 trillion is in private mortgage securities and about $3 trillion is on the books of banks and other lenders, according to Deutsche Bank AG research based on data from the Federal Reserve and housing agencies.
About $900 billion of the total debt outstanding is "distressed," defined as loans that are at least 90 days past due, in foreclosure or owned by lenders after being seized, according to the research unit of Barclays Plc.
It's still early in the real estate recovery for buying housing debt, Grayken, Lone Star's founder and chairman, told the Washington State Investment Board during a fundraising presentation in Olympia on Nov. 4. He won a preliminary pledge of $300 million that the full board is scheduled to ratify later this month.
Merrill CDO Deal
Lone Star bought $30.6 billion of collateralized debt obligations from Merrill Lynch & Co. for about 22 cents on the dollar in 2008, one of the first and largest distressed deals of the financial crisis. It also acquired San Diego-based subprime lender Accredited Home Lenders Holding Co., and a mortgage unit of Bear Stearns Cos.
Potential profits in distressed housing debt already have been diminished by declines in yields across markets and too much demand chasing supply. Last year, investors were buying soured home loans at prices that offered about 20 percent annual yields, assuming an additional 15 percent slump in home prices, Philip Seares, a managing director at Citigroup Inc. who runs its trading of the debt, said at a conference last month.
In recent months, available yields have fallen to 9 percent to 12 percent, assuming smaller home-price drops, Seares said.
About $12 billion to $14 billion of distressed home mortgages may trade this year, said Kevin Brungardt, chief executive officer of Charlotte, North Carolina-based RoundPoint Financial Group, which purchases such loans and services them for itself and other buyers. That would be less than 2 percent of Barclays's estimate of $900 billion of distressed debt.
Fewer Than Expected
"There's been significantly more trades in 2010," Brungardt said in a Nov. 5 telephone interview. Still, they have been "significantly less than people were expecting," he said.
Investment banks and large commercial banks led by Wells Fargo & Co. and Citigroup have stepped up sales of distressed home loans this year, buyers and their advisers said in a panel discussion during the industry conference in Atlanta in October. The Federal Deposit Insurance Corp., which sells assets from failed lenders, represents another source of supply, they said.
Sales of nonperforming home loans about doubled from the fourth quarter of last year, to almost $6 billion in the third quarter, according to data presented during the Oct. 26 panel by Louis Amaya, a co-founder of National Asset Direct Inc. The San Diego-based company is a buyer and broker of the debt and also provides technology and services to other investors.
Many smaller banks "don't have enough capital to sell their nonperforming assets into the market at today's levels," Erik Rand, manager of mortgage finance at St. Louis-based Stifel Financial Corp.'s Stifel Nicolaus unit, said during the October panel. Those banks are holding on to loans that don't fetch the price they need, he said.
Before it's here, it's on the Bloomberg Terminal.
LEARN MORE