Google Being Investigated by FCC for Data Collection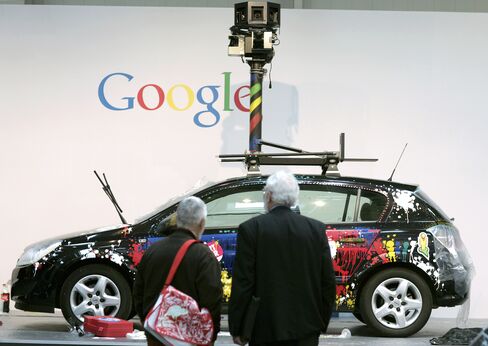 Google Inc.'s collection of wireless data using cars taking photographs for the company's Street View product is being investigated by the U.S. Federal Communications Commission, the agency said today.
"Last month, Google disclosed that its Street View cars collected passwords, e-mails and other personal information wirelessly from unsuspecting people," said Michele Ellison, chief of the FCC's enforcement bureau, in an e-mailed message. "The Enforcement Bureau is looking into whether these actions violate the Communications Act."
The Federal Trade Commission on Oct. 27 ended its investigation of Google's collection of data from unsecured wireless networks after the Mountain View, California-based company said it will improve privacy safeguards.
Google, owner of the world's most popular search engine, uses cars to photograph streets and houses to update Street View, which displays photos of neighborhoods. The company said the vehicles also collected data from wireless Wi-Fi networks, prompting an outcry by privacy advocates and lawmakers and spurring lawsuits and government investigations in Europe and the United States.
Google apologized, calling the data collection a mistake, and said it wouldn't use the information in any products.
The company "will continue to work with the authorities to determine the best way forward," Mistique Cano, the company's Washington-based spokeswoman, said today in an e-mailed statement.
Questions Raised
Lawmakers of both parties today asked the trade commission to explain why it ended its investigation. The decision "raises a number of questions," the House Oversight and Government Reform Committee's chairman, Representative Edolphus Towns, and Representative Darrell Issa, the panel's top Republican, said in a letter to FTC Chairman Jon Leibowitz.
"The FTC will be pleased to accommodate Representative Towns and Representative Issa," said Claudia Bourne Farrell, an agency spokeswoman, in a telephone message.
Yesterday, the National Legal and Policy Center, a group that describes itself as an ethics watchdog, in a letter asked Towns, of New York, and Issa, of California, to probe the trade commission's decision.
Google, dropped $1.94 to $622.88 at 4 p.m. in Nasdaq Stock Market trading.
The FCC investigation was reported earlier today by Dow Jones Newswires.