Munich Re Raises Profit Goal on Mild Hurricane Season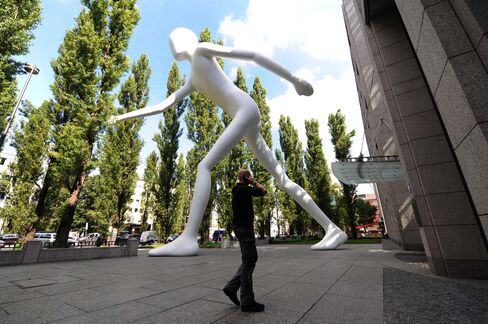 Nov. 9 (Bloomberg) -- Munich Re, the world's biggest reinsurer, raised its 2010 profit forecast after third-quarter earnings increased, helped by a mild hurricane season and better-than-estimated investment income.
Net income attributable to shareholders rose to 764 million euros ($1.06 billion) from 643 million euros in the year-earlier period, the Munich-based company said in an e-mailed statement today. That exceeded the average projection of 571 million euros in a Bloomberg survey of six analysts.
Munich Re raised its full-year target for net income before minority interests to about 2.4 billion euros amid "high income from investments" and a "favorable claims experience." That compares with an earlier forecast for profit of more than 2 billion euros. Net income including minority interests stood at 1.96 billion euros after the first nine months of 2010.
"Profit in the third quarter was again driven by an exceptionally high investment income," said Thomas Noack, a Dusseldorf-based analyst at WestLB AG. "The increased full-year guidance is rather conservative, reflecting the expectation of a less favorable investment result."
The reinsurer, led by Chief Executive Officer Nikolaus von Bomhard, resumed plans to buy back as much as 1 billion euros of its own stock by the 2011 shareholders' meeting to woo investors, including Warren Buffett and asset manager BlackRock Inc. Billionaire investor Buffett last month raised his stake in Munich Re to more than 10 percent.
Swiss Re
Buffett also holds about 3 percent in Swiss Reinsurance Co., the world's second-largest reinsurer. The Zurich-based company said Nov. 4 that it agreed to an early repayment of 3 billion Swiss francs ($3.1 billion) of capital injected by Buffett last year.
"I don't believe Buffett will raise his stake in Munich Re substantially beyond his current holding and we are pleased to have him as an investor," Munich Re Chief Financial Officer Joerg Schneider said on a conference call today.
Munich Re fell 3 euros, or 2.6 percent, to 112.25 euros at 3:39 p.m. in Frankfurt trading. The shares have increased 3.3 percent this year, giving the company a market value of about 21 billion euros.
Reinsurers, which help primary insurers such as Allianz SE shoulder risks for clients, are benefitting from the second benign U.S. hurricane season in a row. The 2010 June-through-November storm season has not resulted in major damages. In 2008, Hurricane Ike hit the U.S. coast and cost insurers $18.5 billion, according to estimates by Munich Re, making it the second-most expensive natural disaster for the industry after Hurricane Katrina, which cost insurers $62 billion in 2005.
Combined Ratio
Spending on claims and costs as a percentage of net premiums at Munich Re's property and casualty reinsurance unit stood at 93.8 percent in the third quarter, compared with a ratio of 93.1 percent a year earlier. If claims experienced for the remainder of the year are normal, Munich Re expects the combined ratio for 2010 to be just under 100 percent, it said.
A ratio above 100 percent means an insurer's claims and costs exceed premium income, giving it a loss from underwriting. Munich Re aims for a combined ratio of around 97 percent "over the market cycle as a whole."
As capacity for reinsurance coverage meets or slightly exceeds demand from primary insurers, rates for property and casualty reinsurance are likely to remain unchanged in the January round of renewals, Munich Re said on Oct. 25, echoing comments from rival Hannover Re.
'Somewhat Higher'
For 2011, Munich Re expects "a somewhat higher underwriting result and a marginally lower consolidated result," it said.
"That would be a good consolidated result, only slightly below our substantially raised profit guidance for 2010," CFO Schneider said. Next year's profit is projected at 2 billion euros to 2.4 billion euros, he said.
Munich Re doesn't anticipate any significant rise in interest rates in 2011, expecting a lower medium-term investment result with a return on investments of under 4 percent, it said. For 2010, the reinsurer raised its ROI forecast from just over 4 percent to about 4.5 percent.
Investment income on Munich Re's 194 billion euros of total investments declined 1.5 percent to 2.2 billion euros in the quarter, beating the 2.11 billion-euro analyst estimate.
To contact the reporter on this story: Oliver Suess in Munich at osuess@bloomberg.net
To contact the editors responsible for this story: Frank Connelly at fconnelly@bloomberg.net; Edward Evans at eevans3@bloomberg.net