Gartmore's Investors Flee as Star Fund Managers Quit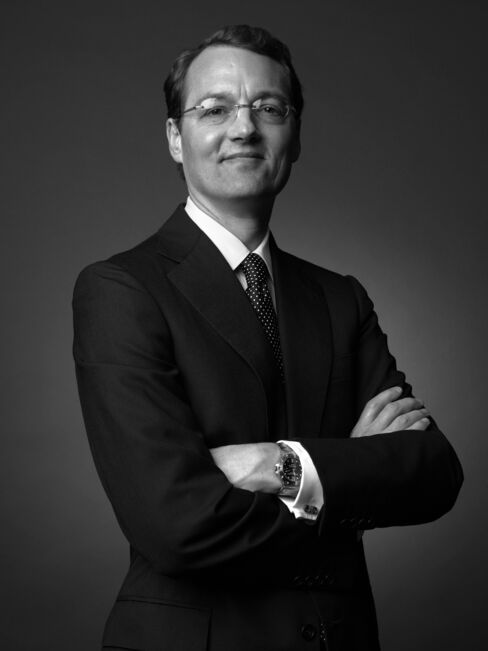 Roger Guy and Guillaume Rambourg, Gartmore Group Ltd.'s two star managers, won European fund of the year at a black-tie gala at London's Grosvenor House Hotel on Jan. 21. Ten months later, both have quit and the company is considering putting itself up for sale.
Rambourg left in July and Guy, 44, said yesterday he will retire at the end of the year, leaving investors in Gartmore's December initial public offering nursing a 51 percent loss. Gartmore's announcement that it's weighing a sale underscores the vulnerability of money managers that rely on individual "star traders," analysts said.
"When we buy into Roger Guy's funds, we do so because of his talent, not because of who he works for," said Meera Patel, an analyst at Hargreaves Lansdown Plc, the U.K.'s biggest retail broker. "Gartmore is facing a real uphill struggle to restore confidence among investors."
Rambourg and Guy together managed about a third of the company's assets after its IPO. Three other managers have departed, prompting the company to hire Goldman Sachs Group Inc. to help find a buyer after investors including Skandia Investment Management Ltd. pulled or planned to pull 3.3 billion pounds ($5.3 billion), or about 14 percent of its assets under management, since Rambourg was suspended in March. The performance of their funds has lagged behind competitors this year, according to data compiled by Bloomberg.
Shares Rise
Gartmore climbed 4 pence, or 4 percent, to 111 pence in London trading today, valuing the company at about 352 million pounds. The firm's IPO price was 220 pence a share.
Henderson Group Plc, which bought New Star Asset Management Group Plc in 2009, is among those that may be considering a bid for Gartmore, said Sarah Ing, a London-based analyst at Singer Capital Markets Ltd. Richard Acworth, a Henderson spokesman, declined to comment.
Schroders Plc, Europe's largest publicly traded fund manager by market value, is "not looking" at Gartmore, Chief Executive Officer Michael Dobson said in an interview today.
"When you buy a fund manager you're buying people, so if only one or two people are generating the majority of the revenue then you potentially have a problem," said Benjamin Phillips, a Boston-based partner at investment management consultant Casey Quirk & Associates LLC. "For any company with key man risk, it's imperative that they broaden out their business and diversify."
'Key Portfolio Managers'
Gartmore's investors were warned about the risk of having two key fund managers in its IPO prospectus published last year. The company had "a concentration of assets under management around one investment team," citing Guy and Rambourg as "key portfolio managers."
The pair, who had worked together since 1996, made 23 million pounds combined in the share sale. Guy still holds 5.4 percent of Gartmore's shares and Rambourg 3.7 percent, according to a company filing in March.
Gartmore Chief Investment Officer Dominic Rossi is also leaving as is Darrell O'Dea, who joined the firm in April to reduce its reliance on Guy and Rambourg. Fund manager Gervais Williams quit in September.
FSA Investigation
Rambourg, who was born in Ottawa, is being investigated by the Financial Services Authority after he was suspended following an internal probe that said he may have directed orders to buy and sell shares to favored brokers. The son of a United Nations' diplomat and a marathon runner was fined 300,000 euros ($418,000) by Italy's stock market regulator Consob for abusing privileged information earlier this year in an unrelated incident.
The FSA investigation is continuing and doesn't involve Gartmore, according to Rebecca Grundy, a spokeswoman for the fund manager. An FSA official said the regulator never confirms or denies whether it's investigating a company or individual.
Guy, who joined Gartmore in 1993, said the company's "excessive" internal compliance rules were to blame for Rambourg's suspension, the Financial Times reported April 1, citing a private conference call for investors.
"My view is that Gartmore management was overly zealous about regulatory aspects," said Keith Baird, a London-based analyst at Oriel Securities Ltd. who follows the industry. "That was the poison in the well, and it's all flowed from that. The investment performance has not been spectacular either. That would have added extra pressure."
Rambourg and Guy collected the award for 2009's best European Equity Fund from EuroHedge, an industry publication that stages an annual awards dinner in Mayfair.
Performance Lags
Their $338 million AlphaGen Tucana fund, which bets on rising and falling European equities, returned 42 percent in 2009, putting it in the top 20 percent of its peer group, according to data compiled by Bloomberg. This year it has lost 1.8 percent, putting it in the bottom third.
Rambourg and Guy's other funds have also suffered weak performance this year. Their AlphaGen Capella fund, AlphaGen Acamar fund and European Absolute Return fund all lost money this year and are in the bottom third of their peer group, according to data compiled by Bloomberg.
Gartmore "has had a series of setbacks with the issues concerning Guillaume Rambourg earlier this year which ultimately resulted in him leaving the business," Chief Executive Officer Jeff Meyer told analysts on a conference call yesterday. "This has been a challenging period for all of us. Some of the events are slightly out of our control around Guillaume Rambourg, a number of situations."
In a statement, Guy said he will continue to invest in his former fund after he leaves. He wouldn't comment beyond his statement. Rambourg couldn't be reached for comment.