Record Treasury Buying by Banks Frustrates Bernanke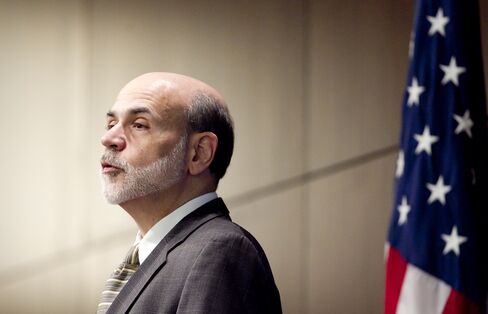 Brian Williams burned through $12,000 on rent for a vacant storefront in the historic district of St. Louis where he planned to open a pizzeria after banks refused him a $35,000 loan, forcing him to delay opening by a year.
"There were a lot of times when I thought I was going to pack it in," Williams, 53, said in an interview. He eventually turned to friends and smaller loans from government agencies and a microcredit lender for the money.
Rather than providing money to businesses and consumers, U.S. commercial banks are increasingly using the cash available at interest rates set by the Federal Reserve that are next to zero and lending it back to the government. Since June, the biggest banks bought about $127 billion of Treasuries and agency-related debt, compared with $47 billion in the first half, according to the central bank. Commercial and industrial loans outstanding have fallen by about $68.5 billion this year, central bank data show.
While the Fed and Chairman Ben S. Bernanke said last week they will pump $600 billion more into the financial system through so-called quantitative easing to aid the economy and boost the flow of credit, a growing number of bond investors and strategists say the allure of government debt may only get stronger. New global banking rules will force lenders to hold a greater percentage of capital if they want to invest in riskier securities or make new loans.
Basel III
The Basel III regulations set by the Bank for International Settlements in Basel, Switzerland, may trim economic growth and result in $400 billion of additional Treasury purchases by U.S. commercial banks by 2015, a committee of bond dealers and investors that advises Treasury Secretary Timothy Geithner said in a Nov. 2 report.
"Financial institutions are less willing to take risk ahead of these new regulations than they might be otherwise," said Ira Jersey, an interest-rate strategist at Credit Suisse Group AG in New York. "One of the reasons to do quantitative easing is to make it less appealing to hold Treasuries. You'd expect this to be an environment where'd they might actually want to take on a little more risk but so far they're not."
Demand for U.S. government debt is climbing even after yields on two- and five-year Treasuries, usually among the favored securities of banks, fell to record lows last week when the Fed said it would concentrate the $600 billion of purchases in that maturity range.
Yields Fall
Five-year note yields fell eight basis points, or 0.08 percentage point, last week to 1.09 percent, according to BGCantor Market Data. The benchmark 1.25 percent security due in October 2015 rose 13/32, or $4.06 per $1,000 face amount to 100 25/32. The yield was 1.09 percent at 7:44 a.m. in New York.
The yield fell as low as 1.015 percent on Nov. 4 before rising a day later when the Labor Department in Washington said payrolls jumped 151,000 in October. The increase exceeded all estimates in a Bloomberg News survey of economists and followed a revised 41,000 drop in September that was smaller than initially estimated.
"The whole point of getting five-year yields down to 1 percent" is to spur lending, said John Briggs, a U.S. government bond strategist at Royal Bank of Scotland Group Plc's RBS Securities unit in Stamford, Connecticut. "The increased regulation makes this process longer."
Financial Crisis
Regulators have been trying to strengthen the global banking system after the world's largest financial institutions suffered almost $1.84 trillion in writedowns and losses since the start of 2007. The collapse of Lehman Brothers Holdings Inc. in September 2008 froze credit markets, causing the U.S. government to take over at least 135 banks this year.
To rebuild their balance sheets, banks have been borrowing at low rates and reinvesting the proceeds into higher-yielding Treasuries and government securities.
Since the Fed cut its target rate for overnight loans between banks to a range of zero to 0.25 percent in December 2008, the difference between the benchmark and five-year Treasury yields has averaged about 1.75 percentage points. In the three years before credit markets began to seize up in mid-2007, the spread averaged 0.42 percentage point.
'Not Kept Up'
"Deposits have continued to grow, but the loan book has not kept up with that and so we have put more and more of our excess liquidity if you will into securities," Edgar Ancona, chief financial officer of HSBC North America Inc., said on a Nov. 5 conference call after the bank released its third-quarter earnings. Excess deposits are going to migrate "from collateralized debt into government debt and other things that have lower risk weights."
Lenders are on pace this year to buy the most Treasury and agency debt since the Fed began tracking the data in 1950, adding $186.2 billion of the securities through Oct. 20 and bringing the total to $1.62 trillion. At the same time, commercial and industrial loans fell by 5.3 percent to $1.23 trillion, Fed data show.
"The Fed may find that banks remain unwilling to move out of government-backed securities as readily as it might be hoped," said Jeffrey Caughron, an associate partner in Oklahoma City at Baker Group LP, which advises community banks on investing $25 billion of assets. "Banks are in the unenviable position of having to wait until the animal spirits creep back into the economy."
Gaining Strength
Commercial and industrial loans are down for the year and little changed since June. Reports last week showed the economy may be gaining strength. Both the manufacturing and services indexes compiled by the Institute for Supply Management rose more than forecast. Last month's growth in jobs was the most since April.
Williams employs one person full-time and four people part-time after opening his St. Louis National Pizza Company in June.
Deutsche Bank AG senior economist Torsten Slok in New York wrote in a Nov. 4 report the Fed's bond purchase program may add 0.25 percent to 0.5 percent to gross domestic product next year and 0.75 percent in 2012. JPMorgan Chase & Co. economists raised their fourth-quarter forecast to 2.5 percent from 2 percent.
"Economic data showed clear evidence of improvement in October," Dean Maki, the chief U.S. economist at Barclays Capital in New York, wrote in a Nov. 5 report. The company expects the economy to expand at a 3 percent annualized rate this quarter, up from 2 percent in the period ended Sept. 30.
New Rules
The Basel Committee on Banking Supervision, appointed by the Swiss government, proposed new rules on Oct. 4 to require banks increase available capital and better measure and control their lending risk under the so-called Basel III rules.
Banks will have less than five years to comply with the minimum tier 1 capital ratios and until Jan. 1, 2019, to meet the capital buffer requirements. Member countries will be expected to adopt the regulations within their own rules by January 2013.
Markets are pressuring banks to conform to the standards before the deadlines, meaning the "extension of liquidity, credit, and capital are being curtailed at a time of slow economic growth," the Treasury Borrowing Advisory Committee said in a Nov. 2 report to the government. "Compliance with liquidity coverage ratios will lead to increased demand by designated institutions for U.S. Treasuries."
The previous round of quantitative easing did little to suppress banks' appetite for Treasuries or encourage them to make new loans.
Prior Reaction
Between November 2008 and March 2010 the Fed purchased $1.7 trillion of mortgage-related and Treasury debt. During that time, banks bought $226 billion of government and related debt, while commercial and industrial loans outstanding fell by $367.4 billion.
Banks say loan demand remains low after companies in the Standard & Poor's 500 Stock Index boosted cash and equivalents to a record $2.3 trillion at the end of 2009, according to data compiled by Bloomberg.
"As you look from first quarter to second quarter to third quarter, we've seen loan balances stabilize" along with "the demands from our customers," Brian T. Moynihan, the chief executive officer of Charlotte, North Carolina-based Bank of America Corp., said on a conference call last month. "It is not growing, we wouldn't say that, but it is stable."
Before companies borrow to expand, they will likely tap into their cash, said Art Steinmetz, the chief investment officer in New York at OppenheimerFunds Inc., which manages about $165 billion.
"A credit crunch caused the recession; it is not accurate to run the logic in reverse and say an extension of credit will get us out of recession," Steinmetz said. "The banks will lend to good credit, but good credit is not interested in borrowing."