Obama Returns to Indonesia Chasing Trade Not Chickens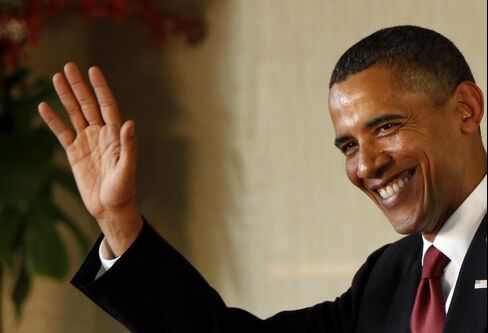 Nov. 9 (Bloomberg) -- In President Barack Obama's 2006 book, "The Audacity of Hope," the then-freshman senator described growing up in Indonesia as a "joyous time, full of adventure and mystery -- days of chasing down chickens and running from water buffalo."
He returned there today as leader of the world's biggest economy, aiming to solidify a relationship between the U.S. and the world's largest Muslim-majority country that his advisers say is one of the keys to future U.S. growth and security.
Obama's Indonesia stop was postponed twice earlier this year and will now be cut short by "several hours" because of the eruption of Mount Merapi, White House press secretary Robert Gibbs told reporters aboard Air Force One. The volcano continues to spew hot ash into the air, threatening air traffic and Obama's ability to depart in time for his next stop, the Group of 20 nations summit in South Korea.
Ahead of the trip, administration officials said the Indonesia visit underscores Obama's goal of boosting U.S. exports to create jobs. Enlarging overseas markets for U.S. companies is a central theme of Obama's four-country tour of Asia that began in India Nov. 6.
"We see in Indonesia the intersection of a lot of key American interests," Ben Rhodes, Obama's deputy national security adviser, said. The partnership "is very important to the future of American interests in Asia and the world."
'Most Important'
As China's economic and diplomatic clout grows, Obama has made a priority of engaging other Asian nations, particularly the 10 countries that make up the Association of Southeast Asian Nations. With a population of about 600 million, Southeast Asia was America's fifth-largest trading partner and the fourth-biggest market for U.S. goods last year.
Indonesia, whose trade with the U.S. totaled $18 billion last year, as a member of the G-20 and the world's third-largest democracy, is "the most important country in Asean," said Jeff Bader, senior director for Asian Affairs at the National Security Council.
Indonesia's benchmark Jakarta Composite Index has risen 46 percent this year compared with a 12.1 percent gain for the MSCI Asia Pacific Index.
With U.S. investments in Asean countries surpassing those in China and India, it's critical that the U.S. transform its relationship with Indonesia, said Ernest Bower, director of the Southeast Asia program at the Center for Strategic and International Studies, a policy group in Washington.
"It's not trying to contain China, but it's trying to strengthen relationships so that you can handle a rising China," Bower said.
'Big Player'
"Asia is where the growth will come from in the world economy over the next decade, we're crystal clear on that," he said. "Indonesia is important because it's the big player there."
Obama ended three days in India, where he endorsed the country's bid for a permanent United Nations Security Council seat in a speech to parliament. The president, who called on India to take a stand on global human rights issues, also met with business leaders as he pushed for a strategic partnership.
Obama will spend less than 24 hours in Indonesia before departing tomorrow for Seoul and then the Asia-Pacific Economic Cooperation forum in Japan.
Sea Disputes
Obama is set to meet with President Susilo Bambang Yudhoyono today to initiate a five-year program to enhance a partnership on issues including climate change, counterterrorism, combating Iran's nuclear program and territorial disputes in the South China Sea, Bader said.
The visit also planned to give Obama an opportunity to build on the outreach to the Muslim world he began last year in Cairo.
Tomorrow, the president is scheduled to visit the Istiqlal Mosque, Southeast Asia's largest, and later deliver a speech highlighting the coexistence of democracy and Islam in Indonesia.
"In a part of the world in which there's a mix of democracies and states that have not yet embraced democracy, Indonesia sets a positive example," Rhodes said.
Gibbs said it's "unclear" which events, if any, in Indonesia the White House would cancel and said he was hopeful that Obama would give his address at the University of Indonesia.
Obama's attempts to reset relations with the Muslim world pose political risks for the president at home and abroad.
Pew Poll
A Pew Research Center poll released in August found that 18 percent of the public incorrectly believes Obama is a Muslim. Thirty-four percent correctly identified Obama as a Christian and 43 percent said they didn't know his faith.
"It's not an issue where he gains any domestic political points," said Stephen Grand, director of the Brookings Institution's Project on U.S. Relations with the Islamic World. "He seems to understand that at the end of the day, we're not going to eliminate al-Qaeda until we're seen as a partner of Muslims around the world rather than a country that's at war with Muslims."
At the same time, there's been increased disillusionment in parts of the Muslim world that Obama's actions, particularly on the Middle East peace process, haven't matched the expectations he set in his June 2009 speech at Cairo University in Egypt, Grand said.
The Pew Research Center's Global Attitudes Project conducted April and May of this year found that the opinion of the U.S. in Muslim countries has slipped since last year. It's still higher than it was under former President George W. Bush.
President Suharto
The president is scheduled to use the speech to talk about his impressions growing up there, and why he believes, as he wrote in 2006, that "Indonesia serves as a useful metaphor for the world beyond our borders" because of the intersecting streams of globalization and sectarianism, poverty and wealth, modernity and antiquity.
Obama first arrived in Indonesia at a turning point for the nation -- two years after a 1965 coup in which more than 500,000 people were killed, most accused of having ties to communists, and as President Suharto came to power.
The former dictator, who died in 2008, left a legacy of stability and economic growth. Indonesia's economy expanded 6.1 percent annually in the 1980s, making it among the 10 fastest growing, according to the World Bank.
Obama said he was able to see some of the newfound prosperity firsthand before his mother, Ann Dunham, sent him back to Hawaii to live with his grandparents when he was 10.
And while Obama periodically returned for short visits, he wondered four years ago what he would find when he visited Indonesia again, saying he was worried that "the land of my childhood will no longer match my memories."
At least today he'll have Secret Service agents to protect him from water buffalo.
To contact the reporter on this story: Julianna Goldman in New Delhi at jgoldman6@bloomberg.net
To contact the editor responsible for this story: Mark Silva at msilva34@bloomberg.net