New Zealand Quarantines Second Kiwifruit Vineyard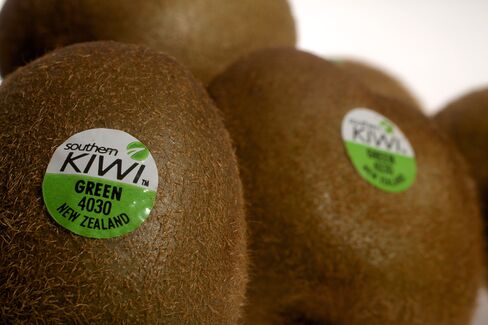 New Zealand, the world's third-largest kiwifruit producer, quarantined a second North Island kiwifruit orchard suspected of being threatened by a vine disease and moved to place others under investigation.
Tests are under way to determine whether the orchard has been infected with Pseudomonas syringae pv actinidiae, a disease found in an adjacent orchard in the Bay of Plenty area, David Yard, response manager for the Ministry of Agriculture and Forestry, said in a telephone interview. A number of other New Zealand orchards have been identified as suspicious, he said.
New Zealand supplies about 30 percent of the world's kiwifruit. The industry earned NZ$1.4 billion ($1.1 billion) in the year ending March 31, according to Zespri Group Ltd, the world's largest marketer of the fruit.
"We now have a restricted place notice on the other suspect property," Yard said in the interview.
The disease was first identified on green kiwifruit vines in Italy in 1992, and has caused "substantial damage" to kiwifruit in recent years, according to the Biosecurity New Zealand website.
The ministry is trying to determine the strain of the disease that was found on the first unidentified orchard in the Bay of Plenty. Entry restrictions were placed on that orchard yesterday to avoid spread of the infection.
Production Concerns
"Overseas experience has shown the potential for this disease to have devastating effects on kiwifruit production," Seeka Kiwfruit Industries Ltd. said today in a statement. Confirmation of the strain may take up to three weeks, it said.
The ministry's "key focus is understanding the spread of the bacteria in New Zealand," according to its statement. Industry meetings will be held today to "better understand and mitigate any risks associated with the spread" of the disease.
The disease is highly contagious and can be spread by humans through clothing and equipment, Yard said. It's also spread by airborne spores and can move easily between plants and orchards. Members of the public and media should stay away from kiwifruit orchards, the government said in a statement today.
An outbreak of PSA may reduce crop volumes and cause market restrictions that affect growers' returns, Satara Co-operative Group Ltd said in a statement yesterday.
The disease carries no risks to human or animal health and doesn't affect plants other than kiwifruit vines. Symptoms are brown leaf spots sometimes surrounded by a "yellowish halo".
"This potential risk to our kiwifruit industry is being taken seriously," Biosecurity Minister David Carter said in a statement yesterday. "It is imperative that a considered and reasonable approach to this potential threat is taken by all primary sector stakeholders."