Inflation Prompts Ignatiev to Sell 3-Month Bills: Russia Credit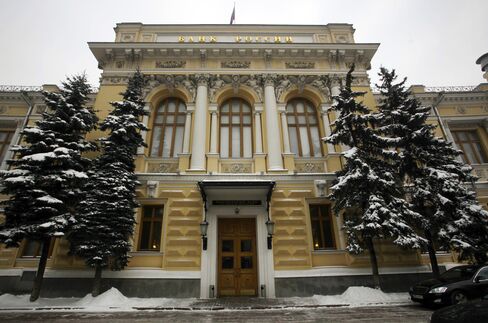 Russia's central bank plans to sell shorter-maturity debt at more frequent auctions to soak up excess cash and curb inflation without raising borrowing costs.
Bank Rossii will offer three-month notes, known as Obligatsii Banka Rossii, or OBRs, every two months instead of six-month securities every quarter, it said in a Nov. 2 statement. Demand for central bank debt due in March 2011 drove the yield down 28 basis points to 3.64 percent at an Oct. 28 auction from 3.92 percent on Sept. 14.
The changes may help Bank Rossii Chairman Sergey Ignatiev combat inflation and facilitate the government's borrowing plan without increasing its benchmark interest rate, according to Dmitry Dudkin, the head of fixed-income research at UralSib Financial Corp. in Moscow. Unlike Brazil and China, Russia is still trying to stimulate rather than cool economic growth.
"They don't want to raise the refinancing rate for political reasons, but inflation is a threat, so they want to sterilize as much liquidity as possible with OBRs," Dudkin said in an interview yesterday.
The annual inflation rate reached 7.5 percent in October, up from 7 percent in September, 6.1 percent in August and 5.5 percent in July because a drought affected crops.
Russian lenders almost tripled their OBR holdings this year to 806.9 billion rubles ($26.2 billion) on Oct. 1 from 283.1 billion rubles at the start of the year, central bank data show. Banks shifted funds into government and corporate debt as the country's uneven recovery from its record economic slump last year restrained demand for bank loans from borrowers.
Planned Sales
Bank Rossii said it will sell 1.5 trillion rubles of the new securities this month. The central bank aims to sell 5 billion rubles of the old securities at a Nov. 11 auction, according to a statement yesterday on the Micex stock exchange.
Argentina also is using short-term central bank debt to rein in liquidity. Argentina's central bank stepped up its weekly note sales this year to help remove pesos it pumps into the monetary system as it buys dollars to build reserves and maintain a weaker peso to buoy exports.
In Russia, First Deputy Central Bank Chairman Alexei Ulyukayev said on Oct. 5 that banks' holdings of OBRs may rise to 1.6 trillion rubles by the end of the year. The total amount of outstanding central bank bonds reached about 870 billion rubles at the start of November, Goldman Sachs Group Inc. said in a Nov. 3 report.
The shift toward shorter-term debt may lead the central bank to increase OBR yields to spur demand for the notes, which will amount to "modest monetary tightening," said Pavel Pikulev, a Moscow-based fixed-income strategist in Moscow at OAO Gazprombank, the lending arm of Russia's gas export monopoly.
Ruble Gains
The ruble jumped 0.5 percent against the dollar, the biggest gain in more than two weeks, to 30.6255 at the 5 p.m. close of trading in Moscow. Non-deliverable forwards, or NDFs, which provide a guide to expectations of currency movements and interest rate differentials and allow companies to hedge, show the ruble at 30.8380 per dollar in three months.
The yield on Russia's dollar bonds due in 2020 fell 8 basis points to 4.164 percent. The price of country's ruble notes due August 2016 dropped 2 basis points to 7.190 percent.
The cost of protecting Russian debt against non-payment for five years using credit-default swaps rose 3.5 basis points to 139 today, down from this year's peak of 217, according to CMA prices. The contracts pay the buyer face value in exchange for the underlying securities or the cash equivalent should a government or company fail to adhere to its debt agreements.
Default Swaps
Credit-default swaps for Russia, rated Baa1 by Moody's Investors Service, its third-lowest investment grade rating, cost 10 basis points more than contracts for Turkey, which is rated four levels lower at Ba2. Russia swaps cost as much as 40 basis points less on April 20.
The extra yield investors demand to hold Russian debt rather than U.S. Treasuries declined 2 basis point to 195, or 1.95 percentage point, according to JPMorgan EMBI+ indexes. The difference compares with 127 for debt of similarly rated Mexico and 174 for Brazil, which is rated two steps lower at Baa3 by Moody's.
The yield spread on Russian bonds is 40 basis points below the average for emerging markets, down from a 15-month high of 105 in February, according to JPMorgan indexes.
Higher yields on OBRs may spur demand for Russian assets as investors seek to benefit from commodity prices and Russia's cheaper valuations compared with its peers, Pikulev at Gazprombank said in an interview yesterday.
The outcome "could be slightly higher rates on OBRs and higher overnight interbank rate volatility," he said.
Good for OFZs?
Bank Rossii's new bond may bolster demand for the government's domestic bonds, known as OFZs, as investors may prefer to rotate from the low-yielding and shorter-maturity central bank notes into OFZs, VTB Group, Russia's second biggest lender, said in a research note Nov. 3.
While demand for central bank notes and short-term OFZ bonds overlaps, "this is the money market and an alternative to short-term central bank deposits," Deputy Finance Minister Dmitry Pankin said in a telephone interview on Nov. 3. "There wouldn't be a significant impact."
Russia's central bank has sought to spur the recovery and resisted increasing borrowing costs after 14 rate cuts. It left its main interest rates unchanged for a fifth month on concern the country's economic rebound may be losing momentum.
Bank Rossii cited "weakening" consumer demand and "risks for the stability" of the economic recovery as it opted to maintain monetary stimulus on Oct. 29 and keep its refinancing rate at a record-low 7.75 percent.
Relative Rates
The rate is lower than Brazil's benchmark Selic overnight rate, which policy makers increased three times this year to 10.75 percent. India's central bank raised interest rates for a sixth time this year on Nov. 2 in Asia's fastest round of increases, boosting the repurchase rate by a quarter-point to 6.25 percent and the reverse repurchase rate by a similar margin to 5.25 percent.
The central bank's decision to change its OBR strategy is "important" for the market allowing Bank Rossii to exert more control over banking sector and "sterilize excessive liquidity" at the time when the bond market is "overheated," said Alexander Ovchinnikov, vice-president at global markets at Troika Dialog, Russia's oldest investment bank.
"They are boosting their sales, but offering banks what is an analogy of a deposit only more liquid," he added.