Obama Promotes Trade, Democracy on First Stop of Asian Tour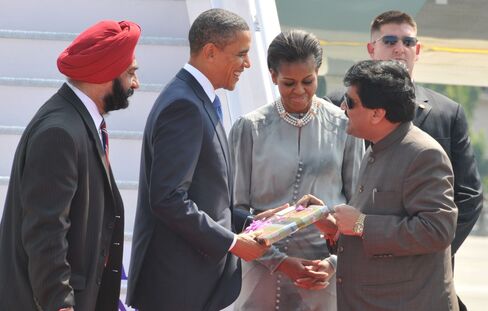 President Barack Obama used his first visit to India to herald the virtues of democracy and trade, telling business leaders that increased commerce was a "win-win" proposition that would create jobs in both countries.
"I am here because I believe that in our interconnected world increased commerce between the U.S. and India can be and will be a win-win proposition for both nations," Obama said in a speech to the U.S.-India Business Council in Mumbai yesterday.
Obama's first day in Asia, at the beginning of a four-country, 10-day tour, was studded with meetings with CEOs and Indian entrepreneurs to emphasize the importance of job creation. He was greeted at the airport by Boeing Co. Chief Executive Officer Jim McNerney, who briefed the president on doing business in India as they flew by helicopter to central Mumbai aboard Marine One.
"The United States sees Asia, especially India, as a market of the future," the president said. "We don't simply welcome your rise as a nation and people, we ardently support it, we want to invest in it." Obama announced that controls on exports of technology, imposed after India tested a nuclear device in 1998, will be relaxed.
Five days after his party lost control of the House of Representatives, Obama also warned against protectionism. He sought to dispel what he said were perceptions that trade leads to U.S. jobs being outsourced to India, though he acknowledged that as India's economy continues to emerge, there will "undoubtedly" be competition between the world's two largest democracies.
'Old Stereotypes'
The mutual benefits of trade "might not be readily apparent" to both Americans and Indians, Obama said. "There are many Americans whose only experience with trade and globalization is a shuttered factory or a job that was shipped overseas."
In the U.S. there was a caricature of India as a land of call centers and back offices that cost Americans their jobs, he said. While in India, Obama said many see the arrival of American companies and products as a threat to the livelihood of small shop keepers.
"These old stereotypes and old concerns ignore today's reality," Obama said. "Trade between our countries is not just a one-way street of American jobs and companies moving to India. It is a dynamic two-way relationship that is creating jobs, growth and higher standards in both our countries."
The two countries' ties are "not about job creation in just one place," said Kris Gopalakrishnan, chief executive of Infosys Technologies Ltd. Obama "talked about keeping markets open for both products and services."
Exports Pledge
Obama has promised to double U.S. exports in five years and is making that goal the focus of his day trip, as he seeks to increase job creation at home and improve his relationship with business leaders.
Before his address yesterday, Obama held roundtable discussions with Indian entrepreneurs and chief executive officers from both countries, including General Electric Co. CEO Jeffrey Immelt, Honeywell International Inc. CEO David Cote, PepsiCo Inc. CEO Indra Nooyi and McGraw-Hill Companies Inc. CEO Terry McGraw III.
Obama devoted the substance of his day to commerce and democracy while the day's symbolism was centered around terrorism. His first stop was a memorial at the Taj Mahal Palace & Tower Hotel, where Pakistani gunmen killed 31 guests and staff and set rooms ablaze during a 60-hour raid on Mumbai two years ago. Declaring that India and the U.S. stood united in opposing terrorism, Obama in his speech did not mention Pakistan, a key regional ally in fighting Taliban guerrillas.
Midterm Losses
In his address to business leaders, Obama extolled the spread of democracy in Asia, though he paired his praise for direct elections with an acknowledgement that it's not always kind to the party in power. It was a reference to last week's midterm elections where U.S. voters turned control of the House of Representatives over to Republicans and narrowed the Democratic Party's Senate majority.
Drawing laughter, Obama urged countries to embrace democracy, "even if it can be slow at times, even if it can be messy, even if sometimes the election doesn't turn out as you like."
Obama said that relaxing export controls for India will "strengthen our national security," and also "make sure that unnecessary barriers don't stand in the way of high tech trade between our two countries."
As part of the agreement, the Obama administration will support India's full membership in multilateral nuclear non-proliferation regimes and remove India's defense and space organizations from the U.S. "entities list," which restricts them from doing business with the U.S.
Earlier yesterday, Honeywell's Cote called the old export controls "archaic" and hailed the potential arrival of a new regime.
"It's good for trade, which means it's good for jobs," he said speaking to reporters in Mumbai.