European Stocks Gain as Fed Stimulus Offsets Sovereign Concern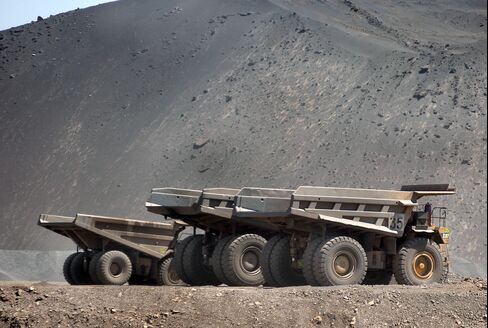 European stocks rose to a six-month high this week as the Federal Reserve announced another round of bond purchases to boost the economy, offsetting renewed concern that some European countries won't be able to repay their debts.
Xstrata Plc led basic-resources stocks higher, rising 15 percent. HeidelbergCement AG, Coloplast A/S, and Lundin Petroleum AB jumped after posting results that beat analysts' estimates. Bank of Ireland Plc tumbled 18 percent as the cost of insuring Irish sovereign debt surged to a record.
The Stoxx Europe 600 Index rose 2.3 percent to 271.97 this week, the biggest gain in two months. The measure has rallied 17 percent since its 2010 low in May, closing the week at the highest level since April 15, amid better-than-estimated earnings and speculation policymakers in the U.S. and elsewhere will step up efforts to bolster the recovery including buying securities with newly created money, a tactic known as quantitative easing.
"While QE2 was broadly in line with expectations what may have given financial markets further encouragement was the tone of the statement as the Fed kept the flexibility to amend the asset purchase program," Jim Reid and Nick Burns, London-based strategists at Deutsche Bank AG, wrote in a note. "We still have deep reservations as to how successful they'll be in the medium-term but to a liquidity hungry market these were dovish comments."
Expanding Stimulus
The Fed will buy an additional $600 billion of Treasuries through June, expanding record stimulus and risking its credibility in a bid to reduce unemployment and avert deflation.
Policy makers, setting a pace of about $75 billion of purchases a month, "will adjust the program as needed," the Fed's Open Market Committee said in a statement in Washington on Nov. 3. The central bank left unchanged its pledge to keep interest rates low for an "extended period" after Chairman Ben S. Bernanke said it could be modified in some way.
Payrolls in the U.S. rose more than forecast in October, a sign businesses may be starting to gain confidence in the prospects for a faster pace of growth. Payrolls climbed 151,000, exceeding all estimates in a Bloomberg News survey of economists and following a revised 41,000 drop the prior month that was smaller than initially estimated, Labor Department figures showed yesterday in Washington. Private payrolls also gained more than forecast, while the jobless rate held at 9.6 percent.
Miners, Cement
National benchmark indexes rose in 13 out of 18 western European markets. Germany's DAX Index gained 2.3 percent, while the U.K.'s FTSE 100 Index increased 3.5 percent. France's CAC 40 Index advanced 2.2 percent.
Spain's IBEX 35 led declining indexes, falling 3.6 percent, while Greece's ASE Index lost 2.6 percent and Portugal's PSI-20 Index fell 2 percent.
Basic-resources stocks were the best-performing industry in Europe this week, as metal prices advanced. Xstrata, the world's fourth-largest copper producer, gained 15 percent as copper reached a 28-month high.
Fresnillo Plc, a silver and gold producer, gained 13 percent. Kazakhmys Plc, Kazakhstan's biggest copper producer, increased 14 percent. ArcelorMittal, the world's biggest steelmaker, surged 11 percent.
HeidelbergCement, the world's third-largest maker of cement and concrete, rose 11 percent as third-quarter profit beat estimates. Net income rose to 322 million euros ($452.6 million) from 149 million euros a year earlier, while sales increased 13 percent to 3.4 billion euros.
Ireland's CRH Plc rallied 10 percent.
Coloplast, Lundin
Coloplast, the world's largest maker of ostomy and urology products, surged 16 percent. Fourth-quarter net income of 368 million kroner ($69.4 million) exceeded the 345 million-krone average analyst estimate.
Lundin Petroleum climbed 11 percent after Sweden's largest oil explorer reported net income of $26.6 million. Analysts had predicted net income of $21.8 million, according to a Bloomberg survey.
ProSiebenSat.1 Media AG gained 13 percent as Germany's biggest private broadcaster reported better-than-estimated third-quarter results on higher advertising revenue.
About 67 percent of the companies in the Stoxx 600 that have announced results since Oct. 7 have beaten analysts' estimates for net income, according to data compiled by Bloomberg.
Irish Debt
Bank of Ireland was the worst performer in the Stoxx 600 Index, dropping 20 percent. Irish Life & Permanent Plc tumbled 31 percent and Allied Irish Banks Plc lost 20 percent.
Ireland led a surge in the cost of insuring European sovereign debt as the government struggles to convince investors it can avert a European Union-led bailout. Credit-default swaps on Ireland rose to an all-time high, according to data provider CMA, while the Markit iTraxx SovX Western Europe Index rose to a record.
"Clearly the plight of European peripheral sovereigns is once again becoming a key focus for financial markets," Reid and Burns wrote.
Piraeus Bank SA sank 12 percent. The financial performance and risk profile of Greece's four biggest lenders will largely depend on developments in Greece's sovereign debt rating, Fitch Ratings said.
Alpha Bank AE dropped 5.3 percent. EFG Eurobank Ergasias declined 7.2 percent. National Bank of Greece SA fell 6 percent.
Italy's Banca Monte dei Paschi di Siena SpA dropped 8 percent and Spain's Banco Santander SA sank 7.9 percent.
Bwin, Alcatel-Lucent
Gambling companies Bwin Interactive Entertainment AG and PartyGaming Plc dropped 6.7 percent and 8.3 percent, respectively as Barclays Plc downgraded the shares to "underweight" from "overweight." The shares recouped some losses after saying that their proposed merger is "on track" to complete in the first quarter of 2011.
Alcatel-Lucent SA paced a retreat in technology shares, dropping 6.9 percent, as France's largest telecommunications equipment maker reported an operating margin in the third quarter below some analysts' forecasts.
Next Plc led retailers lower, falling 6.5 percent, as the U.K.'s second-biggest clothing retailer forecast a "tougher" end to the year after a sales decline worsened in the third quarter.