MSNBC's Olbermann Suspended for Political Donations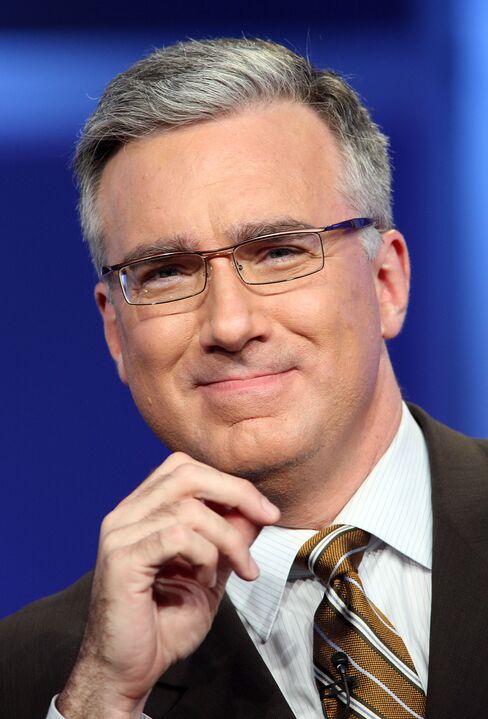 MSNBC host Keith Olbermann was suspended indefinitely without pay for making political donations in violation of NBC News policies.
"I became aware of Keith's political contributions late last night," Phil Griffin, president of MSNBC, said today in an e-mail. "Mindful of NBC News policy and standards, I have suspended him indefinitely without pay."
Olbermann contributed the maximum $2,400 to three Democrats. Arizona Representatives Raul Grijalva and Gabrielle Giffords received payments on Oct. 28, the day Grijalva appeared on "Countdown with Keith Olbermann," the network's most- watched show. Olbermann also donated to U.S. Senate candidate Jack Conway of Kentucky, who lost to Republican Rand Paul.
The episode highlights the blurring line between private actions and journalistic responsibilities as news networks such as MSNBC and Fox try to attract viewers with partisan hosts. Some news organizations allow political donations while others ban them. Rupert Murdoch's News Corp., the owner of Fox News, makes contributions to political groups.
"Journalists who work for a news organization have an ethical responsibility to honor their guidelines and standards," said Bob Steele, who teaches journalism ethics at Poynter Institute in St. Petersburg, Florida. "If NBC and MSNBC spelled out those guidelines clearly and Olbermann violated those guidelines, then he should pay the price."
MSNBC Shift
Thomas Roberts, an MSNBC anchor, will host "Countdown" tonight, Jeremy Gaines, a network spokesman, said in an e-mail. The network had initially named Chris Hayes, Washington editor of The Nation and an MSNBC contributor.
"Anyone working for NBC News who takes part in civic or other outside activities may find that these activities jeopardize his or her standing as an impartial journalist because they may create the appearance of a conflict of interest," a statement at the network's website said. "Such activities may include participation in or contributions to political campaigns or groups that espouse controversial positions. You should report any such potential conflicts in advance to, and obtain prior approval of, the president of NBC News or his designee."
Olbermann confirmed the donations to Politico, which reported the suspension earlier today. Michael Price, a press contact for Olbermann, didn't respond to requests for comment. Hayes has also made contributions to Democrats, according to the Center for Responsive Politics in Washington.
Olbermann Statement
"I did not privately or publicly encourage anyone else to donate to these campaigns, nor to any others in this election or any previous ones, nor have I previously donated to any political campaign at any level," Olbermann said in a statement released to Politico.
MSNBC has shifted to the political left in recent years to compete with Fox News, which has become the leader on cable with a conservative tilt, said Brad Adgate, director of research at Horizon Media, an advertising company in New York. CNN aims for a more middle ground, he said.
MSNBC's lineup, led by liberal voices such as Olbermann and Rachel Maddow, has helped the network gain in the ratings, beating CNN for four straight months, Adgate said.
"Countdown" runs weeknights at 8 p.m. New York time. This year, Olbermann has averaged 1.03 million viewers a night, according to data from Nielsen Co.
"The O'Reilly Factor" on Fox News was the most-watched cable news program last week with more than 3.2 million viewers a night, Nielsen data show.
Donation Policies
Donation policies vary among news organizations. The New York Times and Washington Post forbid newsroom employees from contributing, according to Robert Christie, a spokesman for the Times, and Rima Calderon, a spokeswoman from the Post.
Steele said he opposes policies that allow hosts to make donations to political parties, candidates or causes.
"It's an issue of journalistic credibility," Steele said. "If someone participates in news programs on a news network, then there is a journalistic responsibility and ethical standards that applies."
News Corp. forbids employees to use company resources for political purposes, expect when approved by the general counsel, a Fox News spokesperson said in an interview. Employees are permitted to make personal donations.
News Corp. Donations
News Corp. gave $1 million to the Republican Governors Association in June, and contributed $65,000 to a committee trying to elect Republicans to state legislatures and other state offices. The New York-based company also gave $1 million to the U.S. Chamber of Commerce, according to the Nathan Cummings Foundation, a Jewish non-profit organization that supports social justice and health care.
News Corp.'s political action committee had given $180,200 to federal candidates for the 2010 elections as of mid-October, with Democrats receiving 58 percent of that amount, according to the Center for Responsive Politics.
Journalists who cover government and politics at Bloomberg News may not make political donations or engage in activities that create the appearance of a conflict of interest.
Comcast Corp., the largest U.S. cable television company, is poised to take control of MSNBC as part of its proposed purchase of NBC Universal from General Electric Co. The deal is awaiting regulatory approval.
Career History
Olbermann began his career with NBC in 1997, when he was an anchor for NBC Sports, according to his MSNBC website bio. He was also host of two primetime news programs on MSNBC, "The Big Show" and "White House In Crisis."
In 2003, Olbermann became a substitute host on "Nachman" and an anchor for MSNBC's coverage of the Iraq war before starting "Countdown" in April, according to the website.
Grijalva, the son of a Mexican immigrant, won re-election 49 percent to 45 percent against Republican opponent Ruth McClung. Giffords, whose district includes the University of Arizona, is ahead by about 3,000 votes with absentee ballots still being counted in a race that hasn't been called.