LVMH Stake in Hermes To Be Probed by French Regulator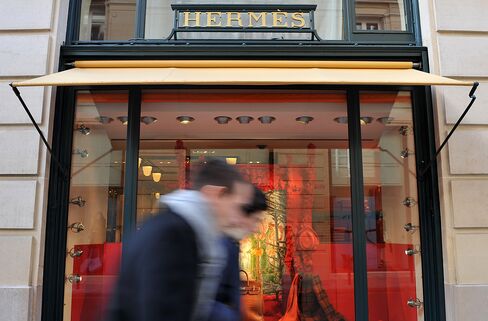 LVMH Moet Hennessy Louis Vuitton SA's purchase of a 17.1 percent stake in Hermes International SCA will be investigated by French regulators to determine if securities rules were breached.
The Autorite des Marches Financiers will review how LVMH built up the stake in Hermes, the Paris-based maker of silk scarves and Birkin bags, AMF Chairman Jean-Pierre Jouyet said today in an interview on RMC radio.
"Normally you have to make declarations when you pass thresholds of 5 percent, 10 percent," Jouyet said in the radio interview. LVMH's first statement that it owned shares in Hermes came Oct. 23, when it said it owned 14.2 percent, and had options to acquire another 2.9 percent.
LVMH, the world's largest luxury-goods maker, last month changed terms of cash-settlement swap contracts in Hermes that it bought in 2008 so it could take physical delivery of the underlying shares and move the termination dates forward, according to a statement filed with the regulator last week.
LVMH "rejoices in the announcement of the opening of an investigation," the company said today in an e-mailed statement. The investigation will show LVMH "scrupulously respected the applicable rules."
Wild West
"France remains the Wild West in terms of corporate takeovers," Jouyet said. "The regulations are badly done if you can bypass" threshold declarations like this.
When France tightened its disclosure rules last year AMF recommendations to include cash-settled equity swaps weren't included.
That "makes it hard today to say that they didn't respect the rules because it was explicitly excluded," French shareholder activist Colette Neuville said. "Saying the rules are badly done may mean that there's nothing that can be done this time, but that the rules have to change."
LVMH said in the statement filed to the AMF explaining how it built up the stake, that it may add to its position "depending on the circumstances and the market situation." Paris-based LVMH doesn't intend to launch a tender offer, take control or seek board seats at Hermes, where about 75 percent of the shares are controlled by members of the founding family.
LVMH paid 1.45 billion euros for the stake, an average of about 80 euros a share, or about a 54 percent discount to the Oct. 22 closing price of 176.20 euros, according to Bloomberg calculations. The AMF is also reviewing the rise in the Hermes share price, Jouyet said.
Evidence Challenge
The AMF's challenge will be to find evidence of whether LVMH intended at the outset to convert the swaps to take possession of the shares, said Neuville, president of the Chartres, France-based Association for the Defense of Minority Shareholders, or ADAM. She worked with the AMF in the tightening of the disclosure rules and is not involved in the LVMH matter.
"If the contracts for cash settlement were used in a way that was just to skirt the law, the AMF has the means to reclassify" the deal as one that should have been declared, she said. "Was there, from the start, the intention to buy shares without revealing it? That's the problem."