Lapse of U.S. Unemployment Benefits May Cool Consumer Spending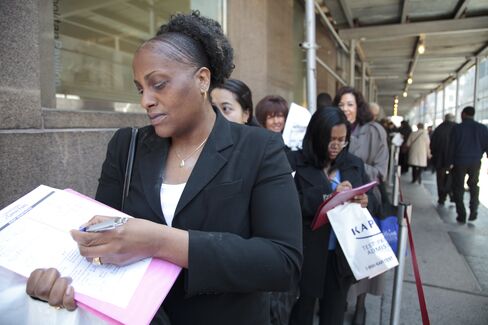 Nov. 5 (Bloomberg) -- Sharron Tetrault and her family have already decided to forego exchanging gifts this holiday season. The expiration of her jobless benefits may force her to stop paying her utility bills or even rent.
Tetrault is among the about 1.2 million unemployed Americans the National Employment Labor Project in Washington says will lose their emergency and extended jobless insurance benefits by the end of the year with the scheduled expiration of the programs on Nov. 30. The resulting reduction in incomes may hurt consumer spending at the height of the holiday shopping period and restrain economic growth.
"If people are let off the rolls in November, it could impact holiday spending," said Zach Pandl, an economist at Nomura Securities International Inc. in New York. Pandl projects economic growth would be reduced by as much as 0.4 percentage point from December through February should the benefits end.
The wave of voter discontent that will put Republicans in control of the House of Representatives next year may mean that debate over issues like extending the Bush-era tax cuts will take precedence in coming months, said economists at Goldman Sachs Group Inc. Additionally, the lame-duck session of Congress is not scheduled to reconvene until Nov. 15 and legislators may take time off for Thanksgiving later in the month, making approval of any jobless-benefit extension difficult.
Tetrault, a 46 year-old from Mount Vernon, New York, has been without work since January, when she lost her job as an event planner at a non-profit group. She has just over a month left before the program that gives her $405 a week in unemployment insurance payments runs out. While an extension would make her eligible for additional funds, she's bracing for the worst.
No Phone
"What I see happening is my phone getting shut off," Tetrault said in an interview. "If I have no income how do I pay for my phone and how do employers contact me?"
The federal government currently funds the emergency and extended benefits that keep the unemployed receiving checks should recipients not find jobs by the time the 26 weeks of initial state-paid assistance runs out. The supplemental programs may reach up to 99 weeks in some states.
About 5.01 million Americans received emergency and extended benefits as of the week ended Oct. 16, according to Labor Department data. Another 4.34 million were getting the initial state-funded relief in the week ended Oct. 23.
Figures today showed the economy created 151,000 jobs in October, while the unemployment rate held at 9.6 percent.
Four Tiers
The emergency programs are divided into four tiers starting with an additional 20 weeks that kick in after the state funds are used up. If an extension isn't passed by the end of the month, beneficiaries would stop receiving checks when they reach the end of whatever group they're in.
Republican gains in Congress have dimmed the outlook for passage of an extension, according to Tom Porcelli, head of U.S. market economics at RBC Capital Markets in New York.
"Republicans would be hard-pressed to have one of their first endorsed bills be a piece of legislation that calls for more spending," said Porcelli.
He estimates a total 2.5 million people would lose their benefits by the end of the first quarter of 2011 should the program end. That would shave about 0.3 percentage point off consumer spending from January through March, he said. Over the year, purchases would be cut by about 0.5 percentage point, or $50 billion, said Porcelli.
Effect on Retailers
The last two months of the year are typically the biggest U.S. shopping season and retailers including Toys R Us Inc. have forecast some improvement this year compared with the previous two.
In the aftermath of past recessions, lawmakers haven't let emergency funding expire until the unemployment rate dropped to around 7.5 percent, according to Heather Boushey, a senior economist at the Center for American Progress, a research organization whose views generally align with those of Democrats. Economists surveyed by Bloomberg News forecast joblessness, which stood at 9.6 percent in September, will exceed that level through at least 2012.
"The economy, while it has improved, is not creating jobs fast enough," Boushey said. "You could see a dip" in spending.
In May, the last time the unemployment aid extension was due to lapse, a renewal wasn't approved until two months later as legislators debated how to pay for the program. This time, Congress may delay approval or let the benefits lapse because Republicans are pushing to cut the deficit.
Goldman Sachs's Alec Phillips and BNP Paribas's Julia Coronado are among economists saying Congress will probably let the emergency unemployment assistance expire.
"In order to get previous extensions done, there has been a requirement to get costs offset," Phillips said. Republicans "would be more inclined to keep that requirement."
Goldman Sachs has not issued estimates on what a lapse in the emergency benefits alone would do to spending at the end of the year. BNP Paribas projects an end to the assistance would cut income growth by one or two tenths of a point and result in "slowing consumption growth," Coronado said.
To contact the reporter on this story: Courtney Schlisserman in Washington at cschlisserma@bloomberg.net
To contact the editor responsible for this story: Christopher Wellisz at cwellisz@bloomberg.net