Google, Dell Likely to Keep Acquisition Spree Alive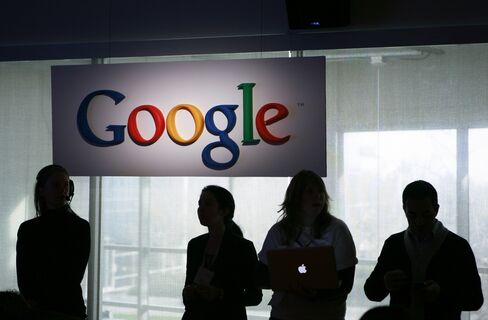 Google Inc. and Dell Inc. plan to push ahead with more acquisitions, helping maintain a takeover spree that's boosted the value of U.S. technology mergers to more than $60 billion this year.
Google is likely to buy more companies about the size of YouTube and DoubleClick, its two largest deals, to help offer more online services, the company's head of mergers and acquisitions said in an interview last week. Dell plans more takeovers in its drive to double the size of its data-center business to $30 billion in sales, a company executive said.
Internet and computer companies are increasingly relying on acquisitions to gain new technology and customers. Amazon.com Inc. said today it will spend $500 million for Quidsi Inc., owner of Diapers.com. For Google, the largest Internet search company, absorbing more startups could provide fresh ways to sell ads and compete with social-networking sites such as Facebook Inc.
"The world changes really quickly, and companies that were small two years ago are huge today," David Lawee, vice president of corporate development at Mountain View, California-based Google, said in a Nov. 4 interview. "It wouldn't surprise me to see more large opportunities for us."
Google has stepped up its dealmaking in 2010, spending $1.6 billion on more than 20 companies in the first nine months of the year, according to regulatory filings. Its acquisition of mobile-ad service AdMob Inc. and a pending bid to acquire travel data aggregator ITA Software Inc., for about $700 million each, would be the company's third- and fourth-largest deals since it went public in 2004.
Same Size
Google paid $1.65 billion for YouTube, the world's biggest video-sharing site, in 2006. It acquired DoubleClick, an online advertising company, for $3.2 billion in 2008. When asked if Google would buy more companies of the size of those businesses, Lawee said, "Yes."
Dell, meanwhile, is using deals to grab a bigger chunk of market for data centers -- large rooms of servers and storage systems that deliver software and information over the Internet. The company is racing with Hewlett-Packard Co., International Business Machines Corp. and Oracle Corp. to become one-stop shops for data-center technology.
The competition triggered a bidding war earlier this year for 3Par Inc., a maker of storage technology. HP outbid Dell by agreeing to pay $2.35 billion for the business. That was more than triple 3Par's market value before the initial offer was made public.
More Patient?
Dell intends to take its time with future deals, so that it doesn't increase prices so much, Chief Financial Officer Brian Gladden said last week in an interview at Bloomberg headquarters in New York.
"We're going to be patient," Gladden said. "You don't want to have a situation in which boards think a 3Par valuation is the starting point," he said. "You have to be disciplined, and that's what we're doing right now."
The goal, Dell said in June, is for computer servers, data storage, networking gear and technology services to generate $30 billion in sales by the end of fiscal 2014. That would be up from $17 billion in the year that ends in January. Two areas where Dell may acquire businesses: storage and services for specialized industries, Gladden said.
'Less Risky'
Corporate-computing companies such as Isilon Systems Inc., Fortinet Inc. and Riverbed Technology Inc. may become "less risky" acquisitions targets if their profit margins improve, Gladden said.
On Nov. 2, Dell agreed to buy software company Boomi, which lets companies share data between Web applications and programs that run in their data centers, for an undisclosed amount.
An Amazon acquisition of Quidsi takes out an e-commerce upstart that won over customers by focusing on shopping niches. The company began selling diapers in 2005, a year before Amazon entered the market, and then pushed into soap and beauty products. A toy site is now in the works.
Last year, Amazon bought another specialty retailer, Zappos.com Inc., for $1.2 billion. That helped the company expand sales of shoes and gain more market share from rivals such as EBay Inc.
Amazon, based in Seattle, rose $1.22 to $171.99 at 4 p.m. in Nasdaq Stock Market trading. Google climbed $1.69 to $626.77, while Dell declined 17 cents to $14.29.
Retaining Talent
At Google, the goal is to hang on to the entrepreneurs that arrive with acquisitions, Lawee said. The company has had three high-profile executives step down in the past few weeks.
On Oct. 29, Google announced that AdMob founder Omar Hamoui was leaving, five months after the purchase of his company was complete. Chad Hurley, YouTube's co-founder, and Lars Rasmussen, whose Where 2 Technologies was acquired in 2004 and became the basis for Google Maps, also are stepping down.
Google tries to ensure that startup founders stay on board and help improve their products, said Lawee, 44.
"These people have a very strong passion around what they are doing and a vision for getting it done," he said. "The skills that those people bring are often subtle, but their effect is profound."
Before it's here, it's on the Bloomberg Terminal.
LEARN MORE