Foxconn Worker Falls to Death in China's Shenzhen, Xinhua Says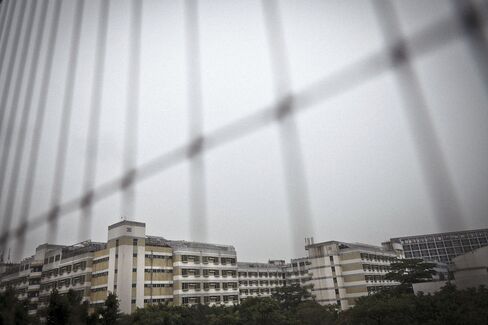 A Foxconn Technology Group worker in China died from a fall today, months after a spate of similar fatalities at the electronics maker, the official Xinhua News Agency reported
No further information was immediately available, Xinhua said, citing the Shenzhen municipal government.
Foxconn, which makes electronics for customers ranging from Apple Inc. to Hewlett-Packard Co., doubled wages for its production workers and installed nets around dormitories in Shenzhen after at least 10 Chinese workers committed suicide this year. The last confirmed death was in August.
The deaths prompted labor groups including China Labor Watch to say the company is running a sweatshop that pushes employees to work long hours to earn more money. Foxconn has denied the allegation.
Edmund Ding, a spokesman for Taiwan's Foxconn, couldn't immediately be reached for comment.
Before it's here, it's on the Bloomberg Terminal.
LEARN MORE