Dell Plans More Deals, Spending to Add Business Sales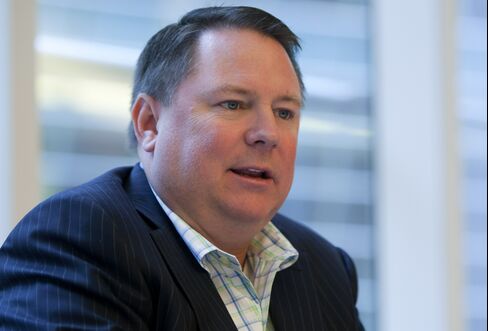 Dell Inc. plans to make more acquisitions and boost spending on research and development to double the size of its data-center business to $30 billion in sales, Chief Financial Officer Brian Gladden said.
The company also intends to be more "patient" to keep the valuation of potential targets from escalating after it waged a bidding war with Hewlett-Packard Co. to buy storage maker 3Par Inc. HP acquired 3Par in September for $2.35 billion, more than triple 3Par's market value before Dell's offer was made public.
"We're going to be patient," Gladden said today in an interview at Bloomberg headquarters in New York. "You don't want to have a situation in which boards think a 3Par valuation is the starting point," he said. "You have to be disciplined, and that's what we're doing right now."
Dell gets more than 55 percent of its revenue from selling desktop and notebook computers, where industrywide margins are shrinking. It's using acquisitions and research and development spending to beef up its business of selling computer servers, data storage, networking gear and technology services.
The goal, Dell said in June, is for those businesses to generate $30 billion in sales by the end of fiscal 2014, from $17 billion in the year that ends in January.
As Dell's data-center business expands, the Round Rock, Texas-based company plans to increase research and development spending on those products from a single-digit percentage of sales to 10 percent or more, raising the company's overall R&D spending percentage above today's 1 percent of revenue, Gladden said in the interview.
Storage, Services
"That's the future in terms of our investments," Gladden said. "We still have a big PC business that we have to run well. I don't see that being the M&A focus of the company."
Dell slipped 6 cents to $14.46 at 4 p.m. New York time in Nasdaq Stock Market trading.
Two areas where Dell may acquire are in storage and services for specialized industries, Gladden said.
Enterprise computing companies such as Isilon Systems Inc., Fortinet Inc. and Riverbed Technology Inc. may become "less risky" acquisitions targets if their profit margins improve, Gladden said.
Dell on Nov. 2 agreed to buy software company Boomi, which lets companies share data between Web applications and programs that run in their data centers, for an undisclosed amount.
The computer maker had $12.4 billion in cash and short-term investments at the end of its second quarter, which ended in July, and raised $1.5 billion through a debt sale in September.
Cash for Purchases
Dell would be able to use cash generated by PC sales to fund its enterprise business expansion, Gladden said.
The company's stock has declined 40 percent since the end of January 2007, when Dell returned as CEO. That gives the company less currency than HP, Cisco Systems Inc. and Oracle Corp. for acquiring companies that can help it compete in the market for data-center computer systems, said Shaw Wu, an analyst at Kaufman Bros. in San Francisco.
"They don't have as much room to maneuver," said Wu, who has a "hold" rating on Dell shares and doesn't own them. "If Dell had thought of this a few years ago, when they still had a decent market cap, they would have had a better chance of success."
Besides expanding its data-center business, Dell is taking steps to broaden in mobile computing for businesses and consumers.
Swapping Out BlackBerry
Dell is distributing its new Venue Pro smartphones, running Microsoft Corp.'s Windows Phone 7 software, to 25,000 employees, or about a quarter of its workforce, replacing Research In Motion Ltd. BlackBerry devices and other mobile phones, said Gladden. Dell is also trying to persuade business customers to switch from BlackBerry handsets to Dell phones as a less expensive way to connect mobile workers to corporate networks.
RIM said Dell may have been trying to drum up free publicity.
"We find it highly unlikely that they will actually save any money with this move," Mark Guibert, a spokesman for Waterloo, Ontario-based Research In Motion, said in a statement. "Consider all the hard and soft costs of purchasing, deploying and supporting new devices with new software inside a company."
To cater to consumers, Dell is trying to widen the market for its Alienware line of computers designed for game players. The computer maker increased in-store advertising for the brand at Best Buy Co., and is developing a tablet for gamers that would have a 5-inch or 7-inch screen and bear Alienware's brand.
The company has also entertained the prospect of a management-led buyout. In June, Chief Executive Officer Michael Dell told a group of investors and analysts in New York that he'd considered taking the company private. Dell has a market value of $28.1 billion.
Before it's here, it's on the Bloomberg Terminal.
LEARN MORE