Chrysler's Third-Quarter Loss May Be Narrowest Since Bankruptcy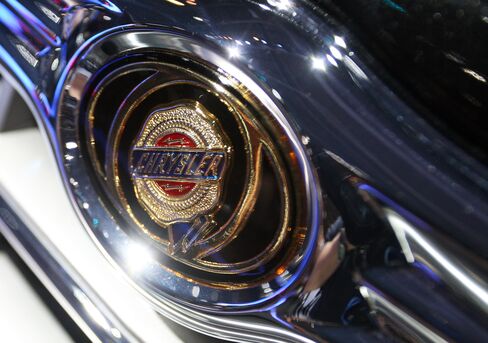 Chrysler Group LLC, the automaker controlled by Fiat SpA, may report its smallest quarterly loss since emerging from bankruptcy protection, helped by the biggest sales gains among U.S. automakers.
The automaker may report a third-quarter net loss of $129 million Nov. 8, based on the average estimate of four analysts surveyed by Bloomberg. That would be less than the company's $172 million second-quarter loss and a sign Chrysler is strengthening almost 18 months after emerging from bankruptcy.
"Chrysler may prove to be one of 2011's most surprising success stories," Stuart Pearson, an industry analyst with Morgan Stanley, said in a note to investors on Nov. 3. He wrote that he expects a "solid if not spectacular quarter."
The results for the three months through September will be better than for the first two quarters of the year, Chief Executive Officer Sergio Marchionne said in September, according to remarks posted on the company's website.
Chrysler's operating profit may have been $172 million, according to the average of four analysts' estimates. That would be a 6 percent decline from $183 million in the second quarter.
"We already know that we will make more money in the third quarter than we have made in any quarter so far," according to the text of Marchionne's Sept. 14 speech to Chrysler dealers.
Topped Forecast
Chrysler, which had a $143 million operating profit in the first quarter, already has topped its forecast for as much as $200 million in operating profit for all of 2010.
"Chrysler might have continued to show a stronger cash flow generation than the business plan expectations," Monica Bosio, an analyst with Banca IMI in Milan, wrote in a note Oct. 25.
During the third quarter, Chrysler sold 293,000 cars and trucks in the U.S., a 20 percent increase from the same period last year, according to Autodata Corp., a Woodcliff Lake, New Jersey-based researcher.
General Motors Co.'s U.S. sales in the quarter declined 5 percent, while Ford Motor Co.'s rose 7.9 percent, according to Autodata.
Ford reported a $1.69 billion profit for the third quarter. GM, which also went through a U.S. government-backed bankruptcy last year, reported preliminary net income of $1.9 billion to $2.1 billion Nov. 3 and said it will hold a conference call to discuss the results Nov. 10.
Chrysler may be becoming too reliant on fleet sales, said Jesse Toprak, vice president of industry trends at TrueCar.com, an automotive pricing website based in Santa Monica, California. The company's sales to corporations, governments and rental car companies made up 37 percent of its U.S. volume during the third quarter, according to TrueCar.
'Highly Dependent'
Until the U.S. automaker's relationship with Fiat can result in new products, Chrysler will be "highly dependent" on fleet and rental sales, Toprak said. The industry average during that period was 17 percent.
"Anytime you go over 25 percent in total fleet and rental sales that typically starts to diminish overall residual values and has a negative impact on brand image," Toprak said.
While Chrysler's reliance on fleet sales shrank from 41 percent in the second quarter, it is higher than the 20 percent level from a year ago, according to TrueCar.
Chrysler, which doesn't release its mix of retail and fleet sales, has defended deliveries to those customers.
"They pay cash for their vehicles just like anyone else," Fred Diaz, Chrysler's lead sales executive, said during an interview on Oct. 22 in San Antonio.
Marchionne, who also is CEO of Fiat, said he objects to those who classify fleet sales as "dirty."
New Vehicles
Chrysler is relying on fleet customers and lower incentives until the company can introduce new vehicles, said Jessica Caldwell, an analyst with Edmunds.com in Santa Monica, California.
"It seems like they are bridging to a point when they have the product to be more aggressive," Caldwell said.
Purchasing data from the Los Angeles Department of Water & Power shows how fleet sales can mean lower prices for automakers. The utility purchased 400 of the 2009 Dodge Avenger SXT sedans last year at an average price of $14,868.69, according to the city-owned power provider. The average transaction price of that model for retail customers was $19,684 a year ago, according to Edmunds.
Grand Cherokee
Marchionne has reduced U.S. consumer discounts, with incentive spending falling 21 percent from a year earlier to $3,125 per vehicle during the quarter. Chrysler's retail business has improved with the introduction the redesigned Jeep Grand Cherokee, Caldwell said.
"It's good to have a vehicle that's out there selling in the market, over 10,000 units, and is not really dependent on incentives," Caldwell said. Last month, U.S. dealers sold 12,721 Grand Cherokees.
The average transaction price of a Chrysler vehicle during the third quarter was $29,350, 6.4 percent more than last year, according to Edmunds.
The U.S. accounted for 73 percent of the company's global sales, which rose 17 percent from a year earlier to 401,067, according to the company.