BOJ in 'Middle' of Fed, ECB, May Be Pressured to Ease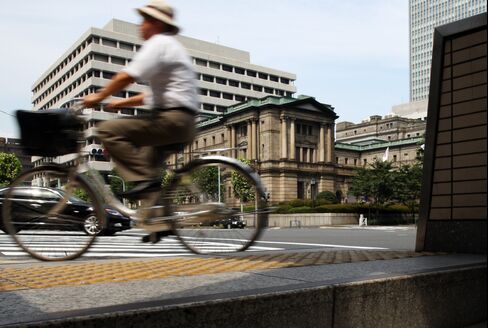 The Bank of Japan may face pressure to expand a monetary stimulus package that is smaller in scale than that of the U.S. Federal Reserve should the yen strengthen further and threaten an export-dependent recovery.
Japan's central bank today held the overnight call rate to between zero and 0.1 percent. It also said in Tokyo that part of its 5 trillion yen ($62 billion) asset fund will be used to purchase Japanese real-estate investment trusts with credit ratings of AA or higher.
The BOJ's easing is less aggressive than that of the Fed, which two days ago unveiled a $600 billion Treasury buying plan, and is stronger than that of the European Central Bank, which yesterday signaled it intends to stick to its exit strategy. The BOJ may need to further loosen credit if the current program fails to end deflation, said economist Robert Feldman.
"They will probably have to take more steps once the economic consequences become clearer," said Feldman, head of economic research at Morgan Stanley in Tokyo. "The yen is going to stay stronger, there will be more pressure on the economy, there will be more deflationary pressure. It makes things a little more difficult for the Bank of Japan to contend that they've done enough."
Governor Masaaki Shirakawa and his board last month cut the overnight rate, pledged to keep borrowing costs near zero until it can forecast stable prices and created an asset-buying fund, as signs increased that the yen's advance to a 15-year high against the dollar was slowing growth.
Stronger Yen
Those measures haven't stopped the yen's appreciation or boosted demand. Japan's currency has climbed more than 3 percent against the dollar since the BOJ's policy moves on Oct. 5. It traded at 80.73 at 5:42 p.m. today in Tokyo. The Nikkei 225 Stock Average yesterday advanced most in seven weeks after the Fed's announcement and rose 2.9 percent today.
The central bank said today the "recovery seems to be pausing," a more pessimistic assessment than in October, when it said the pace of the economic rebound is "slowing down." Factory production slumped by more than double the pace economists forecast and deflation deepened in September.
"We consider the upside and downside risks surrounding the economy and prices as almost balanced," Shirakawa said.
The BOJ's monetary policy stance is "somewhere in the middle" of the Fed's and ECB's, said Jesper Koll, head of equity research at JPMorgan & Co. in Tokyo.
Fed's 'Shadow'
"It's not pro-active easing," Koll said in an interview with Bloomberg Television. "Basically the Bank of Japan follows in the shadow of the Federal Reserve and it follows in a much, much smaller footing."
Shirakawa yesterday called the asset-purchase fund an "unprecedented" and "extraordinary" step for a central bank.
There's about a "13 times difference in the amount of risk" when comparing buying five-year U.S. Treasuries to exchange-traded funds and REITs, the governor said at a press conference in Tokyo today. He also said the effectiveness of policy shouldn't be measured by the size of the fund.
"Ultimately, we should evaluate the effect by looking at the levels of interest rates and spreads," Shirakawa said.
In addition to REITs, the BOJ said it will buy ETFs that track the Nikkei 225 Stock Average and the Topix index, and will start purchasing government debt early next week. It plans to buy 3.5 trillion yen in government debt, 500 billion yen each of corporate bonds and commercial paper, 450 billion yen in exchange-traded funds and 50 billion yen for real-estate investment trusts, over a year. The BOJ will start purchasing corporate debt on Dec. 3 and commercial paper on Dec. 10.
'Probable' Option
Shirakawa repeated today that expanding the 5 trillion yen fund will be its "probable" option if the BOJ needs to loosen credit further. It kept unchanged a separate 30 trillion yen program aimed at encouraging bank lending at today's gathering.
A strong yen threatens to depress Japan's already weakening economic expansion by eroding profits of exporters such as Nissan Motor Co. and Sony Corp. and worsening deflation.
Nissan expects the yen's strength to cut operating profit for the year ending March 2011 by 185 billion yen, the company said in a statement yesterday.
The BOJ program falls short of what's needed to end deflation and alleviate the damage from the yen's climb, economists from Citigroup Inc. to Morgan Stanley have said.
100 Trillion Yen
Asset purchases of 100 trillion yen "would be more appropriate," Citigroup Chief Economist Willem Buiter and analysts including Tokyo-based Kiichi Murashima said last week. The BOJ may need to ease policy further in the January-March period, when slower inflation in the U.S. could prompt the Fed to buy more government bonds, Murashima said.
The BOJ looks likely to continue with its easy monetary policy for now, because its policy makers are forecasting inflation below the 1 percent increase they consider as stable. BOJ policy board members last week forecast consumer price growth of 0.1 percent in the fiscal year starting April 2011, and predicted a 0.6 percent increase the following year.
By contrast, ECB President Jean-Claude Trichet said yesterday that policy makers will decide on possible further exit steps next month. "The non-standard measures are by definition temporary in nature," he said.
Fed policy makers this week announced a second round of large-scale asset purchases to lower borrowing costs, revive growth and prevent a protracted drop in prices, saying the U.S.'s recovery was "disappointingly slow."
The BOJ's future policy moves will likely track that of the Fed, said Akio Makabe, a professor of economics of Shinshu University in Matsumoto City, central Japan.
"We must assume the Fed will continue to pursue monetary easing measures," Makabe said. "In tandem with the Fed's upcoming moves, the Bank of Japan will probably have to explore various policy tools."
Before it's here, it's on the Bloomberg Terminal.
LEARN MORE