U.S. Commercial Property 'Substantially' Off Bottom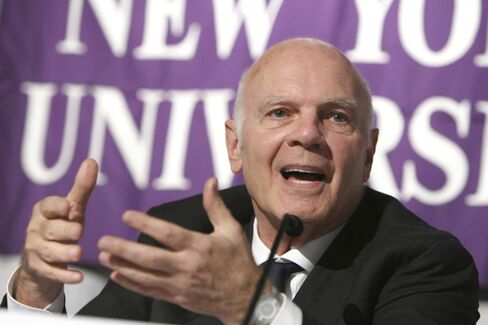 U.S. commercial property prices are rising in desirable investment markets like New York and Washington while office vacancies are beginning to fall more broadly, according to top real estate executives.
Values are "substantially" off the bottom after more than a year of decline, said Steven Roth, chairman of Vornado Realty Trust. Hotels and multifamily properties are leading the rebound, with South American investors purchasing condominiums in Miami, according to Barry Sternlicht, chairman of Starwood Capital Group LLC in Greenwich, Connecticut.
"The recovery has been more rapid than anybody expected," Roth, 68, said during a panel discussion at the Bloomberg Link Real Estate Briefing today in New York. His New York-based company hasn't purchased as many properties as it would like. "We've been trying, but apparently not hard enough," Roth said.
U.S. property deals probably will double next year and may account for almost a quarter of global transactions, according to a forecast by New York-based research firm Real Capital Analytics Inc. Although high-quality buildings will be in demand, they will be leased at lower rental rates than the 2007 peak, according to billionaire investor Sam Zell.
"Over the next 18 months I think we're going to see little or no new construction and we're going to see all the institutional-quality assets be full," Zell, 69, chairman of Chicago-based Equity Residential, said on a separate panel. "The bad news is they're going to be full at 20 or 30 percent rates less than the peak."
Little Construction
The U.S. economy expanded at a 2 percent rate in the three months ended in September, the fifth consecutive quarterly increase. The growth followed 12 months of contraction as the economy weathered the worst financial crisis since the Great Depression.
As the recovery builds, rents are poised to rise in 2011 after reaching a low this year, Bruce Mosler, 53, co-chairman of broker Cushman & Wakefield Inc., said at the conference.
Office vacancies in U.S. central business districts declined for the second straight time in the third quarter as tenants signed leases for additional space, according to Cushman & Wakefield. The average vacancy rate fell to 14.7 percent from 14.8 percent in the second quarter, the broker said Oct. 14. Vacancies dropped in half of the 30 cities tracked by Cushman.
'World Cities'
International investors seek real estate in "world cities" such as New York, Washington and San Francisco, Roth said. Rising office rents in New York and Washington helped Vornado's third-quarter revenue climb 5 percent from a year earlier, the company said this week.
Those cities are "desperately important to investors" outside the U.S., according to Roth. Foreign institutions would rather invest in New York properties, with a 4 percent capitalization rate, than in Cleveland buildings, where the cap rate may be 8 percent, Sternlicht said. The cap rate, a measure of a property's investment yield, is calculated by dividing net operating income by purchase price.
For fully occupied buildings, demand from investors is similar to what it was at the peak of the market, with bidding competitive for those properties, Zell said.
805 Third Ave.
"Capital feels safest investing in New York and D.C.," Jonathan L. Mechanic, a partner at Fried, Frank, Harris, Shriver & Jacobson LLP in New York, said during his panel with Mosler.
Investor capital available to purchase real estate in the Americas rose by 54 percent since December, London-based broker DTZ Group Plc said.
Charles S. Cohen, chief executive of Cohen Brothers Realty Corp., said the pace of leasing has increased in the last six month from "five miles an hour" to "15 to 20 miles" an hour.
Cohen's New York-based firm signed a lease with publisher Meredith Corp. for nine floors comprising 212,594 square feet of space for its new corporate headquarters at 805 Third Ave. in Manhattan, he said today without disclosing terms.
Manhattan's East Side is benefiting from renewed leasing, with Newsweek magazine, the New York Daily News and AT&T Inc. announcing plans to relocate there, William C. Rudin, co-chairman of Rudin Management Co. in New York, said during the panel with Roth and Sternlicht.
Miami condominiums acquired in Starwood's purchase of Corus Bankshares Inc. are "selling like hotcakes," Sternlicht, 49, said. Starwood in October 2009 led a group including TPG, Perry Capital and WLR Lefrak that paid 60 cents on the dollar for the failed Chicago-based lender.
"The whole country is being driven by a search for yield," Sternlicht said. "Real estate is a proxy for the bond market."