U.K. Plans Entrepreneur Visa Amid Concern on Limits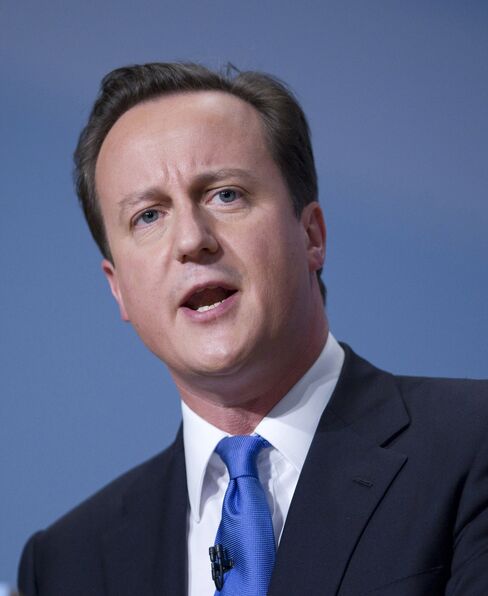 Britain is introducing an "entrepreneur visa" to encourage those who have the backing of investors to settle in the country.
"If you've got an idea, if you want to create jobs, and if you have the ambition to build a world beating company here in the U.K., we want you," Prime Minister David Cameron said in a speech in east London today. "With our new entrepreneur visa we want the whole world to know that Britain wants to become the home of enterprise and the land of opportunity."
The move is designed to allay business concerns over a planned cap on immigration from next year. Companies say a temporary limit currently in force is preventing them from bringing in staff. Business Secretary Vince Cable, a Liberal Democrat in the Conservative-led government, has warned the limit will hamper economic growth.
Entrepreneurs will have to have "serious investment from a leading investor" to qualify for the visa, Cameron said. Further details of how the visa will work will be announced next year, Cameron's office said. The Conservatives fought the May election on a pledge to introduce a limit on immigration, while the Liberal Democrats opposed the plan.
Cameron said yesterday that intra-company transfers, which in 2009 accounted for 60 percent of "tier 2" visas for skilled workers, will not be included in the cap.
"It will not be difficult to achieve much better immigration control without disadvantaging business," he said in the House of Commons. "For example, things such as inter-company transfers should not be included in what we are looking at."
Internet Rules
Cameron today also announced a review of the U.K.'s intellectual property laws to make them "fit for the Internet age."
"The founders of Google have said they could never have started their company in Britain," Cameron said. "The service they provide depends on taking a snapshot of all the content on the internet at any one time and they feel our copyright system is not as friendly to this sort of innovation as it is in the United States."
Cameron wants eastern London, including the areas around Old Street, Shoreditch and the Olympic Park, to be developed as a "technology city," he said. He said that Google Inc., Facebook Inc., Intel Corp., McKinsey & Co Inc. and Cisco Systems Inc. have committed to investing in projects in the area.
Cameron also said more needs to be done to provide funding to small and mid-sized enterprises setting up in the capital.
"For Christ's sake, this is London, this is a capital of international finance," Cameron said. "If we can't do better getting money into the businesses of the future then we're not succeeding."
Before it's here, it's on the Bloomberg Terminal.
LEARN MORE