Bachmann Drops Bid for U.S. House Republican Leadership Post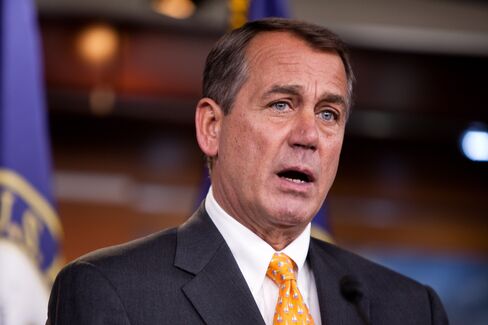 Representative Michele Bachmann, leader of the U.S. House Tea Party Caucus, dropped her bid for a Republican leadership position after several party members endorsed her rival.
Bachmann, of Minnesota, was running against Representative Jeb Hensarling of Texas to become chairman of the House Republican Conference, the fourth-ranking leadership position.
"Jeb Hensarling has my enthusiastic support for his candidacy," Bachmann said in a statement today. "He will be a strong voice" for the Tea Party's values of less federal spending and smaller government, she said.
Bachmann's support among fiscally conservative activists helped her raise more than $11 million for her re-election campaign, a larger amount than any other House candidate during the past two years.
Republicans will take over the House majority in January after winning at least 60 seats from the Democrats in the Nov. 2 elections.
Hensarling was endorsed by party members including the second-ranking House Republican, Representative Eric Cantor of Virginia, who will become majority leader in January, and Representative Ron Paul of Texas.
"Michele Bachmann is a committed movement conservative whose effective voice played an important role in America's decision to trust House Republicans once again," Hensarling said in a statement. "She is a dear friend, and I am humbled to earn her support."
Before it's here, it's on the Bloomberg Terminal.
LEARN MORE