Pfizer Bone Drug Reduces Breast Cancer Risk in Older Women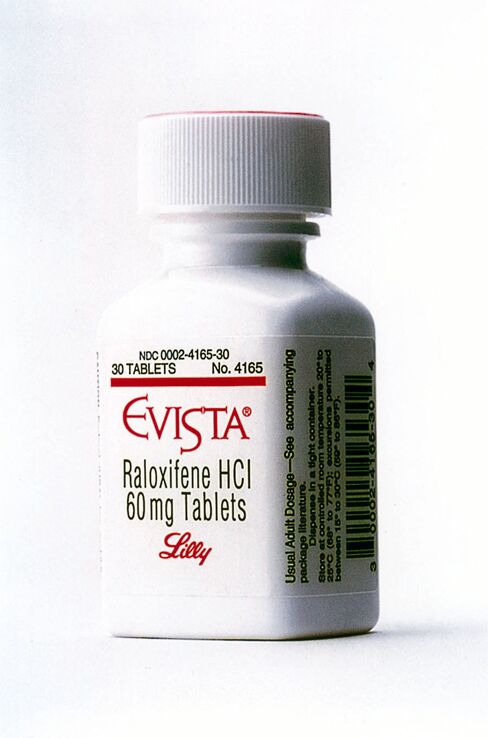 Pfizer Inc.'s Fablyn, the bone drug that failed to win U.S. approval amid safety questions, reduced the risk of breast cancer and fractures in postmenopausal women with osteoporosis, a company-sponsored study found.
Women taking the medicine, also known as lasofoxifene, had a 79 percent lower chance of breast cancer compared with those on placebo, researchers said today in the Journal of the National Cancer Institute. Pfizer is "exploring strategic options" that include licensing out Fablyn or selling the rights Pfizer now holds, in line with plans disclosed last year, Victoria Davis, a spokeswoman, said in an e-mail yesterday.
Pfizer failed last year to win approval from the U.S. Food and Drug Administration to sell Fablyn as an osteoporosis treatment, after the medicine was linked to an increase in total deaths from all causes. The company said in a regulatory filing in May that it was withdrawing its requests for U.S. clearance of the medicine in osteoporosis and in vulvar and vaginal atrophy. The medicine may yet find a use, said Victor Vogel, a physician not connected with the drug or the study.
"We shall have to wait and see what the FDA decides to do,'' said Vogel, director of cancer services at Geisinger Health System in Danville, Pennsylvania, in a telephone interview on Nov. 2. He said the FDA should reexamine the drug in light of today's study. Vogel wrote an editorial about the drug for the journal.
Blood Clots
The research showed that for patients taking a higher dose of Fablyn there was an increased risk of blood clots in the lungs, leg cramps and hot flushes, the researchers said. There was no statistically significant increase in deaths of all causes in those taking the higher dose compared with placebo. There was an "observed" increased risk in death of all causes in those taking a lower dose of Fablyn after five years of follow up, the researchers said.
The study "sheds new light on the breast cancer benefit,'' said the lead author, Andrea LaCroix, in a telephone interview today. 'The benefits appear to outweigh the risks pretty substantially.''
LaCroix is a professor of epidemiology at the Fred Hutchinson Cancer Research Center in Seattle. Davis declined to say whether Pfizer will seek clearance of the drug as a breast-cancer treatment.
Fablyn is part of a class of drugs, called selective estrogen receptor modulators, that also includes Evista from Indianapolis-based Eli Lilly & Co.
Fracture Risk
The medicines bind to estrogen receptors in the body, Vogel said. That helps bone quality improve, lowering fracture risk. It's unclear how the drugs prevent breast cancer, he said.
Pfizer holds worldwide marketing rights for lasofoxifene under a license from San Diego-based Ligand Pharmaceuticals Inc., which developed the drug.
Fablyn was rejected by the FDA in September 2005 as a medicine to prevent osteoporosis because the agency had concerns it may cause cancer in the lining of the uterus, according to Pfizer. The drug also was rejected in January 2006 as a treatment for vaginal atrophy. Pfizer resubmitted the drug application to the FDA in 2007, including interim three-year data on participants included in today's study.
The FDA reviewers found that a low dose of Fablyn was linked to more deaths from cancer and stroke, though Pfizer said the drug wasn't likely to be the cause. Pfizer was seeking approval to sell a higher, 0.5-milligram dose that wasn't linked to a statistically significant increase in mortality.
There was no increase in uterine cancer, although at the lower dose of 0.25 milligrams there was a rise in combined fatalities from all forms of cancer.
FDA Reviewers
The FDA reviewers found there were 38 percent more deaths in the group taking the lowest dose of Fablyn in the study compared with those on a placebo, with a total of 228 deaths among all patients taking the drug. There were 14 more cancer deaths, a 70 percent increase, in those on low-dose Fablyn compared with a placebo.
In September 2008, an FDA advisory panel had voted 9-3 that the drug's benefits outweighed risks. While the agency generally follows the recommendations of its advisory panels, it isn't required to do so.
While Fablyn was approved in Europe in February 2009 for women at a higher risk of fractures, Pfizer isn't selling the product there.
Bone Density
For the new report, the authors looked at a previous study of 8,556 postmenopausal women, ages 59 to 80, who had low bone density. They were randomly assigned to receive 0.5 milligrams of Fablyn or else 0.25 milligrams of Fablyn or a placebo, and followed for five years.
During that time, 49 women developed breast cancer, including five in the 0.5 milligram Fablyn group and 24 in the placebo group, according to the research published today.
The researchers found that women taking the 0.5 milligrams of Fablyn reduced their risk of developing a more common type of breast cancer, called estrogen receptor-positive, by 83 percent compared with placebo. Those on the higher dose of Fablyn also had a 24 percent reduction in nonspine fractures and a 42 percent lowering of spinal fractures, the researchers said.