Tesla Rises After Panasonic Buys Stake in Carmaker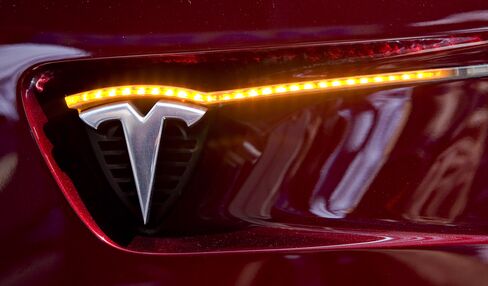 Tesla Motors Inc. rose 14 percent in Nasdaq Stock Market trading after Panasonic Corp., the largest maker of rechargeable batteries, bought a $30 million stake in the electric-car maker.
Tesla jumped $3.13 to $24.90 at 4 p.m. New York time, its highest level since the company first sold shares to the public in June. Panasonic paid $21.15 a share yesterday in a private placement for its holding in the Silicon Valley startup, which also counts Toyota Motor Corp. and Daimler AG among investors. The investment expands on a battery collaboration the companies announced this year, Tesla said in statement.
The move is "a powerful endorsement of our technology," Elon Musk, Tesla's chief executive officer, said in the statement. "We believe our partnership with them will enable us to further improve our battery pack while reducing cost."
Tesla, maker of the $109,000 electric Roadster sports car, has set a goal of becoming the auto industry's leader in battery-powered cars, aided by supply agreements with Toyota and Daimler. The Palo Alto, California-based company is revamping a former Toyota joint-venture factory in the state that is to begin making its $57,400 Model S in 2012.
Panasonic and Tesla in January agreed to jointly develop next-generation lithium-ion batteries for electric cars. While Osaka, Japan-based Panasonic is Tesla's "preferred" battery cell supplier, the agreement doesn't prevent the carmaker from also using cells from other battery makers, said Ricardo Reyes, a Tesla spokesman.
1.42 Million Shares
Panasonic likely bought 1.42 million Tesla shares, based on the purchase price disclosed by the company. Toyota bought a $50 million stake in Tesla this year and Daimler invested a similar amount in 2009.
Panasonic's American depositary receipts, each representing one ordinary share, rose 29 cents, or 2 percent, to $14.49 at 4:01 p.m. in New York Stock Exchange composite trading. They have risen 1 percent this year.
Tesla, which has jumped about 46 percent since its IPO, is scheduled to report third-quarter results Nov. 9.
Before it's here, it's on the Bloomberg Terminal.
LEARN MORE