'Spider-Man' Delays Broadway Debut After Two Injuries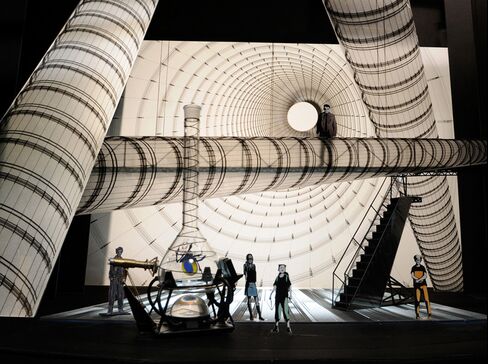 Nov. 5 (Bloomberg) -- "Spider-Man: Turn Off the Dark," which at $60 million and counting is the most expensive Broadway musical ever and one of the most delayed, will put off its first preview by two weeks and its opening night by three.
Previews at the Foxwoods Theatre are now scheduled to begin on Nov. 28, with opening night on Jan. 11, 2011, the producers said in a statement. It was to have begun previews on Nov. 14.
Ticketholders -- who are being offered the option of refunds or exchanges -- may be further inconvenienced. Some previews in December may be canceled to create additional time for rehearsals, a person briefed on the production said. A spokesman declined to comment.
As costs spiraled and the show's conception by Tony Award-winning director Julie Taymor ("The Lion King") became more elaborate, its arrival date has been a moving target.
Production was halted in 2009 when its lead producer ran out of cash. Actors including Alan Cumming ("Cabaret") dropped out of the cast to take other work. The show has been in various stages of delay since last January.
"Shows like ours, that embrace the challenge of opening on Broadway without an out-of-town tryout, often need to adjust their schedules along the way," said the lead producer, Michael Cohl, in a statement.
Sony Pictures Entertainment, which produces the "Spider-Man" films, is a co-producer.
With music by U2's Bono and The Edge and wild aerial stunts, "Spider-Man" will break new ground in theater, Taymor has said.
Ouch
So far, the show has made its greatest impact on its actors. A performer broke his wrists during an event for sales agents. Another broke a toe.
The New York State Department of Labor and the federal Occupational Safety and Health Administration are investigating "the facts surrounding the accident when two performers suffered injuries," said Labor Department spokesman Joe Morrissey.
State inspectors visited the Foxwoods Wednesday to view the stunts. They plan to return because many of them were not ready.
"There are 35 aerial flights in the production," Morrissey said. "To date we've seen seven. We expected the sequence where two performers fly over the audience yesterday. This sequence was not ready."
Theater insiders say the pall the delays and accidents cast on the show could be short-lived.
"When you push the boundaries of what we do, things often take longer," said Ken Davenport, a producer who writes a blog about Broadway. "I don't believe the delays will bring 'Spider-Man' down, if it goes down."
The New York Times reported that advance sales for the show total about $8 million, excluding group sales that haven't been paid for.
"An $8 million advance is decent for a brand new musical," Davenport said. "But everything looks small when your budget is $60 million."
To contact the writer on this story: Philip Boroff in New York at pboroff@bloomberg.net;
To contact the editor responsible for this story: Manuela Hoelterhoff at mhoelterhoff@bloomberg.net.