Obama Says He Plans Outreach to Business Community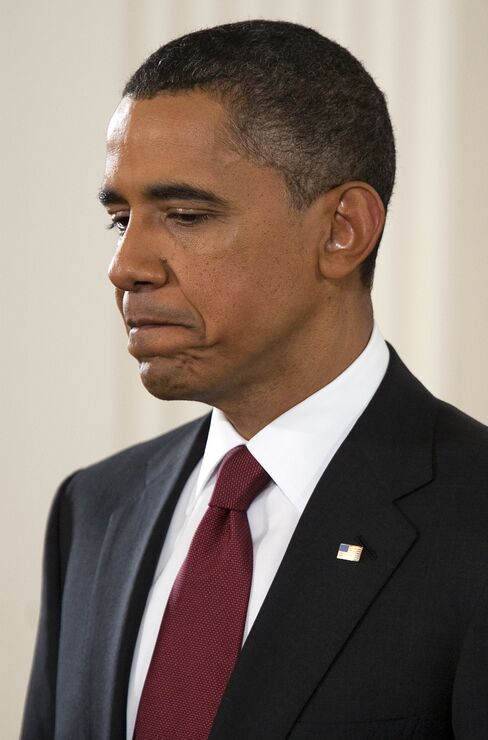 President Barack Obama said he is humbled by the "shellacking" his party took in the midterm U.S. congressional elections and takes responsibility for changing the administration's approach to business to make "absolutely clear" that its success is crucial to the economy.
Obama, at a White House news conference to give his assessment of yesterday's elections in which Republicans gained a majority in the House, said one of the keys to spurring economic growth is to encourage expansion and hiring by companies.
The administration needs to find the "right balance in making sure that businesses have rules of the road and are treating customers fairly," Obama said, "but also making absolutely clear that the only way America succeeds is if businesses are succeeding."
Sluggish growth and an unemployment rate that has equaled or exceeded 9.5 percent for 14 consecutive months were major issues in yesterday's elections.
Republicans netted at least 60 House seats, the biggest gain since 1938, when Democrats lost 72 seats, and will take control of the chamber in January for the first time since 2006. Republicans scored a net gain of at least six Senate seats with two races undecided, short of the 10 needed for a majority.
Winning Governorships
They also won governorships held by Democrats in at least 10 states, giving them a majority of top state executive posts.
Obama recalled that Presidents Ronald Reagan and Bill Clinton lost seats in Congress during midterm elections two years into their presidencies. President George W. Bush called his party's loss of House seats in a 2006 midterm vote "a thumpin'."
"This is something that I think every president needs to go through," Obama said. "Now, I'm not recommending for every future president that they take a shellacking like I did last night," he said. "I'm sure there are easier ways to learn these lessons."
Voters surveyed in exit polling yesterday voiced deep dissatisfaction with the economy, with 83 percent saying the national economy is in bad shape, according to ABC News. Fourteen percent said their own family's situation had improved since 2008, when Obama was elected president.
'Deeply Frustrated'
Obama said he recognized that voters are "deeply frustrated" by the pace of the recovery from the worst recession since the Great Depression. The president said he plans greater outreach to the business community to get companies to spend some of the almost $1 trillion in cash that Moody's Investors Service says they are holding.
"Setting the right tone publicly is going to be important and could end up making a difference at the margins in terms of how businesses make investment decisions," Obama said, without giving details of his plans.
During the election campaign, Obama repeatedly said Democrats would defend middle-income taxpayers against "Wall Street banks," "corporations," the "oil industry," the "insurance industry" and "credit-card companies."
"If the other side wins, they'll try their hardest to give rein back to the insurance companies and the credit-card companies and the Wall Street banks that we're finally holding accountable," Obama told a crowd of supporters Oct. 10 in Philadelphia.
Criticizing Obama
Companies from Procter & Gamble Co., the world's largest consumer-products producer, to Caterpillar Inc., the largest maker of construction and mining equipment, have gone public with their criticisms of the administration.
Companies' complaints center on Obama's efforts to overhaul rules for Wall Street, raise taxes on overseas income, tighten environmental reviews and rework pending free-trade agreements. They also criticize the president for not having any Cabinet secretaries or top aides with business experience.
The Bloomberg Global Poll in September found 77 percent of U.S.-based Bloomberg subscribers say Obama is too anti-business, and his favorability among the 1,408 investors worldwide is down to 49 percent from 73 percent in July 2009.
Before it's here, it's on the Bloomberg Terminal.
LEARN MORE