Lloyds Nabs Botin's Shark-Diving Protege to Fend Off Santander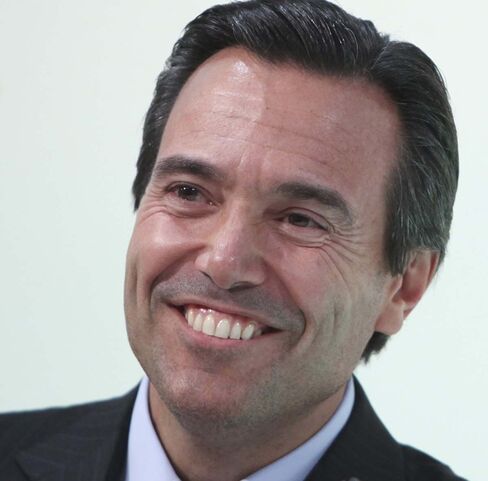 Antonio Horta-Osorio, who goes cage-diving with sharks for fun, ran 10 different banks for Chairman Emilio Botin during his 18 years at Banco Santander SA. He may have tired of waiting to take control of the Europe's second-biggest lender, analysts said.
Horta-Osorio, 46, took a "substantial" pay cut when he gave up his place in Botin's inner circle to become chief executive officer at Lloyds Banking Group Plc, Chairman Win Bischoff said yesterday when the switch was disclosed. Lloyds, which is 41 percent state-owned, is the U.K.'s biggest mortgage lender.
"Lloyds has gone through difficult times, it has to be taken to the next phase of its development," Horta-Osorio said on a conference call in London with reporters yesterday. "This is probably the only bank in Europe for which I'd consider leaving Santander."
Lloyds has capitalized on the intrigue surrounding the leadership at Santander, which has been run by the Botin family for three generations, to poach Horta-Osorio, one of the bank's top executives. The new CEO, who brings with him the secrets picked up over four years running Santander in the U.K., will now be competing head-to-head with his former company and the family who built it.
"Possibly he felt he was being pushed toward the exit door to make way for Ana Patricia Botin, who is being groomed for the top role at Santander," said Andrew Lim, a financial analyst at Matrix Corporate Capital LAP in London.
Government Ownership
Horta-Osorio leaves a bank that has been ramping up lending to join one that has been shrinking since receiving a taxpayer-funded rescue in 2008. Under Horta-Osorio, Lloyds will need to pay down the almost 120 billion pounds ($193 billion) it still owes the central bank and the U.K. government and earn a return on the state's equity stake for taxpayers. He will also have to face a government-sponsored commission on banking competition next September and argue against a breakup of the bank, which controls about a quarter of U.K. mortgage lending.
"He goes into it with his eyes wide open," Bischoff said. Horta-Osorio replaces Eric Daniels, 59, as CEO on March 1.
Horta-Osorio's main rival may prove to be the company that he just left. Santander yesterday named Ana Patricia Botin, the chairman's 50-year-old daughter, to replace Horta-Osorio as head of the bank's U.K. unit.
"His departure suggests he didn't think he was going to make CEO of Santander," said Simon Maughan, co-head of European equities at MF Global U.K. Ltd. in London. Alfredo Saenz, 67, is Santander's current CEO.
'Fantastic Bank'
In the conference call, Horta-Osorio had only praise for his former employer. "Santander is a fantastic bank, one of the best banks in the world run by an outstanding chairman," he said. "This has to do with this opportunity in itself."
Horta-Osorio built Santander's U.K. unit into the country's second-biggest retail bank after becoming CEO in 2006. He steered the bank through the financial crisis without requiring a government bailout and integrated units of Bradford & Bingley Plc and Alliance & Leicester Plc with the Abbey National Plc business Santander acquired in 2004.
Horta-Osorio will earn a basic salary of 1.04 million pounds a year at Lloyds, where executive salaries are subject to the approval of the U.K. government struggling to rein in its 156 billion-pound budget deficit. Chancellor George Osborne last month announced the country's harshest-ever spending cuts, which are set to eliminate almost 500,000 public-sector workers. His total package of as much as 7.5 million pounds, including incentive bonuses, will be less than he earned at Santander, Bischoff said on yesterday's call.
Earnings Outlook
Lloyds said this week it expected to see "continued improvement" in its net interest margin in the second half of the year after reporting a 2.08 percent margin in the first six months, driven by higher asset pricing and as mortgage customers were moved into higher interest rates.
Horta-Osorio earned his MBA from Insead in 1991 and was hired by Emilio Botin, 76, from Goldman Sachs Group Inc. in 1993 to run Santander's Portuguese investment banking unit. In 1996, he took charge of Brazilian operations in Sao Paulo. Santander's profit from Brazil will eclipse its Spanish profit this year, Botin predicts.
Pedro Braz Teixeira, formerly chief economist at Santander's Portuguese unit in Lisbon, said Horta-Osorio was quick to grasp topics and seek out opinions during discussions.
"He was on top of the least-probable things," Braz Teixeira said. "He would say an article was published in some small magazine and would comment on it."
Family Considerations
Horta-Osorio said his decision to move to Lloyds was in part influenced by his growing attachment to the U.K., where he has made his home with his wife and three children. The Portuguese national, who plays tennis at London's exclusive Queen's Club, said he saw the job of rebooting the bank as a way of helping put the U.K. economy back on its feet.
"The success of Lloyds is inextricably linked to the success of the British economy," said Horta-Osorio, who speaks Portuguese, Spanish, English and French. "I really like your country, the culture of tolerance. This is the country where my wife and I decided we want to see our children grow up."
One aspect of national culture he still needs to get to a grip on: the British love of complaining.
Service Complaints
Santander was dubbed Britain's "most complained-about bank" in September by consumer-rights magazine Which? after it received 216,958 complaints, or eight per 1,000 accounts, in six months. Lloyds was ranked the third-worst bank in terms of customer complaints.
"We want service to improve and that is why we announced 1,000 new jobs in the U.K. to cope with growth and improve customer service," Santander U.K. spokesman Anthony Frost said.
Horta-Osorio is a master scuba diver who has gone cage-diving with sharks, often while taking his family around the world to help the Botins transform the Spanish lender into the Europe's second-largest bank by market value.
"When I think of my ambition for the future, it is simple," he said in an interview at his former school Insead, published last month. "I would like to create the best and most successful commercial bank in the U.K. and that is all I am focused on now."
Before it's here, it's on the Bloomberg Terminal.
LEARN MORE