Casey's, 7-Eleven End Discussions on Possible Deal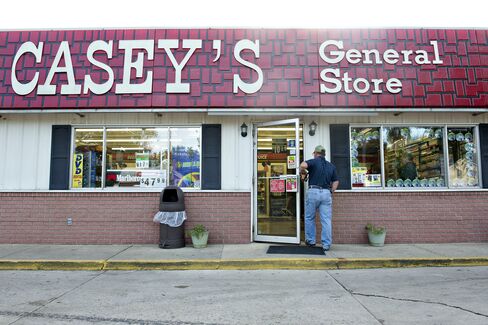 Casey's General Stores Inc., the operator of convenience stores in the U.S. Midwest, said talks on a takeover by 7-Eleven Inc. fell apart after they failed to agree on price.
The board decided a revised proposal from 7-Eleven of $43 a share in cash didn't reflect the value of the Ankeny, Iowa-based company and wasn't in the best interest of shareholders, Casey's said in a statement today. The offer totals $2.1 billion including net debt.
The $43 offer "would have been approved by the shareholders, who would not have been unhappy," said Bill Kavaler, an analyst at Oscar Gruss & Son Inc. in New York with a "hold" rating on the stock. "If you're turning down $43 because you want $50, I think that's having unrealistic expectations."
Casey's has now snubbed two suitors this year. The chain, which owns more than 1,500 convenience stores in states such as Iowa and Illinois, turned down repeated offers from Alimentation Couche-Tard Inc., a Laval, Quebec-based convenience-store chain.
The Canadian company initially offered $36 a share in April and raised its offer twice when Casey's balked. The offers "substantially" undervalued Casey's, according to a statement from Casey's CEO Robert J. Myers on Sept. 14.
Casey's fell $2.11, or 5.1 percent, to $39.34 at 4 p.m. New York time in Nasdaq Stock Market trading, its largest daily drop since July 2009. The shares have risen 23 percent this year.
Preliminary Offer
7-Eleven earlier made a preliminary offer of $40 a share, disclosed by Casey's on Sept. 9. Analysts value Casey's at $45 a share without pricing in a takeover, the company said in a Sept. 7 statement.
Couche-Tard's last offer of $38.50 a share expired on Sept. 30. By publicly turning down $43 a share, Casey's is sending a signal to the Canadian chain that it must offer $45 to do a deal, according to Kavaler.
The bid from Couche-Tards have "consistently been well below the market," said Charles Cerankosky, an analyst at Northcoast Research Holdings LLC in Cleveland. He recommends buying Casey's shares.
Couche-Tard couldn't be reached for comment. Casey's and 7-Eleven declined to comment.
7-Eleven, the biggest U.S. convenience-store chain, said its last offer fairly valued Casey's. The unit of Tokyo-based Seven & I Holdings Co. will keep seeking transactions to expand in the U.S. and Canada, Chief Executive Officer Joe DePinto said in a statement today.
The Dallas-based chain plans to add 300 stores this year to the more than 8,200 it operates, franchises or licenses in North America.