Brown Beats Whitman for California Governor While Outspent 3-1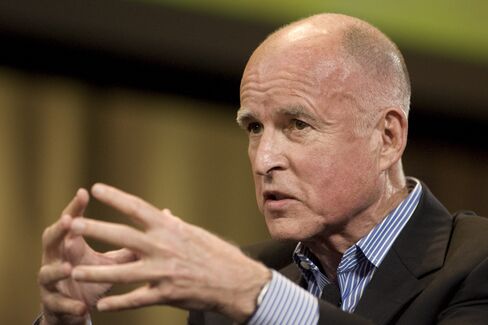 Nov. 3 (Bloomberg) -- Jerry Brown defeated the biggest self-funded candidate in U.S. history to become California's governor again, three decades after he first took the job.
Brown, a 72-year-old Democrat, was leading Republican rival Meg Whitman 49 percent to 46 percent, with 14 percent of precincts reporting, according to the Associated Press.
Brown returns to manage the state with the most people, an economy bigger than Russia's, the third-highest unemployment in the U.S. and, according to Moody's Investors Service, the possibility of a $5 billion mid-year deficit.
"He's not going to need too many orientation sessions, trouble is where does he go?" said Jack Pitney, a professor of political science at Claremont McKenna College in Claremont, California, before the election. "The state is in a terrible fiscal mess that will require either large spending cuts or a tax increase."
Whitman, a billionaire and former chief executive of EBay Inc., poured at least $141.6 million of her own fortune into the campaign, a U.S. record for self-funding by a candidate. She raised another $31.3 million for a total of $172.9 million, according to state filings. That was more than three times the total for Brown, a career politician now serving as attorney general, who raised $44.3 million.
Independent groups such as the California Nurses Association put another $23 million into the race, most of that in support of Brown, according to the California Fair Political Practices Commission, the state's campaign-finance monitor. Whitman said during the campaign that Brown would owe favors to special interests if elected.
Pension Costs
Brown campaigned as a moderate with the resume necessary to tackle issues such as the state's rising pension costs and perennially late budgets, according to Mark Baldassare, president of the nonpartisan Public Policy Institute of California in San Francisco.
"There's consensus the budget is a very serious problem," Baldassare said in a telephone interview Oct. 26. "This is a guy who has decades of experience."
Jerry Brown was born in San Francisco, the son of Edmund G. "Pat" Brown, California's governor from 1959 to 1967. The younger Brown served two terms as governor from 1975 to 1983, a period in which he earned the nickname "Governor Moonbeam" for promoting policies such as a state-sponsored space program. He was elected mayor of Oakland in 1998. Since 2007, he has been the state's top law-enforcement officer.
"I believe I have the skill and knowledge to bring the divergent elements together to fix our state," he said in a June 1 interview in his Oakland campaign headquarters.
Democratic Advantage
Brown entered the race with the advantage that California has more Democrats than Republicans. Of nearly 17 million registered voters, state records show 7.5 million Democrats and 5.3 million Republicans.
Brown was also able to connect with independent voters who make up 20 percent of the electorate, Baldassare said.
The two were neck-and-neck in polls until Whitman's former housekeeper, Nicky Diaz Santillan, claimed in a Sept. 29 press conference that the candidate knew she was in the country illegally and fired her only after deciding to run for office. Whitman denied the allegation.
Brown's support among Latino voters rose to 59 percent, versus 23 percent for Whitman, according to a poll released Oct. 24 by the University of Southern California and the Los Angeles Times. That was almost twice the 19-point Latino advantage Brown had in September.
A Brown campaign gaffe, in which an aide was recorded referring to Whitman as a "whore," had little impact on his support among female voters after it was made public Oct. 7. Among women, his lead extended to 21 percentage points from 9, according to the USC/Times survey.
Immigration Issue
"The undocumented issue ties into a major one which is, what are we going to do about immigration reform?" Bruce Cain, who teaches politics at the University of California Berkeley, said in a telephone interview before the election. "Jerry appointed a lot of women in the 1970s to his administration. Nobody believes he is going to appoint all men."
About 48 percent of voters said Brown "understands the problems and concerns of people like me" versus 30 percent for Whitman, according to the Oct. 24 USC/Times survey.
In a 2009 Facebook post, "25 Random Things About Me," Brown noted that he declined to have an inaugural ball after first becoming governor in 1975 and celebrated with dinner at a Chinese restaurant. He also said his favorite cereal is Flax Plus Multibran. The posting was genuine, spokesman Sterling Clifford said.
Mother Teresa
"I don't know many politicians who went to India and washed the dead with Mother Teresa," actor Peter Coyote, whom Brown appointed to a state arts commission in the 1970s, said in an interview before the election. "Jerry Brown does that stuff."
California legislators closed a $19 billion budget hole Oct. 8 in part by cutting $7.5 billion in spending and delaying $1.2 billion in corporate tax breaks. The state faces a similar gap for the fiscal year that begins July 1, Treasurer Bill Lockyer said in a Bloomberg Television interview Oct. 19.
During the campaign, Brown said he'll begin working with legislators to find budget-balancing fixes immediately after taking office in January. If compromises can't be reached, he'll take decisions to voters in a referendum, he said.
"How far people want to change the government will only be known when the people are fully engaged in the process," Brown said in the interview.
Brown emphasized "clean energy" jobs as a way to boost the economy, with a campaign platform that included a promise to add 20,000 megawatts of solar, wind and other renewable energy sources by 2020.
California had a $1.8 trillion economy in 2008, according to the U.S. Commerce Department, which would rank it behind Italy as the eighth-largest in the world. Its unemployment rate in September was 12.4 percent, the third-highest after Nevada and Michigan, while the national average was 9.6 percent.
To contact the reporters on this story: Christopher Palmeri in Los Angeles at cpalmeri1@bloomberg.net; Michael B. Marois in Sacramento at mmarois@bloomberg.net
To contact the editor responsible for this story: Mark Tannenbaum at mtannen@bloomberg.net