Vornado Realty Earnings Climb on Rising Rental Income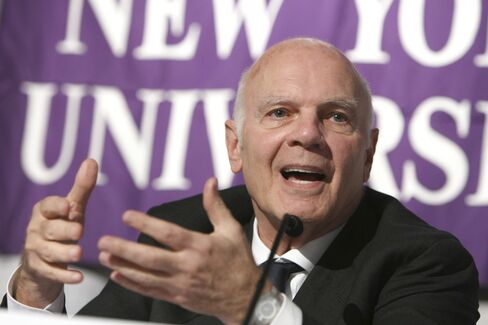 Vornado Realty Trust, the third-biggest U.S. real estate investment trust by market value, said third-quarter earnings excluding some items climbed as rental income rose and it had a gain from an investment in a retailer.
Funds from operations rose to $249 million, or $1.31 a share, from $234.2 million, or $1.25, a year earlier, the New York-based REIT said in a regulatory filing today. Analysts projected FFO of $1.23 a share, the average of 12 estimates in a Bloomberg survey.
Vornado is benefiting from revived office leasing in its main markets of New York and Washington. The company, co-founded and chaired by Steven Roth, said last month that it acquired a 9.9 percent stake in J.C. Penney Co., part of a strategy of taking interests in retailers in a play for their real estate.
"Their D.C. exposure has been really strong for them," Anthony Paolone, a REIT analyst at JPMorgan Chase & Co. in New York, said in an interview before the report. "In comparison to the other office REITs, they should have fairly low lease expirations, so they don't have a lot of exposure in any given year."
Vornado recorded a $32.2 million gain on its J.C. Penney investment, based on the retailer's Sept. 30 closing share price of $27.18. It paid an average price of $25.10 for the stock, according to a regulatory filing.
"We view this as a strong operating result," Robert Salisbury, a New York-based REIT analyst for UBS AG, wrote in a research note today. Salisbury rates Vornado a "buy."
Adjusted FFO
The company published an adjusted FFO number of $1.22 a share. The figure excludes the J.C. Penney gain and one-time charges such as the cost of acquisitions that weren't completed and interest and fees on three loans in special servicing. Adjusted FFO was $1.18 a year ago.
Total revenue from New York offices gained 3 percent to $282 million, while revenue from Washington offices jumped 5 percent to $176 million, the company said.
Manhattan office leasing by square footage increased 66 percent in the first nine months from a year earlier, though rents have fallen for eighth straight quarters, Cushman & Wakefield Inc. reported last month. In Washington, about 4.5 million square feet (418,000 square meters) of offices were leased through the first three quarters of 2010, as much as in all of 2009, Cushman said. Rents in Washington were up 9.7 percent through September from a year earlier.
Vornado's total revenue climbed 5 percent from a year earlier to $707 million.
Considering Offer
The company is considering an offer for ING Groep NV's global real estate investment unit, people with knowledge of the situation said last month. KKR & Co. and Apollo Global Management LLC have also been looking at bidding for the Dutch financial firm's real estate arm, the people said.
Funds from operations exclude depreciation and other items. The cash-flow measure, used by REITs, doesn't conform to generally accepted accounting principles.
Vornado rose $1.20 to $89.28 at 4:15 p.m. in New York Stock Exchange composite trading. The shares are up 28 percent this year, compared with a 24 percent advance in the Bloomberg REIT Index.