U.S. October Auto Sales Rate May Be Fastest of 2010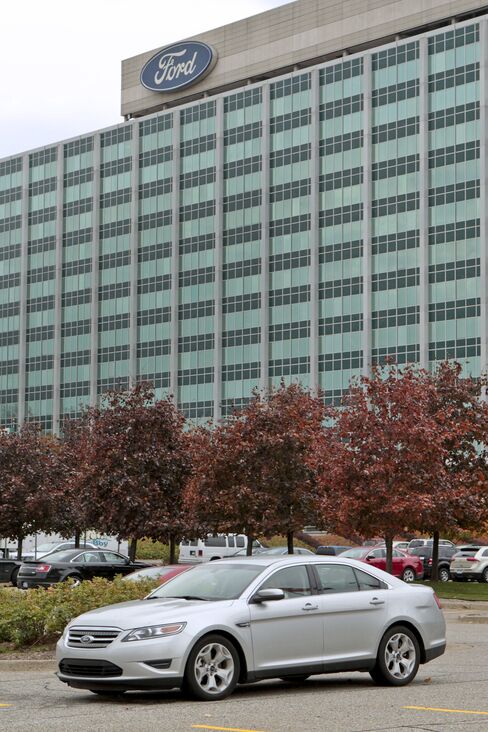 U.S. automobile sales in October may have run at the fastest pace in 14 months as buyers show they're willing to pay more for 2011 model-year vehicles.
Industrywide deliveries, most of which will be released tomorrow, may have reached an annual rate of 11.9 million vehicles last month, the average of nine analysts' estimates compiled by Bloomberg. That would top the 11.8 million pace of September, the fastest since the government's "cash for clunkers" program in August 2009. Seven automakers today reported increases.
Consumers are showing a slow and steady willingness to buy new vehicles as the model-year changeover begins at dealerships, said Jeremy Anwyl, chief executive officer of automotive website Edmunds.com. Deliveries are running about 30 percent slower than the 16.8 million annual average from 2000 to 2007.
"The business is moving from 2010s being sold at big discounts to 2011s sold at a premium," said Anwyl, who is based in Santa Monica, California. "The 2011s are doing OK, so there is some indication that consumers are willing to pay more for the newer models. They're hesitant but feeling a bit better."
The U.S. economy expanded at a 2 percent annual rate in the third quarter, the Commerce Department reported Oct. 29. Confidence among consumers fell last month to the lowest level in almost a year, according to the Thomson Reuters/University of Michigan final index of consumer sentiment, as the jobless rate is projected to stay above 9 percent through next year.
The U.S. auto selling rate has stayed above 11 million since March, according to Autodata Corp., a research firm based in Woodcliff Lake, New Jersey.
Ford Sales Gain
Ford Motor Co. may post a 14 percent sales increase, the average of six analysts' estimates. The Dearborn, Michigan-based automaker reported third-quarter net income of $1.69 billion last week. Ford shares have risen 44 percent this year and closed at $14.43, the highest since April 26.
The industrywide rate may have topped 12 million, George Pipas, Ford's sales analyst, said today in an interview.
Chrysler Group LLC, based in Auburn Hills, Michigan, may have led U.S. automakers for the third straight month with a 41 percent sales increase, the average of six analysts' estimates, helped by higher deliveries to fleet customers.
Deliveries by Detroit-based General Motors Co. may have declined 6.3 percent, the average of three estimates. Incentive spending by the largest U.S. automaker probably fell 15 percent from a year earlier, according to TrueCar.com, an automotive pricing website based in Santa Monica, California.
GM IPO
GM plans to sell as much as $10.6 billion in an initial public offering this month, a smaller sale than it originally targeted, two people familiar with the matter said yesterday.
"Without crazy incentive spending, you're not going to get to a 14 million annual sales rate anytime soon," Jesse Toprak, vice president of industry trends at TrueCar, said in a telephone interview. "But if automakers are able to make money with sub-12 million sales, perhaps this is a healthier way to recover."
Toyota Motor Corp.'s U.S. deliveries may have declined 5.6 percent, the average estimate of four analysts. The world's largest automaker had smaller discounts on 2010 model year vehicles compared to its competitors, said Ivan Drury, an Edmunds.com analyst.
'Huge Gap'
"If you go into a dealership expecting a huge discount on 2010s versus 2011s and there really isn't that much of an incentive difference, you might look toward another automaker that does provide that huge gap in incentives," Drury said in an interview. "Toyota has one of the smallest gaps of the Big 6."
Sales of the Corolla and Camry may be lower, while truck deliveries gained, Chris Ceraso, an analyst with Credit Suisse Group AG, wrote yesterday in a note.
Sales of Bayerische Motoren Werke AG's namesake brand rose 17 percent in October to 19,272 vehicles, the Munich-based company said today in a statement. Sales were helped by a 49 percent increase of X5 SUVs.
U.S. sales of Volkswagen AG's mainstream brand rose 18 percent to 20,084 in October, the company said in a statement today. Volkswagen's Audi luxury line reported deliveries climbed 10 percent to 8,128.
Daimler AG said today in a statement that its Mercedes-Benz brand boosted sales 0.9 percent to 18,351. The figure excludes deliveries of Sprinter, Freightliner and Maybach vehicles.
Hyundai Sales
Hyundai Motor Co.'s U.S. sales rose 38 percent to 42,656, while affiliate Kia Motors Corp.'s deliveries increased 39 percent to 31,199, the Seoul-based automakers said today.
Tata Motors Ltd.'s Jaguar posted a 47 percent gain in sales to 1,295 vehicles. The company's Land Rover division sold 2,958 vehicles for the month, a 37 percent increase, the company said in a statement.
After Ford's profit last week topped the 107-year-old automaker's previous record for third-quarter earnings, GM announced it would reduce debt and other obligations by $11 billion. The actions signaled GM's cash flow must be improving, said Joe Phillippi, principal of AutoTrends Inc., a consulting firm in Short Hills, New Jersey.
Recovering auto sales helped the four largest U.S. auto retailers to their best quarter for revenue in two years, according to data compiled by Bloomberg.
Auto Retailers
AutoNation Inc., Penske Automotive Group Inc., Sonic Automotive Inc. and Group 1 Automotive Inc. combined to report sales of $9.26 billion, the most since the four had revenue of $9.38 billion in third quarter 2008.
"New-vehicle traffic and selling rates in October are better than we expected," Earl Hesterberg, CEO of Group 1, said in a telephone interview on Oct. 26. "There appears to be a very good chance that this will be the best seasonally adjusted selling month of the year."
Group 1 shares rose 8.5 percent after the company reported earnings on Oct. 26. Net income climbed to $18.99 million, the highest since the third quarter of 2007.
AutoNation, the largest U.S. auto retailer, repeated its forecast for 11.5 million new-vehicle deliveries for the year, which would imply a rate of about 12 million units in the fourth quarter, CEO Mike Jackson said in an interview. Sales are being helped by improved access to credit, the company said.
"The prime segment is all the way back, the near-prime segment is performing well," Chief Operating Officer Michael Maroone said in a telephone interview. "It's really the subprime segment that's still under pressure."
Subprime Borrowers
Maroone said the one exception to tight credit for borrowers with weaker credit history was General Motors Financial Co., the subprime lender formerly known as AmeriCredit Corp. that GM acquired and renamed. Contracts with the subprime lender more than doubled by volume from a year earlier, he said.
Honda Motor Co.'s deliveries may have climbed 16 percent, according to four analysts' estimates. Nissan Motor Co.'s sales may have increased 13 percent.
Honda may have more than doubled incentive spending from a year earlier, according to TrueCar.
The following table shows estimates for car and light-truck sales in the U.S. Estimates for companies are a percentage change from October 2009. Forecasts for the seasonally adjusted annual rate, or SAAR, are in millions of vehicles.
October had 27 selling days, one fewer than a year earlier.
GM     Ford   Chrysler  SAAR



Himanshu Patel                NA      NA        NA    11.9
(J.P. Morgan)
Rod Lache                     NA      16%       28%   11.8
(Deutsche Bank)
Jesse Toprak                 -3.8%    17%       40%   12.0
(TrueCar.com)
Joseph Barker                 NA      NA        NA    11.7
(IHS Automotive)
Jessica Caldwell             -4.2%    14%       40%   11.9
(Edmunds.com)
Jeff Schuster                 NA      NA        NA    11.9
(J.D. Power)
Brian Johnson                 NA      17%       50%   12.1
(Barclays Capital)
Christopher J. Ceraso        -11%      7%       36%   11.8
(Credit Suisse)
Patrick Archambault           NA      11%       53%   12.0
(Goldman Sachs)

Average                      -6.3%    14%       41%   11.9