Pfizer Profit Beats Analyst Estimates on Lower Costs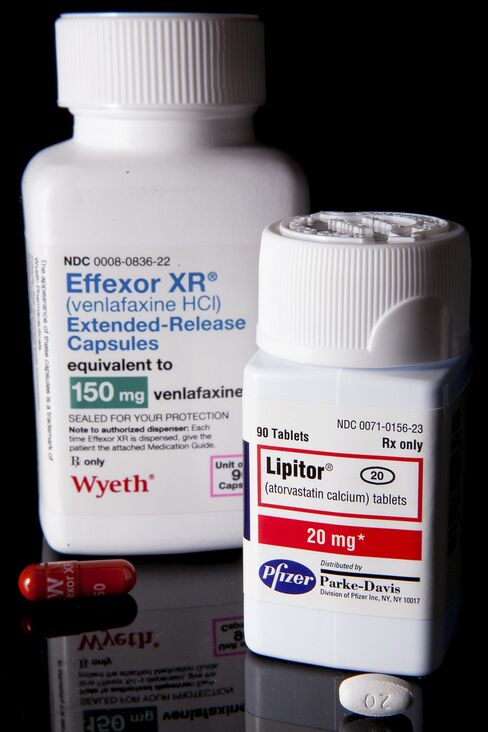 Pfizer Inc., the world's biggest drugmaker, reported third-quarter profit that topped analyst estimates after price increases and workforce reductions helped counter declining sales of the cholesterol pill Lipitor.
Profit excluding the costs for its purchase of Wyeth last year and other items was 54 cents a share, beating the 51 cents average estimate of 15 analysts surveyed by Bloomberg. Net income fell 70 percent to $866 million, or 11 cents a share, on acquisition charges and costs for an asbestos lawsuit, the New York-based company said today in a statement.
Revenue rose 39 percent to $16.2 billion after adding medicines from Wyeth, missing analyst estimates by 2.9 percent. Lipitor sales declined 11 percent to $2.5 billion as generic copies were introduced in Canada and Spain. Pfizer is counting on Wyeth products to offset losses when its top-selling Lipitor faces competition from cheaper copies in the U.S. next year.
Pfizer "has made real progress with cost synergies from the Wyeth deal," said Marc Goodman, an analyst with UBS Securities LLC, in a research note. "Although top-line numbers missed the mark, we think investors should like the strong efforts in cost cutting coupled with increased 2010 earnings- per-share guidance."
Pfizer declined 17 cents, or 1 percent, to $17.45 at 4 p.m. in New York Stock Exchange composite trading. The shares have increased 3 percent in the past 12 months.
2010 Forecast Raised
The drugmaker raised its earnings forecast for the year to between $2.17 and $2.22 a share when some items are excluded, the statement said. Pfizer said in August it expected earnings of $2.10 a share to $2.20 a share. The company reaffirmed its forecast for 2012.
Pfizer reported impairment charges of $1.5 billion related to the $68 billion purchase of Wyeth and a $701 million charge for asbestos litigation for its subsidiary Quigley Company Inc. Quigley was denied permission to exit bankruptcy in September by a judge who found that Pfizer manipulated the bankruptcy process to benefit itself. The judge cited testimony that asbestos claims directed at Quigley could total $4.45 billion over the next 42 years.
Lipitor, the world's top-selling drug with $11.4 billion in sales last year, faces U.S. competition from generic versions in November 2011. Third-quarter sales of the drug missed the $2.73 billion estimate of three analysts surveyed by Bloomberg. Revenue for Lipitor will drop by more than half in 2012, according to the analysts.
Revenue Sources
Pfizer sought to add new revenue sources this month with an agreement to buy King Pharmaceuticals Inc. for $3.6 billion to acquire a painkiller franchise and the $200 million purchase of rights to insulin products made by Biocon Ltd. in Bangalore, India.
"King was a bolt-on acquisition," said Frank D'Amelio, Pfizer's chief financial officer, in a telephone interview. "Our focus is on a combination of relatively smaller deals and then these couple-of-billion-dollar to several billion-dollar deals," D'Amelio said.
Pfizer has been slashing costs and said it's on schedule to fire 19,000 employees, close 8 manufacturing plants and shut 6 research centers as it absorbs the Wyeth purchase and braces for the loss of Lipitor's patent protection. Even before that plan was enacted, Pfizer had fired about 40,000 employees over the six years ended in 2009.
The Enbrel arthritis treatment generated $799 million. Analysts surveyed by Bloomberg had estimated $802.5 million. The pain pill Lyrica generated $757 million, an increase of 7 percent. The pneumonia vaccines Prevnar and Prevnar13 had combined sales of $735 million.
Pfizer bought back $500 million in shares as part of a previously announced $5 billion repurchase program. Revenue for the quarter was reduced one percent by foreign exchange costs.