Dollar Tumbles Versus Most Peers on Prospects for Fed Purchases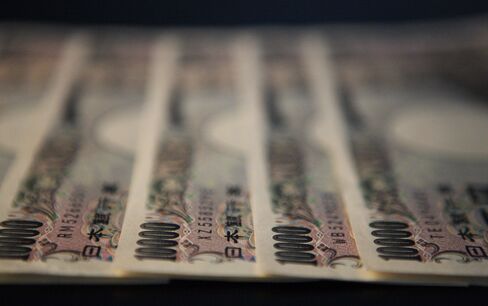 The dollar fell against most of its major counterparts on speculation a resumption of asset purchases by the Federal Reserve tomorrow will spur inflation and extend a five-month slide in the greenback.
The euro climbed above $1.40 before the Fed issues a statement from its two-day policy meeting, where economists forecast a second round of quantitative easing. The European Central Bank, which is debating ending stimulus measures, announces a decision the next day. The Australian dollar reached parity with the greenback after the South Pacific nation raised interest rates.
"Investors are really just nervous of holding the greenback, given the expectations that the Fed is likely to introduce new stimulus," said Joe Manimbo, a market analyst in Washington at Travelex Global Business Payments, a currency-exchange network.
The dollar fell 1 percent to $1.4034 per euro at 5 p.m. in New York, from $1.3893 yesterday, closing beyond $1.40 for the second time since January. It weakened to $1.4084 Oct. 14. The yen slipped 0.2 percent to 80.63 per dollar, from 80.51. It touched 80.22 yesterday, the second time in as many trading days it reached its strongest in 15 years.
The yen dropped as much as 1.4 percent to 113.48 per euro, from 111.85, the biggest intraday loss against the European common currency since Japan acknowledged intervening on Sept. 15 to cap yen gains.
'Further Upward Move'
"Technically, being able to hold above this 1.40 level would point to a further upward move from a euro-dollar perspective," said Matthew Strauss, senior currency strategist in Toronto at Royal Bank of Canada, the largest Canadian lender.
The Dollar Index, which IntercontinentalExchange Inc. uses to track the greenback against the currencies of six major U.S. trading partners including the euro, touched 76.636, the lowest level since Oct. 15. It's dropped 13 percent since reaching a 15-month high of 88.708 on June 7.
"The market continues to turn to the euro more from an interest-rate and quantitative-easing perspective than anything else," Strauss said. "You have the Fed and the BOJ on one side, and the ECB on the other end of the spectrum."
Republicans were poised to retake the U.S. House of Representatives and narrow Democrats' margin in the Senate in today's congressional elections in a campaign shaped by voter anxiety over jobs and the economy.
Below 80 Yen
Traders may use the combination of U.S. election results and a Japanese holiday tomorrow to push the dollar below 80 yen for the first time since April 1995, according to CMC Markets.
"Early poll results of U.S. mid-term elections will hit a quieter-than-usual Asian Wednesday session as Japan is shut for a holiday," Ashraf Laidi, chief market strategist at CMC Markets in London, wrote in an e-mailed report today. "This runs the risk of traders attacking the 80-yen figure on election volatility, especially after dollar-yen ended October at a new all time monthly low."
The Rothenberg Political Report predicted Republican gains of 55 to 65 seats in the House, and the Washington-based Cook Political Report forecast an increase of 50 to 60 seats. Both reports see Democrats losing 6 to 8 seats in the Senate.
"If the Republicans have a convincing deficit reduction plan, foreign-exchange markets will presumably view it and the dollar favorably," Greg Anderson, a currency strategist at Citigroup Inc. in New York, wrote in a note. "However, if markets become convinced that gridlock in Washington will lead to Republican unwillingness to raise taxes and Obama administration unwillingness to cut spending, then a sweeping Republican victory could become dollar-negative" by early 2011.
Policy Statement
The Fed will release a policy statement tomorrow at about 2:15 p.m. in Washington after its two-day meeting ends. The ECB will go public with a policy decision about 19 hours later in Frankfurt, a day before the Bank of Japan concludes a meeting.
The ECB is "in the process of phasing out" its non-standard policy measures introduced at the height of the financial crisis, Axel Weber, a member of the bank's Governing Council, said last week in Stuttgart. It shouldn't keep interest rates "too low for too long," he said. The ECB's key rate is 1 percent, compared with zero to 0.25 percent in the U.S. and zero to 0.1 percent in Japan.
The Australian dollar climbed for a fourth day versus the greenback as Reserve Bank Governor Glenn Stevens said the economy has "relatively modest amounts of spare capacity." He raised the overnight cash rate target by a quarter-percentage point to 4.75 percent, the first increase in six months.
'Good Sign'
"They're confident enough to raise rates while the U.S. continues to ease policy, and they're confident enough to raise rates while their currencies appreciate -- that's a good sign for global risk appetite," said Vassili Serebriakov, a currency strategist at Wells Fargo & Co. in New York.
The Aussie rose against all of its major counterparts except the Swiss franc. It surged 1.3 percent to 99.95 U.S. cents, from 98.71 cents, and reached $1.0024. It climbed 1.4 percent to 80.57 yen.
The pound fell against most major currencies, weakening 1 percent to 87.51 pence per euro and ending the day little changed at $1.6040.
Britain's October construction purchasing managers index fell to 51.6 from 53.8 a month earlier, Markit Economics and the Chartered Institute of Purchasing and Supply said in an e-mailed statement.
Before it's here, it's on the Bloomberg Terminal.
LEARN MORE