Consumer Spending in U.S. Rises Less Than Forecast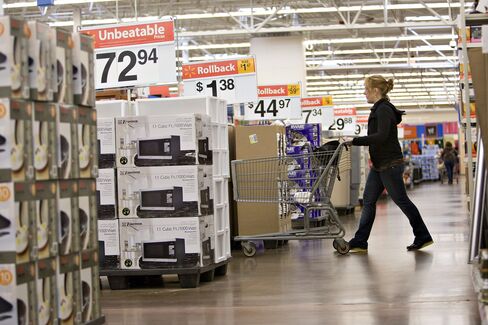 Consumer spending rose less than forecast in September as incomes dropped for the first time in more than a year, a sign Americans may keep rebuilding savings and paring debt as the economy is slow to recover.
Purchases increased 0.2 percent, the smallest gain in the third quarter, Commerce Department figures showed today in Washington. Incomes fell 0.1 percent, the first drop since July 2009, and the Federal Reserve's preferred measure of inflation stagnated, capping the smallest 12-month gain in nine years.
The report showed the damage being done by unemployment near 10 percent, one reason why Fed policy makers may pump more money into the financial system after they meet this week. Inflation is retreating as retailers like Wal-Mart Stores Inc. and Target Corp. sweeten discounts to try to spur sales heading into the holiday season.
"The quarter ended on a softer note," said Michael Feroli, chief U.S. economist at JPMorgan Chase & Co. in New York, who accurately forecast the gain in spending. The report "reinforces the case for the Fed to act this week. It's getting harder and harder to argue inflation is near where the Fed wants it to be."
Stock-index futures held earlier gains after the report and Treasury securities climbed as the price data highlighted expectations central bankers will take more action to spur growth after they meet Nov. 2-3. The December contract on the Standard & Poor's 500 Index rose 0.5 percent to 1,185.1 at 8:46 a.m. in New York. The yield on the 10-year Treasury note, which moves inversely to prices, fell to 2.58 percent from 2.60 percent late on Oct. 29.
Less Than Forecast
The median estimate of 67 economists surveyed by Bloomberg News called for a 0.4 percent advance. Projections ranged from increases of 0.2 percent to 0.6 percent. The Commerce Department revised August spending up to 0.5 percent from a previously reported 0.4 percent gain.
Economists forecast incomes would climb 0.2 percent, according to the survey median. September's drop followed a 0.4 percent gain in August that reflected the resumption of extended and emergency unemployment benefits. Excluding the jobless benefits, incomes would have increased 0.1 percent in September after a 0.3 percent increase the prior month.
Wages and salaries were unchanged, the weakest reading since June. Disposable incomes, or the money left over after taxes, fell 0.3 percent after adjusting for inflation.
The savings rate decreased to 5.3 percent from 5.6 percent.
Less Inflation
Today's report also showed inflation cooled. The Federal Reserve's preferred price measure, which excludes food and fuel, was unchanged from the prior month and was up 1.2 percent from a year earlier, the smallest gain since September 2001. The median forecast in the Bloomberg survey showed increases of 0.1 percent from the prior month and 1.3 percent from September 2009.
Today's report showed that adjusted for inflation, which are the figures used to calculate gross domestic product, consumer spending rose 0.1 percent after a 0.3 percent increase.
The economy expanded at a 2 percent annual rate in the third quarter, figures showed last week. Consumer spending climbed 2.6 percent, the most in almost four years, and it was also the best showing of the recovery that began in June 2009. Purchases contributed 1.8 percentage points to growth.
The National Retail Federation has forecast November-December holiday sales will rise by 2.3 percent from a year ago, the most in four years.
Wal-Mart, the world's largest retailer, Target, Amazon.com Inc. and EBay Inc. are among merchants that will benefit as shoppers look for bargains, according to results of a survey issued by Consumer Edge Research in Stamford, Connecticut.
Fed Policy
Fed policy makers meeting this week may announce another round of large-scale asset purchases amid concern growth isn't fast enough to reduce unemployment and inflation is too low.
Estee Lauder Cos., the New York-based maker of Mac cosmetics and Clinique skin care, last week raised its annual sales and profit forecast. Sales in Asia are expected to fuel growth at the company, and consumers have begun spending again, spurred by the global economic rebound.
"The most affluent consumer is probably back to normal and the less affluent consumer is having a bit more problem in normalizing their behavior," Chief Executive Officer Fabrizio Freda said in a telephone interview on Oct. 29. "We are relatively positive on the holiday season."
Auto demand is also picking up. Vehicle sales are running at a 12 million annual rate in October, said Mark Fields, Ford Motor Co.'s president of the Americas. The rate would be the highest since the government's "cash for clunkers" incentive boosted demand in August 2009.
"We continue to see good, steady improvement," Fields said on Oct. 25 at an event in Sterling Heights, Michigan.
Before it's here, it's on the Bloomberg Terminal.
LEARN MORE