Lions Gate Deal Thwarting Icahn Buyout Bid Is Upheld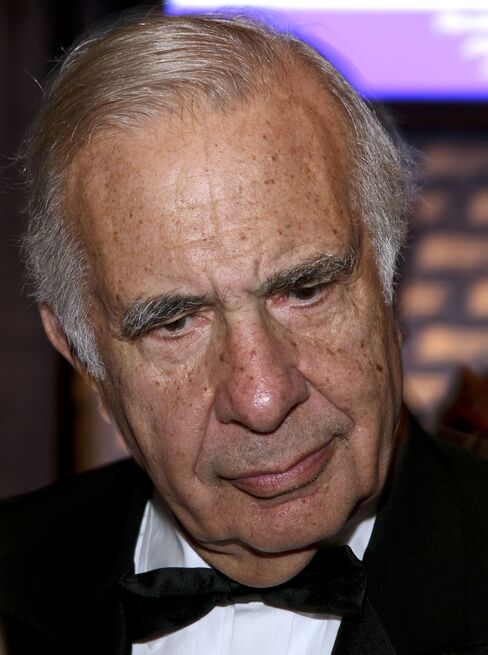 Carl Icahn lost his bid in a Canadian court to nullify a Lions Gate Entertainment Corp. transaction that hobbled his hostile bid to buy the studio.
The British Columbia Supreme Court today rejected Icahn's petition to undo Lions Gate's deal to increase the number of shares held by board member and management supporter Mark Rachesky, according to a copy of the ruling provided by Lions Gate's lawyers.
Icahn, 74, who is attempting to buy the independent film and TV studio for $7.50 a share, was seeking to reverse an equity-for-debt swap that increased Rachesky's stake to almost 29 percent. Icahn's former chief investment officer, Rachesky, 51, increased his stake by purchasing $100 million of notes from Kornitzer Capital Management and then exchanging them for stock.
"In my view, the Icahn Group complains of conduct which affects it not as a shareholder but as a bitter bidder," Judge John Savage wrote in the 70-page judgment. "I have found that the Lions Gate Board did not act in a manner that was oppressive or unfairly prejudicial to the petitioners' interests."
Lions Gate, based in Vancouver and run from Santa Monica, California, fell 1 cent to $7.22 at 4:02 p.m. in New York Stock Exchange composite trading. Shares of the studio, distributor of the "Saw" horror films, have gained 24 percent this year.
Mark Gelowitz, a Toronto-based lawyer representing Icahn, didn't immediately return a call from Bloomberg seeking comment. Susan Gordon, an aide to Icahn, didn't respond to a request for comment after normal business hours.
Lions Gate Sues
In a separate action, Lions Gate today asked a federal judge in New York to grant the company expedited or speedy access to evidence in its lawsuit against Icahn. Lions Gate also asked for permission to depose Icahn, his son Brett and investor Mark Cuban.
"Plaintiff's discovery requests are targeted to establish and identify the circumstances surrounding the deficiencies in the Icahn Group's SEC filings related to Lions Gate," the studio said.
Quick access to such testimony from Icahn, Brett Icahn and Cuban is important and "appropriate" because it's "vital" to proving the case against Icahn, Lions Gate said.
Icahn made numerous false or misleading statements with the U.S. Securities and Exchange Commission, Lions Gate said. The studio said shareholders need "full and accurate disclose of such plans" before "deciding whether to tender their shares or support a dissident proxy slate."
Plotting
Lions Gate sued Icahn in U.S. District Court in New York on Oct. 28, alleging the financier was "secretly plotting" to merge the Metro-Goldwyn-Mayer Inc. studio and Lions Gate.
In the case, Lions Gate alleges Icahn realized by June that the company was in advanced negotiations with two unidentified studios. Aware the deals might dilute his stake in Lions Gate, Icahn "took drastic and improper action," the studio said.
Cuban, the billionaire co-founder of the TV network HDNet and owner of the Dallas Mavericks basketball team, isn't named as a defendant in the New York suit. Lions Gate alleges Icahn acquired a sufficiently large position in both MGM and Lions Gate "at depressed prices to ensure that he maximized his own profits," Lions Gate said.
Icahn was aided by Cuban, who sold his 5.4 percent stake to the investor in June for $7 a share after Lions Gate told Cuban another buyer was willing to pay more, according to the complaint.
Cuban said he didn't accept the other bid for his Lions Gate stake "because I was advised there were legal issues with the offer."
Before it's here, it's on the Bloomberg Terminal.
LEARN MORE