Diesel, Heating Oil Supplies Falls in Survey: Energy Markets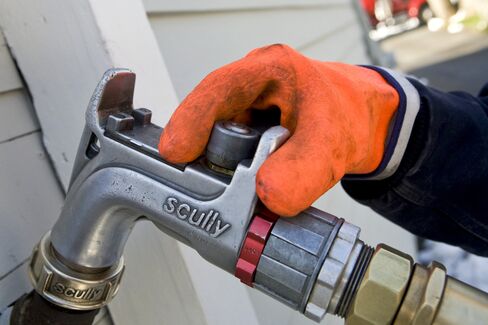 Nov. 2 (Bloomberg) -- U.S. supplies of diesel and heating oil probably dropped to the lowest level since July as demand climbed and exports to Europe likely rose because of a French strike, a Bloomberg News survey showed.
Stockpiles of distillate fuels fell 1 million barrels, or 0.6 percent, in the seven days ended Oct. 29 from 168.4 million a week earlier, according to the median of 17 analyst estimates before an Energy Department report tomorrow. All of the respondents forecast a drop. Labor unrest across France last month forced 10 refineries to halt operations, boosting prices.
Diesel, used to fuel the heavy trucks that move almost all consumer goods in the U.S., benefited from a third-quarter increase in spending by individuals. Purchases gained 0.2 percent in September, the third consecutive increase, Commerce Department figures showed yesterday. The U.S. economy expanded at a 2 percent annual rate in the quarter, it said Oct. 29.
"Demand will probably stay strong," said Carl Larry, president of Oil Outlooks & Opinions LLC in Houston. "You're seeing greater use of transportation fuel here, and an increasing number of cargoes heading to France because of the strike."
Heating oil for December delivery rose 1.59 cents, or 0.7 percent, to settle at $2.2936 a gallon on the New York Mercantile Exchange, the highest level since Oct. 13.
Prices increased from the settlement after the American Petroleum Institute reported at 4:30 p.m. that U.S. distillate stockpiles decreased 4.73 million barrels to 161.4 million last week, the lowest level since the week ended July 9. December heating oil rose 3.04 cents, or 1.3 percent, to $2.3081 a gallon in electronic trading at 4:38 p.m.
Higher Demand
Distillate demand, as measured by the amount supplied to wholesalers and distributors, climbed 2.8 percent to 4.06 million barrels a day in the week ended Oct. 22, the highest level since May. Consumption has risen 9.7 percent since the week ended Oct. 8, as the strike crimped French fuel production.
Total freight shipping volume in the U.S. increased 15 percent in October from a year earlier, to the highest level for the month since 2007, according to a report yesterday by Cass Information Systems Inc., a Bridgeton, Missouri-based trucker payment-services company. The Cass Freight Index fell 5.2 percent last month from a 25-month high in September.
France will be forced to increase imports of gasoil, the equivalent of heating oil in the U.S., and boost refinery output after the strike reduced fuel supplies, Christophe Barret, a London-based oil analyst with Credit Agricole CIB, said in a report yesterday.
Gasoil inventories in France fell below 53 million barrels at the end of last month, 8.6 million barrels less than the five-year average from 2003 to 2008, Barret said.
French Forecast
"French oil markets should return to normal by mid-2011," London-based Barret wrote in the report. "In the meantime rebalancing should provide some support to gasoil and crude oil markets."
Diesel, which powers 77 percent of cars sold in France, is the fuel with the tightest supply because of the refinery shutdowns, Alexandre de Benoist, head of the Independent Fuel Importers Union, or UIP, said on Oct. 18.
U.S. homeowners who use heating oil will spend an average $2,124 this winter, up 11 percent from $1,906 a year earlier, according to the Energy Department's monthly Short-Term Energy Outlook, released on Oct. 13. The cost per gallon will average $3.06 this heating season, up 23 cents from the prior year.
Heating oil warms 7 percent of homes nationwide and 30 percent of households in the Northeast. That region is responsible for 80 percent of the nation's residential heating-oil consumption.
Distillate Stockpiles
Distillate fuel inventories in the week ended Aug. 20 were the highest since 1983. They were 21 percent above the five-year average in the week ended Oct. 22.
U.S. refineries operated at 84 percent of capacity last week, up 0.3 percentage point from the previous week and the highest level in a month, according to the Bloomberg survey. Companies idle units for maintenance in autumn, when gasoline consumption declines and winter heating-oil demand has yet to gain.
Crude-oil inventories rose 1.5 million barrels, or 0.4 percent, from 366.2 million a week earlier, the survey showed. A gain of that size would leave stockpiles at the highest level since May 2009. They were 13 percent above the five-year average in the previous report.
Twelve analysts forecast an increase, four predicted a drop and one said supplies were unchanged.
Refinery Operations
"Oil is likely to rise on the back of improvements in imports," said John Kilduff, a partner at Again Capital LLC, a New York-based hedge fund focusing on energy. "The refinery runs are neutral to bearish as well."
Oil imports jumped 10 percent in the week ended Oct. 22 to 9.46 million barrels a day, the most since the seven days ended Aug. 27.
Oil for December delivery advanced 95 cents, or 1.2 percent, to settle at $83.90 a barrel on the Nymex, the highest level since May 3.
Prices climbed from the settlement after the API reported stockpiles decreased 4.14 million barrels last week to 367.6 million. December oil rose $1.49, or 1.8 percent, to $84.44 a barrel in electronic trading at 4:39 p.m., the highest intraday price since May 4.
Gasoline stockpiles were unchanged from 214.9 million in the prior week, the survey showed. Inventories were 7.4 percent above the five-year average in the week ended Oct. 22. Eight of the respondents projected an expansion, seven a decline and two said there was no change.
The department is scheduled to release its weekly report at 10:30 a.m. tomorrow in Washington.
To contact the reporter on this story: Margot Habiby in Dallas at mhabiby@bloomberg.net.
To contact the editor responsible for this story: Dan Stets at dstets@bloomberg.net.