Currency Swings Show Faith in G-20 Pledge Fading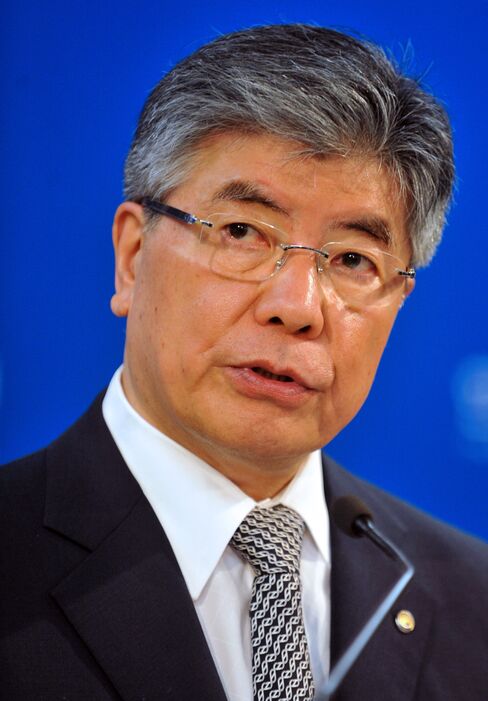 Nov. 1 (Bloomberg) -- Traders are losing confidence in Group of 20 finance officials' pledge to avoid foreign-exchange manipulation, less than a week after the leaders vowed to stop devaluing currencies to prop up their economies.
Volatility among Group of Seven currencies rose to the highest level in four months since the G-20 meeting ended on Oct. 23, according to the JPMorgan G-7 Volatility Index. Euro-dollar fluctuations jumped 30 percent since Sept. 20, a day before Federal Reserve policy makers said they were prepared to buy bonds and pump more money into the financial system, data compiled by Bloomberg show.
While G-20 nations committed to refrain from "competitive devaluation," officials from South Korea and South Africa said last week that they may consider currency controls. The reliance on intervention underscores the challenges finance officials face to keep their economies on track after injecting more than $2 trillion to spark growth following the worst financial crisis since the Great Depression.
"Volatility is the price of uncertainty," said Richard Benson, an executive director in London at Millennium Asset Management, who oversees $14 billion of currency funds. "Volatility's current elevated level is a function of the currency war issue."
'Event Risk'
The Fed is likely to unveil its second round of so-called quantitative easing when policy makers meet Nov. 2 and 3. The European Central Bank, Bank of England, Bank of Japan and Reserve Bank of Australia also have sessions this week. U.S. mid-term elections Nov. 2 may give Republicans control of the House of Representatives in a blow to U.S. President Barack Obama, according to a Bloomberg National Poll from Oct. 24-26.
"This week is huge for event risk," said Benson.
JPMorgan's volatility index rose as much as 1.79 percentage points from the day before the Fed's last meeting on Sept. 21 to 13.14 percent today, the highest level since July. The firm's emerging market index jumped about 1.95 points to 12.55 and was at 12.18 percent today.
One-month implied volatility on the euro against the dollar climbed to 14.4 percent today, the most since June and above the 10.48 percent average since 1999.
Carry Trade
Investors favor smaller swings for so-called carry trades, where they sell currencies of nations with low interest rates to finance purchases in countries including Australia, Brazil and New Zealand with higher yields.
The Parker Global Strategies LLC CMI Currency Managers index, which tracks 20 currency funds with $10.15 billion in combined assets, is up 1.6 percent in 2010 after falling 1.2 percent last year. The 2009 loss followed seven straight years of gains averaging about 7.5 percent.
"In an ideal world we'd have low volatility but trending markets, and the worst thing is high volatility and no trend," said Dale Thomas, head of currencies at Insight Investment Management in London, which oversees about $121 billion.
Rapid price swings can hurt company profits and make it harder for central banks to implement monetary policy.
"Advanced economies, including those with reserve currencies, will be vigilant against excess volatility and disorderly movements in exchange rates," the G-20 said in its communiqué. "These actions will help mitigate the risk of excessive volatility in capital flows facing some emerging countries."
Asia Slumps
Asian currencies slumped to a one-week low on Oct. 27 after Bank of Korea Governor Kim Choong Soo said moderating capital flows could be "useful," checking the won's 12 percent appreciation since May.
On the same day, the rand slid 1.7 percent, the most in five months, as South African Finance Minister Pravin Gordhan said his government will use higher-than-expected tax revenue for foreign reserves to weaken the currency. The rand has rallied 13 percent since reaching a six-month low on May 20.
The Brazilian real weakened more than 3 percent after touching a two-year high on Oct. 14 as the nation increased inflow taxes to 6 percent from 4 percent on Oct. 18, and boosted the levy on money brought into the country for margin deposits on futures-market transactions. Finance Minister Guido Mantega called for an end to the worldwide "currency war."
Governments in at least 10 nations have taken steps to limit financial markets from setting currency values this year to protect exports as world economic growth slows to an estimated 4.2 percent next year from 4.8 percent in 2010, according to the International Monetary Fund.
Volatility 'Recipe'
"Problems on a macro-economic level between governments as well as at the policy level within countries are a recipe for more volatility," said Neil Mellor, a currency strategist in London at Bank of New York Mellon Corp., the world's biggest custodian of financial assets. "The stakes are going to be raised and the arguments will grow all the more heated."
Much of the emerging-market gains have come at the expense of the dollar, which depreciated last month to its weakest level since 2008 on a trade-weighted basis.
The dollar weakened as much as 0.5 percent today to $1.4011 per euro, before trading at $1.3914 at 2:25 p.m. in London. The greenback 0.1 percent stronger at 80.48 yen, after reaching 80.22 yen, the weakest since April 1995, when it slid to a post-World War II low of 79.75.
'Significant Misalignments'
The U.S. currency is down 5.3 percent in the past three months, according to Bloomberg Correlation-Weighted Currency Indexes, which show a 3.5 percent loss for 2010, compared with a 6 percent drop for the euro and 13.6 percent gain for the yen.
Euro-dollar volatility fell to as low as 4.6 percent in 2007 as monetary policy around the world converged and global economic growth accelerated to 5.3 percent.
Now, decisions by China and other Asian economies to limit currency appreciation are adding to "significant exchange-rate misalignments" and tensions across the G-20, the IMF said.
The Washington-based agency urged developing nations with current-account surpluses to let gains begin "in earnest." Advanced economies must repair their financial systems at the same time and curb budget deficits in 2011 to help shift sources of global demand, it said.
Japan refrained from selling yen last month, the Ministry of Finance reported on Oct. 29, showing the nation stepped back after intervening to weaken its currency in September for the first time in six years.
The Fed will likely announce that it will resume buying Treasuries this week, after purchasing $1.725 trillion of U.S. debt and mortgage securities in the first round of quantitative easing that began last year. Estimates for the size of the program range from $1 trillion at Bank of America-Merrill Lynch Global Research to $2 trillion at Goldman Sachs Group Inc.
"There's a lot of uncertainty about how they're embarking on QE, the size and for how long," said Paul Mackel, director of currency strategy at HSBC Holdings Plc in London. "It's going to be harder for the market to discount what might happen at forthcoming Fed meetings. Volatility in the currency market is going to stay elevated for longer than people think."
To contact the reporters on this story: Matthew Brown in London at mbrown42@bloomberg.net
To contact the editors responsible for this story: Daniel Tilles at dtilles@bloomberg.net