Yuan Deposits Rising Fuel Hong Kong's Peg Debate: China Credit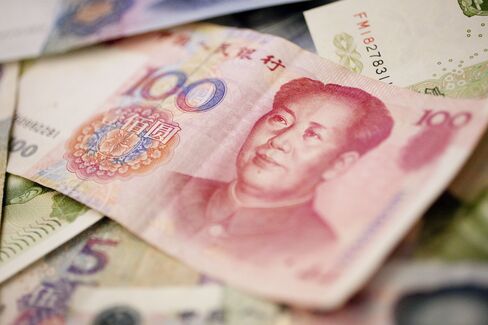 Hong Kong's growing demand for and use of yuan has ignited a debate over whether the local dollar's 27-year peg to the greenback should be scrapped in favor of a link to China's currency.
Yuan deposits at the city's banks more than doubled to a record 149 billion yuan ($22 billion) in the last six months, the monetary authority said Oct. 29. Hong Kong dollar volatility rose last week to the highest level of the year as exchange-rate policy took center stage at FinanceAsia's "RMB Rising" conference in the city. Hong Kong Monetary Authority Chief Executive Norman Chan said today that there was no plan to change the peg, which has made the Hong Kong dollar Asia's worst performer of 2010.
The fixed exchange rate means monetary policy is largely dictated by the U.S., where a 10 percent jobless rate and sliding home prices prompted the central bank to favor near-zero interest rates and the printing of money to sustain economic growth. Hong Kong's unemployment is the lowest since 2008 and real-estate values jumped 50 percent since the start of 2009.
"Hong Kong has a growth rate that is linked to the fastest-growing economy in the world, which is China, and because of its fixed currency link, a monetary policy that is linked to the weakest," said Goetz Eggelhoefer, a Singapore-based partner with Rohatyn Group, an emerging-markets fund manager with $3 billion of assets. "Hong Kong faces the impossible trinity. It can't have strong growth, loose monetary policy, a weak currency and no asset inflation. Something has to give."
Yuan Testing Ground
The yuan has gained 24 percent since the start of 1999, the fourth-best performance of 25 emerging-market currencies tracked by Bloomberg, and President Barack Obama is under pressure from U.S. lawmakers to seek faster appreciation.
China ran up a record $28 billion trade surplus with the U.S. in August. Senate Finance Committee Chairman Max Baucus, a Montana Democrat, said in a statement last month that "China's decision to undervalue its currency has been a persistent thorn in the side of our relationship."
China needs to take steps to boost domestic demand rather than let the currency appreciate to improve global trade, said Mexican billionaire Carlos Slim. In an interview in New York, Slim also said competitive devaluations "won't succeed" and could spur inflation should commodity prices remain high.
"If China salaries get increased and people work less they will have more time and more money to spend," Slim, the world's richest man according to Forbes magazine, said. "This domestic demand will also help other countries in the world."
Overseas Trade
China, which took sovereignty of Hong Kong in July 1997, maintained the dollar link as it used the city as a hub for overseas trade and a testing ground for the opening of its financial markets.
"You can't say that, if we change the peg system, the pressure on inflation and home market would be eased," HKMA's Chan told lawmakers in the city today. The yuan's lack of convertibility and restrictions on holdings of China's government debt means the currency can't take the place of the U.S. dollar in the existing arrangement, John Greenwood, architect of Hong Kong's peg and an adviser to the monetary authority, said in a separate e-mail.
When the currency board Greenwood designed was adopted in 1983, China accounted for 18 percent of Hong Kong's trade and the U.S. 21 percent, official figures show. China made up 49 percent in the first nine months of 2010 and the U.S. 8 percent.
Loosened Restrictions
Mainland regulators have loosened restrictions on the yuan's use in international trade since the start of 2009 and allowed the development of an offshore market for the currency this year in Hong Kong.
"Within the next one to two years the HKMA is going to have to make a choice," Peter Redward, the head of Emerging Asia research at Barclays Plc, said in a phone interview. "That is to allow the process to continue and the economy to become increasingly yuan-denominated or to do something to stop that process. Assuming that they don't want to stop people owning yuan accounts, they will have to look at the possibility of re-pegging to the yuan."
The spot rate for yuan in Hong Kong rose 0.6 percent last month to 6.5805 versus the greenback, and the Shanghai rate gained 0.3 percent to 6.6708. Non-deliverable forwards show traders are betting on a 3.3 percent advance in the onshore rate in the coming year, according to data compiled by Bloomberg.
Implied Volatility
The Hong Kong dollar has been kept at about HK$7.80 versus the greenback since 1983 and from 2005 allowed to trade up to five cents of either side of that level. Hong Kong's dollar was little changed last month at HK$7.7508 and 12-month forwards trade at HK$7.7314.
One-year implied volatility on the city's currency, a measure of price swings cited by traders when pricing options, climbed 0.48 percentage point in October to 1.2 percent, the biggest monthly increase in two years. It reached this year's high of 1.25 percent on Oct. 27.
The city's central bank was forced last week to tap its yuan swap arrangement with the People's Bank of China after demand for trade settlement using the currency exceeded expectations. The Authority plans to draw 10 billion yuan through the arrangement, out of the annual maximum of 200 billion, Deputy Chief Executive Officer Arthur Yuen said Oct. 28.
Monetary Policy
China's economy expanded 9.6 percent from a year earlier in the third quarter, while the U.S. had growth of 3.1 percent, official figures show. Hong Kong's gross domestic product gained 6.5 percent in the second quarter.
The People's Bank last month raised its benchmark interest rates for the first time since 2007, while the Federal Reserve may announce this week it will pump more money into the U.S. economy. Economists at Bank of America Corp. and Goldman Sachs Group Inc. predict the Fed will say it plans to buy $500 billion of fixed-income assets after a Nov. 2-3 policy meeting.
"Hong Kong is becoming much more integrated now with the mainland than it was before," said Rajeev de Mello, head of Asian investment at Western Asset Management Co., which oversaw $482 billion of assets at the end of 2009. "The quantitative easing in the United States is not compatible with the growth and inflation outlook for Hong Kong."
Bubble Risk
Cheap borrowing costs are driving asset prices higher in Hong Kong, and HKMA's Chan said Oct. 18 that a housing bubble poses the biggest threat to financial stability in Asia.
A gauge of real-estate values in Hong Kong has gained 16 percent this year, following a 29 percent advance in 2009, according to an index produced by Centaline Property Agency Ltd., the city's biggest privately held real estate broker. Home prices in September dropped from a year earlier in 12 of 20 U.S. cities tracked S&P/Case-Shiller indexes.
Five-year credit-default swap contracts on China's U.S. dollar bonds dropped seven basis points last month to 60 basis points, CMA prices show. That followed a 19 point drop in September. Credit-default swaps typically decline as investor confidence improves and rise as it deteriorates.
Yields on China's 3.28 percent bond due August 2020 rose 37 basis points last month to 3.7 percent, according to Chinabond prices. The extra yield investors demand to hold benchmark 10-year Chinese government bonds rather than similar-maturity U.S. government debt rose to the most in at least five years in October, according to data compiled by Bloomberg. The gap was 110 basis points at the end of last week, the data show