Ted Sorensen, Wordsmith Aide to John F. Kennedy, Dies at 82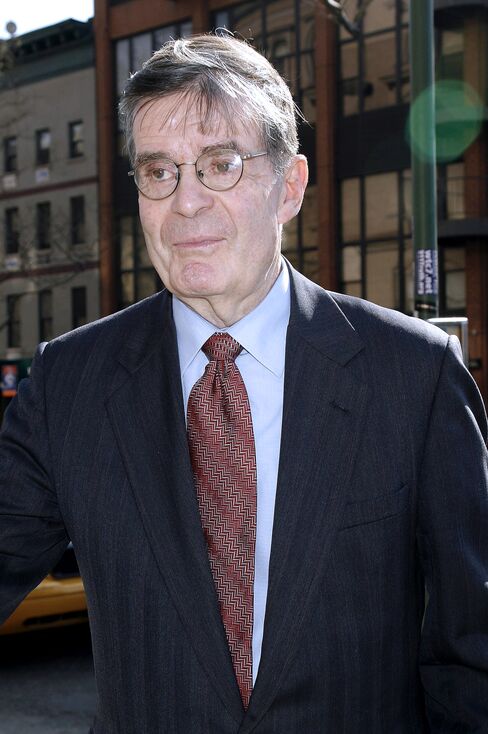 Theodore Sorensen, who helped craft some of the most quoted and analyzed speeches in American history as a top adviser to President John F. Kennedy, has died. He was 82.
Sorensen had suffered a stroke last month. His death was confirmed by Laurie Morris, a special assistant at the law firm Paul, Weiss, Rifkind, Wharton & Garrison LLP in New York.
One of the last surviving members of Kennedy's inner circle, Sorensen served as senior adviser and special counsel, briefing the president and offering advice on everything from electoral politics to the Cuban Missile Crisis.
"Ted lived an extraordinary life that made our country -- and our world -- more equal, more just, and more secure," President Barack Obama said in a statement yesterday. "Generations of Americans entered public service aspiring to follow in his footsteps."
Sorensen collaborated with Kennedy on, among other speeches, the 1961 inaugural address, in which the new president told Americans, "Ask not what your country can do for you; ask what you can do for your country." Throughout his life, Sorensen deflected credit for that famous passage.
'I Helped'
"That line represented what John F. Kennedy stood for, which was service to country," Sorensen said in a 2003 interview with Bloomberg Radio. "I have always maintained that President Kennedy wrote every line, every speech, every book. I helped, I'm proud that I helped. And I'm proud that I helped on that particular speech."
Sorensen took a slightly different tack in "Counselor," his 2008 memoir: "The truth is that I simply don't remember where the line came from."
Sorensen cited the 1961 inaugural address as one of Kennedy's three most eloquent speeches, along with his 1963 commencement address on world peace at American University ("We all inhabit this small planet. We all breathe the same air. We all cherish our children's future. And we are all mortal.") and his 1963 speech in divided Berlin ("As a free man, I take pride in the words, 'Ich bin ein Berliner.'")
He said three other speeches were Kennedy's most important: his address to the nation on the Cuban missile crisis in 1962, his June 1963 address on civil rights, and his 1960 campaign speech to Protestant ministers on religion.
Speeches Stood Out
"John F. Kennedy's speeches stood out because they revived idealism, eloquence and progressivism, after a decade of Eisenhower's bland, dry approach and Joe McCarthy's evil tirades," Sorensen wrote.
Kennedy hired Sorensen soon after winning election to the U.S. Senate in 1952. Just 24, Sorensen became one of the Massachusetts Democrat's most trusted advisers and helped him gather the material for his Pulitzer Prize-winning book, "Profiles in Courage." The two repeatedly denied reports that it was Sorensen who really wrote it.
Arthur Schlesinger Jr., who worked as a special assistant to Kennedy, first encountered the "Kennedy-Sorensen team" while working on Democrat Adlai Stevenson's presidential campaign in 1956. Kennedy, after an unsuccessful bid to be Stevenson's running mate, gained notice for his convention speech nominating Stevenson for president. Schlesinger said Sorensen and Kennedy labored together on the address until almost dawn.
Faithful Associate
"There was no question which was the dominant partner," Schlesinger wrote in "A Thousand Days," his 1965 book, "but there was no question either that in Sorensen Kennedy had found a remarkably intelligent, sensitive and faithful associate."
Theodore Chaikin Sorensen was born on May 8, 1928, in Lincoln, Nebraska, one of five children of Christian Sorensen and the former Annis Chaikin. His father, known as "C.A.," was a Republican who served as state attorney general from 1929 to 1933.
Sorensen earned his undergraduate degree in 1949 and law degree in 1951 from the University of Nebraska, then moved to Washington to work for a predecessor of the Department of Health & Human Services.
A stint on a joint congressional committee studying the Railroad Retirement System introduced Sorensen to Democratic Senator Paul Douglas of Illinois, who recommended him to Kennedy, the newly elected Democratic senator from Massachusetts.
Odd Job Interview
In a job interview, Sorensen pressed Kennedy on whether he had been "soft" on Republican Senator Joe McCarthy's anti-communist "witch-hunting," Sorensen recalled in his memoir.
"JFK must have thought I was a bit odd, as well as headstrong and presumptuous, a new job applicant asking questions about his political positions," Sorensen wrote. Yet Kennedy hired him as an aide, tasked with preparing a legislative program to revive the New England economy.
Following Kennedy's starring role at the 1956 Democratic convention, Sorensen accompanied him on a nationwide tour to prepare for his ultimately successful 1960 presidential bid.
During the tense showdown with the Soviet Union in 1962 over missiles in Cuba, Sorensen drafted Kennedy's correspondence with Soviet leader Nikita Khrushchev. He also wrote Kennedy's Oct. 22 speech to the nation announcing the U.S. blockade of Cuba.
"We no longer live in a world where only the actual firing of weapons represents a sufficient challenge to a nation's security to constitute maximum peril," Kennedy said in the nationally televised speech. "Nuclear weapons are so destructive, and ballistic missiles are so swift, that any substantially increased possibility of their use or any sudden change in their deployment may well be regarded as a definite threat to peace."
German Jelly Donut
German speakers long reminded Sorensen that the famous formulation "Ich bin ein Berliner," Kennedy's declaration of unity with the citizens of divided Berlin in June 1963, was grammatically imprecise.
Sorensen came to the conclusion that his goal -- "I am a Berliner" -- would best have been put, "Ich bin Berliner," and that the "ein" made the sentence refer to a type of German jelly donut, the Berliner. In his memoir, Sorensen took responsibility for the error, though many linguists considered it a minor mistake, if one at all.
Kennedy Assassination
Following Kennedy's assassination in November 1963, Sorensen stayed on through the transition and wrote some early speeches for the new president, Lyndon Johnson, before resigning at the end of February 1964. He wrote a book about his boss, "Kennedy," published in 1965, that was an international best-seller.
In 1968 he helped lead the presidential campaign of Robert Kennedy, which ended, like his brother's presidency, in assassination. "What a president he would have been," Sorensen wrote of Robert in his memoir.
Sorensen himself unsuccessfully sought the Democratic nomination for U.S. Senate from New York in 1970.
President Jimmy Carter, taking office in 1977, picked Sorensen to lead the Central Intelligence Agency. Sorensen, who said he would seek "to get rid of the 'dirty tricks' image of the CIA," withdrew his name from consideration amid resistance from some senators.
Chappaquiddick
Among other matters, the senators were concerned that Sorensen had registered as a conscientious objector when he turned 18 in 1946, and had helped Senator Edward Kennedy, the youngest of the Kennedy brothers, try to explain the 1969 accident in which a woman passenger died when he drove his car off a bridge on Chappaquiddick Island in Massachusetts.
Sorensen joined the New York law firm of Paul, Weiss, Rifkind, Wharton & Garrison in 1966 and practiced international law there for more than 36 years as a senior partner before becoming of counsel.
He had three sons with his first wife, Camilla Palmer Sorensen. That marriage ended in divorce, as did a brief second marriage. He had a daughter with his third wife, Gillian Martin Sorensen, a former United Nations official.
Before it's here, it's on the Bloomberg Terminal.
LEARN MORE